Principal donors visit the Mazumdar Shaw ARC
Published: 15 August 2022
John Shaw and Kiran Mazumdar Shaw visit new research facility at the University
The principal donors to the University's flagship new research facility, the Mazumdar Shaw Advanced Research Centre (ARC), visited the competed building for the first time last week.
John Shaw and Kiran Mazumdar Shaw donated $7.5 million to the University in 2019, including $5 million for the construction of the Mazumdar Shaw ARC, which was named after the couple earlier this year.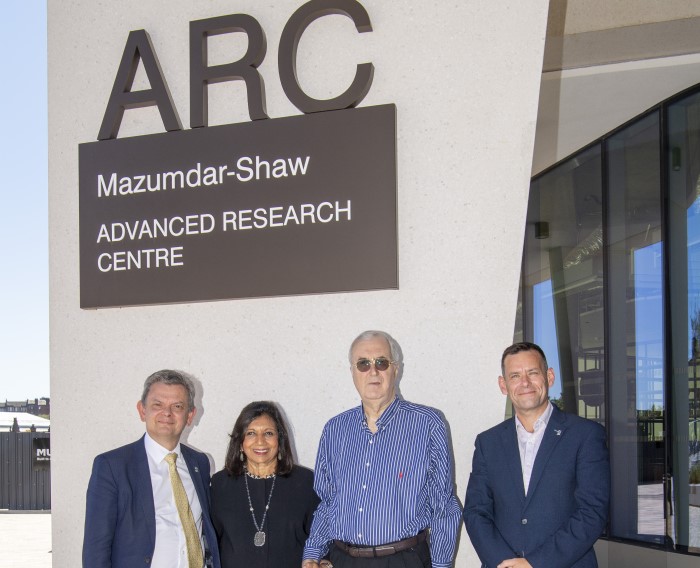 The Mazumdar Shaw ARC officially opened in June and houses over 500 researchers. The world-leading facility brings together interdisciplinary research teams working across different themes, including global sustainable development, quantum and nanotechnology and creative economies.
By providing researchers from different academic backgrounds with access to cutting-edge facilities under one roof, the Mazumdar Shaw ARC enables bold and creative research which will have societal impact and change lives around the world.
Kiran Mazumdar Shaw said: "John and I are proud and delighted to help the University of Glasgow create the magnificent Advanced Research Centre and honoured and humbled that it bears our names.
"Whether in the realm of climate change, new technologies, healthcare or creative and cultural change, we are sure that the ARC will catalyse thought leadership through research and innovation"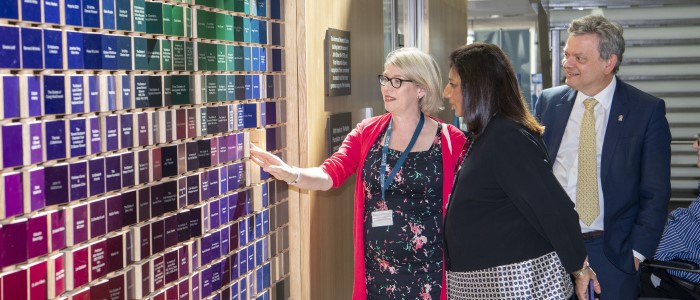 Professor Sir Anton Muscatelli, Principal and Vice-Chancellor of the University of Glasgow, said: "Research should challenge and shape the world around us, and at its heart the Mazumdar Shaw ARC is an experimental building which is already redefining how we think about and practice research.
"It not only fosters new and innovative interdisciplinary collaborations, but it is established as an exciting forum for events, conferences and public engagement.
"None of this would have been possible without the generous support of John and Kiran and I'm pleased to finally be able to welcome them, in person, to this fantastic facility."
From 16 – 30 September 2022, the University of Glasgow will be hosting ARCadia, a public festival to mark the opening of the Mazumdar Shaw ARC. You can find out more on the ARCadia webpages.
---
First published: 15 August 2022