The Library reopens
The Main Library reopened to UofG students and staff on Monday 24 August after five months of closure due to COVID-19. Visitors can use our physically distanced individual study spaces, browse our stacks and borrow books. The Library café is also open, taking contactless payments only.
Colleagues in Information Services and the Estates team have worked hard to get the Library ready to reopen, with safety as their top priority. The number of study spaces has been reduced to allow for physical distancing, and clear signage has been added to help visitors navigate the building and make safe use of its spaces.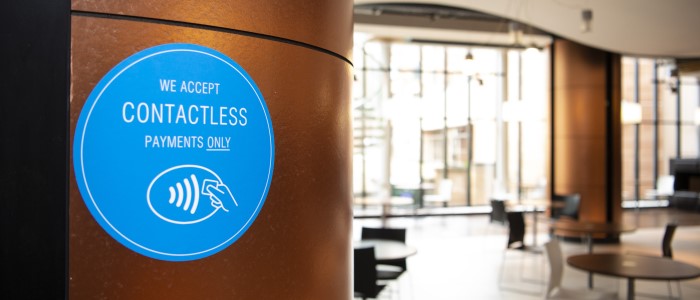 To help keep everyone safe, all Library visitors are asked to:
Wear a face covering while in the Library

;

Keep a two

metre

distance from others

;

Use the stairs if you can

;

Maintain good hand hygiene and use the cleaning stations available

;

Only sit in spaces marked with green stickers and do not move furniture

;

Take all possessions with you when you leave the Library

;

Pay attention to signs in the Library indicating the capacity of different areas

.
Some people, including those with health conditions, are exempt from wearing face coverings. Please be aware of the Scottish Government advice on this.
As the number of PCs and study spaces is limited, visitors are advised to bring their own device if they can and to check how busy the Library is in the UofG Life app.
Throughout the Library's closure, the Reach Out team have continued to support students and staff online through UofG Helpdesk, and our extensive collection of e-books and journals has been available through Glasgow Anywhere.
In July, a Click and Collect service was set up to provide access to our print collections and in August postgraduate students were able to book seats in the Postgraduate Study Space. Both of these services proved extremely popular, with users remarking on their safety and efficiency. Click and Collect was described as the highlight of one student's summer, and the saviour of more than one dissertation.
Now that the Main Library is open for visitors, students and staff alike have taken to social media to share their delight at being able to browse books in person and enjoy those beautiful views again while they study. The Information Services team look forward to welcoming more visitors to the Library as the new semester starts, and we'd like to thank everyone who visits for following the guidance and keeping our Library safe.
For more information on the Library's reopening, and plans for the branch Libraries, visit glasgow.ac.uk/library/updates and follow uofglibrary on Twitter, Facebook and Instagram.
---
First published: 27 August 2020