A celebration of Santander's student support
Published: 29 March 2019
Santander Universities and Santander UK have contributed more than £1.4m
On Friday, 22 March, the University welcomed to campus senior representatives from Santander Universities and Santander UK to celebrate their contribution to student support of more than £1.4 million.
Students, staff and employers who benefit from their generosity were in attendance to hear more about the partnership and enjoy a networking lunch.
Santander Universities has been providing financial support to the University Of Glasgow since 2010.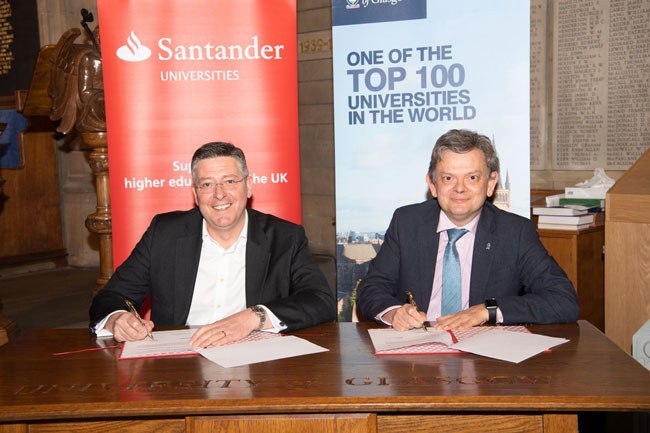 A new three-year agreement pledges a further £360,000 towards invaluable and life-changing initiatives such as scholarships, travel awards, internships and student enterprise. At the celebration event, students who benefited from each strand of funding gave presentations on the impact of their awards - and each had an inspiring story to tell.
Elisha was about to withdraw from her postgraduate programme due to financial constraints when the notification came in that she had been awarded a Santander Universities Scholarship. Now, nearing completion of her PG programme, she has just secured a job as a Tutor with the University of Glasgow Widening Participation team. She says of the role: "From September, I will be helping young people widen their aspirations for themselves. I want to lead by example, turn my passion for activism into a career and use the privilege I have received through receiving this scholarship to help others."
Leah hugely broadened her work experience by taking an internship part-funded by Santander Universities with start-up company Estendio. Estendio is growing rapidly, in no small part due to Leah's success in securing £50,000 from Scottish Edge, to develop presentation software for those with dyslexia. Estendio could not at the outset have funded staffing on their own so the internship was pivotal in their company development.
The day of the event was Lisa's last day ever at University as she completed her Diploma in Legal Practice, and her experience of a German Summer School, teaching refugee children and learning about the language and culture, has inspired her to look into international experiences in her new role as legal trainee with CMS when she starts with them this summer.
Enterprise support for David has meant that he could purchase equipment to start his own microbrewery, Via Academia Vocatus, with the intention of supplying this very university with its own beer. Santander were so impressed they have asked him to provide the drinks for some of their future events.
Matt Hutnell, Director of Santander Universities UK, toasted the success of all of the speakers (with a bottle of David's very own beer) and congratulated them all warmly on their respective achievements to date.
Speakers at the event were:
Elisha Penny, Scholar: PGDip Adult Education, Community Development & Youth Work;
Leah Panton, Intern: Interned with Estendio where she is now a Marketing Coordinator, MA (Hons) Politics 2018
Lisa Lennox, Mobility: participated in a German Language & Culture Summer School in 2018 with a Santander Universities Mobility Scholarship. LLB Law.
David Hughes, Enterprise: established his micro-brewery, Via Academia Vocatus, with Enterprise funding, BEng Electronics & Elec Eng
---
First published: 29 March 2019
Find out more