Start-Up Factory 2019 A Success
Published: 11 November 2019
Second edition of "hackathon for entrepreneurs" held at Kelvin Gallery
On the weekend 1-3 November, the Start-Up Factory - the 'hackathon for entrepreneurs' organised for students and graduates from the University of Glasgow and the Glasgow School of Arts - took place in the beautiful scenario of the Kelvin Gallery.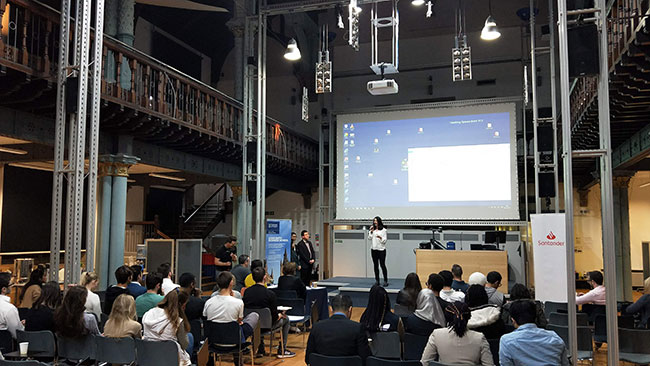 The 54 registered participants competed to create the best start-up concepts, which they then pitched to a prestigious panel of judges: Claudia Cavalluzzo, Director of the Converge Challenge; Steven Morris, Managing Partner at Square Circle Ventures LLP and Chairman at ESM Investments Ltd; and Lynn Robertson, Breakthrough Incubator Manager at Santander UK.
The energy and enthusiasm of the 10 teams was incredible: from Friday 5pm to Sunday 6pm, including 'night sessions' and early morning meetings, the participants spared no effort to try and win the three prizes offered by the generous sponsors: Adam Smith Business School, Alta Ventures, Mr Mark Logan, Santander, the UofG School of Engineering, and the UofG Student Enterprise.
The winners were Eco-Flow - a team with very complementary skills. Eco-Flow wants to tackle the global problem of plastic waste. How and where? By offering a food delivery service that connects environmentally-sensitive consumers with Glasgow-based grocery stores that are branded as sustainable, but do not do home delivery.
In second place, Anagoge has identified a compelling need: supporting Chinese students studying in UK universities by helping them overcome frequent language and cultural barriers. They propose to create personalised language and cultural courses by levering the power of AR and immersing students in 'real-world' situations.
Shadow Trainer ended up in third place: composed by members from business, computing science and engineering backgrounds, this start-up wants to take the fitness market by storm by combining the power of body sensors and AI to provide a customised, train-at-home service.

Ivano Bongiovanni, Research Fellow at the ASBS, was one of the lead organisers. He said: "This was the second edition of the Start-Up Factory, which was created in 2018 as a collaborative effort between academics and professionals from the ASBS and the School of Computing Science, with decisive contributions by student societies such as Entrepreneurship Society, Tech Society and Enactus."
"This year," added Jillian Gordon, Director of Learning and Teaching at the ASBS "we extended participation to all Schools in the University. From Mathematics through Engineering to Political Science, participants had a truly diverse background, which contributed to an incredibly rich experience."
"Feedback was outstanding, and several students asked us to organise more of these events throughout the year. We will see what we can do," concluded Marion Anderson, Student Enterprise Manager for the University. It sounds like the organisers are already working on Start-Up Factory 2020!
---
First published: 11 November 2019