Enhancements to colleague wellbeing and internal comms
As you may know, the University is currently developing the next generation of the MyGlasgow staff and student portals. The staff portal currently delivers key information and support, such as access to HR systems, IT support and room booking services.
The aim of the project is to expand and enhance the services that the MyGlasgow portals offer, including introducing some exciting new elements to enhance the colleague experience at the University.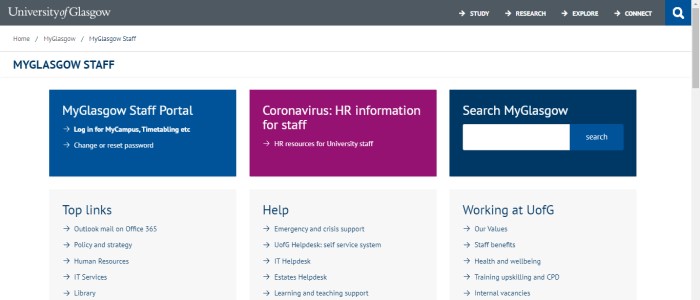 Health and Wellbeing
In the coming weeks, we will be launching the first major element of this programme of work - a new colleague Health and Wellbeing Hub. The new Hub puts wellbeing at the centre of the colleague experience, approaching it holistically and providing resources to support you physically, mentally, financially, socially and spiritually. 
The University wants to be a place where people feel balanced, respected, trusted and supported, and the Health and Wellbeing Hub supports that vision by improving the accessibility of resources, bringing them together in one place, in a clear and easy to navigate platform.
We will be launching the new Health and Wellbeing Hub in the near future, so keep watching this space!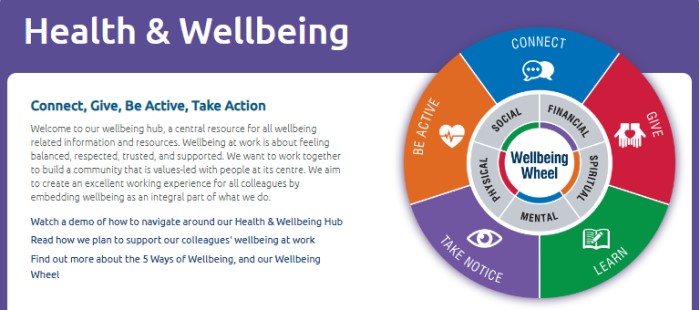 Internal Communications
The second element of this programme, which will be delivered after the Health and Wellbeing Hub, is a new internal communications platform through which regular, informative and engaging communications will be delivered to all colleagues at the University.
The new internal communications service is delivered on the MyGlasgow Staff Portal and will improve the way we communicate with people, making our services more timely and targeted. It will decrease our reliance on mass emails and make it easier to engage with news, campaigns and University events.
Colleague Induction
The final element of this phase of the MyGlasgow Staff Portal enhancement project will be the launch of a new and streamlined induction resource for colleagues, which will make the experience simpler to navigate for managers and new colleagues. This will be the next focus, following the work on internal communications, and we look forward to updating you with more information in due course.
All three of these improvements are a collaboration between the Transformation team, Information Services Business Systems and key stakeholders. These projects have also been developed in close collaboration with colleagues from across the University to identify areas where we can make improve the colleague and student experience.
---
First published: 29 July 2022