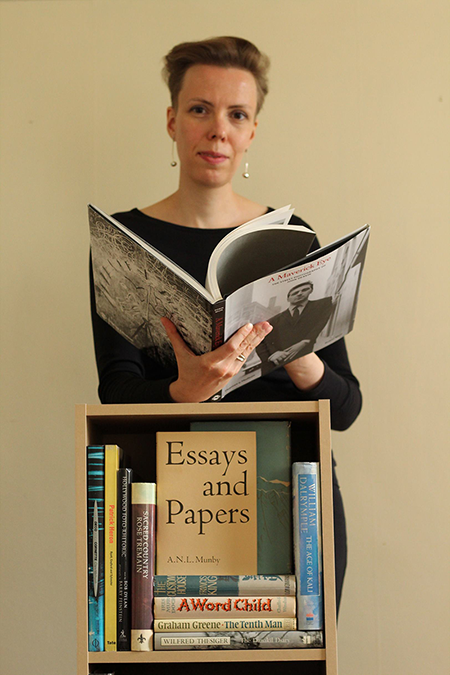 Anke Timmermann
Research Fellow 2019 supported by Friends of Glasgow University Library
My interest in alchemy began in 2000 as an undergraduate at Heidelberg, where I was admitted to the graduate research seminar on the early modern history of science led by Paracelsus expert Joachim Telle. Following an MPhil by research at Glasgow University and a PhD at the University of Cambridge – both focussed on late medieval and early modern alchemical manuscripts, especially recipes for the philosophers' stone in verse form – I was Senior Historian and then Associate Director for the Beckman Center at the Chemical Heritage Foundation, Philadelphia; AHRC Postdoctoral Research Fellow on the Letters of Bess of Hardwick Project at Glasgow University; Marie Curie Fellow at the Medical University of Vienna; and Visiting Fellow at the Max Planck Institute for the History of Science. My academic career concluded with the Munby Fellowship at Cambridge University Library/Darwin College Cambridge (2013-2014), where I researched previously unidentified alchemical texts and images across Cambridge libraries.
In 2014 I decided to work with books and manuscripts prior to their acquisition by institutions and individuals, and became an antiquarian bookseller. I was subsequently appointed Library Liaison for the Antiquarian Booksellers' Association, and continue to facilitate communication between special collections librarians and the book trade in that capacity. In 2018 I co-founded the antiquarian bookshop Type & Forme with my partner Mark James. Together, we have a combined experience of 50 years working with collections both from within and without institutions.
The University of Glasgow Visiting Research Fellowship will enable me to dedicate time to researching the Ferguson Collection in context, and to write on its remarkable history for a larger audience and in more detail than was previously possible. I am particularly looking forward to the exchange with the special collections librarians who have been caring for the collection, as well as to the various public engagement opportunities connected with the Fellowship.