Language Resource Collection
The Language Resource Library, previously based in the Hetherington Building, has moved to the Level 8 Annexe of the University Library.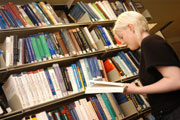 The Language Resource collection supports language learning and teaching within the University. Its facilities are available free to all staff and matriculated students. We specialise in languages taught by the School of Modern Languages and Cultures, Celtic and English as a Foreign Language:
CATALAN - CZECH - FRENCH - ENGLISH - GERMAN - IRISH - ITALIAN - POLISH - PORTUGUESE - RUSSIAN - SCOTS GAELIC - SPANISH
There is also material in over 30 other languages, ranging from Albanian to Xhosa.
Contact the UofG Helpdesk or library-college-support@glasgow.ac.uk.
Renewals
Library items currently on loan can be renewed online, as long as not requested by another library user.
Returns
Please put any Language Resource Library items due for return into the book return bins outside the Fraser Building.
Resources
The collection includes a wide range of material to support language learning, including:
Courses – from beginner to advanced
Dictionaries
Grammar Books
Films and Documentaries
IELTS Preparation Material
Graded Readers & Talking Books
All resources can be located by searching the University Library.