The Hunterian Collections Study Centre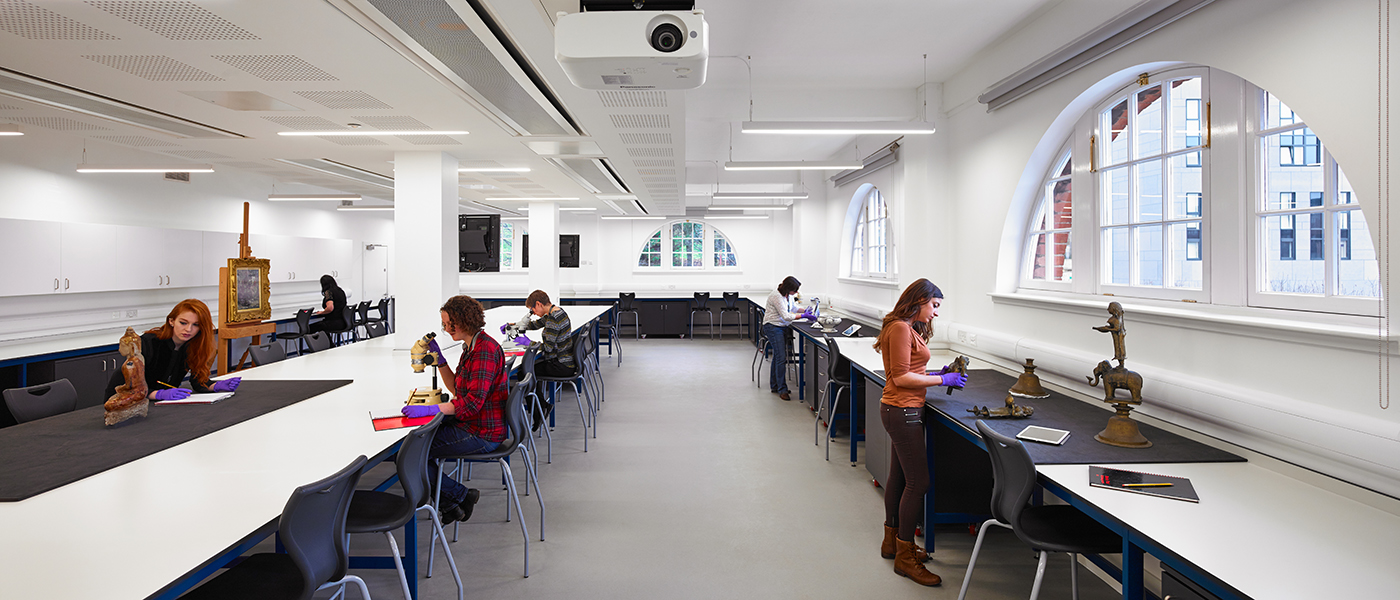 The next stage of our evolution
Since opening its doors to the public in 1807, The Hunterian has been changing and evolving. Our succession of relocations, from London to Glasgow in the 19th century, then from the city centre to the new University of Glasgow campus on Gilmorehill in 1870, and the multiple venue developments of the 20th century, have enabled greater use of our collections for research, teaching and learning.
The next stage of our evolution at Kelvin Hall, provides exciting opportunities for growth and change. The new Hunterian facilities and co-location of university, civic and national cultural heritage partners at Kelvin Hall not only forge new academic practice and opportunity around the collections, but also create a new cultural destination for Scotland and the UK.
The Hunterian Collections Study Centre
The Hunterian Collections Study Centre is the first purpose-designed facility in the Higher Education sector offering innovative object-based research, teaching and training for a wide educational audience. It features a state-of-the-art central collections depot, object study rooms, teaching labs, conservation and digitisation studios and dedicated conference suite.
The Collections Study Centre operates as an Object Laboratory, in which museum collections and objects are selected and delivered into purpose-designed teaching and study spaces according to academic, educational or curatorial training purposes.
The Centre services classes and research activities drawn from across the University of Glasgow and its partners, at all levels from undergraduate through postgraduate and lifelong learning, encouraging greater use of the collections and enriching arts, humanities and sciences education. External researchers and interested members of the public can request access to the collections by appointment.
Public access to Kelvin Hall
Visitors have drop-in access to the café and along the Avenue, which features the Collections Showcase and individual partners displays. The National Library of Scotland offers drop-in access to its Moving Image Archive. Both The Hunterian and Glasgow Museums stores are accessible by booked tour.
Glasgow Club at Kelvin Hall operates a state of the art health and fitness centre incorporating an 8 court multipurpose sports hall, 4 court gymnastics hall, 3 dedicated group fitness studios and the largest fitness gym in the city.
How to access The Hunterian Collections
The Hunterian is home to one of the largest University museum collections in the world. We are currently undertaking the major task of moving our 1.5 million objects from 9 different locations to our purpose built store at Kelvin Hall.
The state-of-the-art storage facilities at Kelvin Hall allow our collections to come together for the first time in an accessible location for researchers, students and the public.
Please note that access to The Hunterian collections at Kelvin Hall is by appointment only.
All enquiries should be sent to The Hunterian Collections Management Team by email at least 20 working days in advance with details of what you require and for what purpose.
There is a limit to the number of objects/specimens available to researchers on each visit.
All researchers will be supervised at all times.
To request access please email hunterian-collections@glasgow.ac.uk
Student Study Space
The Hunterian Reading Room at Kelvin Hall can be used by University of Glasgow postgraduate students on relevant courses and staff and visiting researchers with a relevant interest in The Hunterian collections. Space is limited and access is managed by The Hunterian.
Due to current restrictions around physical distancing, the study space will not be available to staff or students from September to December 2020. This will be reviewed again in January 2021.

To request access please contact Mark Flanagan with details of:
Date and length of time required.
Preference with regards to PC or laptop.
Purpose /subject of research.