The Hunterian launches Mackintosh House 360° virtual tour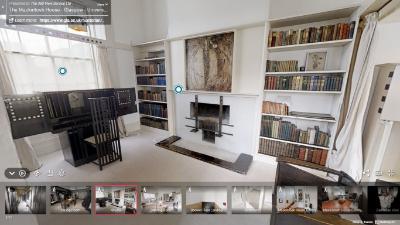 The Hunterian at the University of Glasgow has launched a 360° virtual tour of the Mackintosh House, the Glasgow home of Scottish architect, artist and designer Charles Rennie Mackintosh.
The new virtual tour allows visitors to explore and interact with the Mackintosh House from the comfort of their own homes, at their own pace and offers a 3D virtual walk-through of each room. Visitors can select 'hot spots' which give further details of key objects and can also try a 'doll's house' view of the House.
The Mackintosh House is an integral part of the Hunterian Art Gallery on the University of Glasgow campus and is one of Glasgow's most popular visitor attractions. It has been closed to the public since the UK-wide lockdown due to the Coronavirus pandemic.
It is a meticulous reassemblage of the principal interiors from 78 Southpark Avenue (originally 6 Florentine Terrace), where Scottish architect, artist and designer Charles Rennie Mackintosh lived with his wife, the artist Margaret Macdonald Mackintosh, from 1906 to 1914. Furnished with the Mackintoshes' own furniture and decorated as closely as possible to the original, these beautiful rooms provide rare insight into the Mackintoshes' home life.
The virtual tour has been developed for The Hunterian by The 360 View, a leading provider of state-of-the-art 3D virtual walk-throughs, who have also developed virtual tours for the Charles Dickens Museum and Emery Walker's House, both in London.
The virtual tour is part of a Mackintosh interpretation project funded by Museums Galleries Scotland.
Take the Mackintosh House virtual tour.
---
Find out more:
First published: 13 May 2020