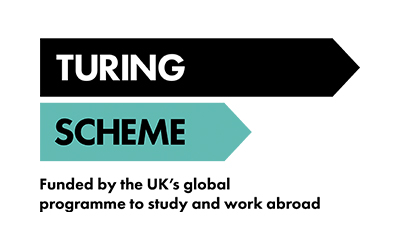 Turing Scheme funding success
We have secured £1.34 million in the first round of funding available via the Turing Scheme in support of our ambitious mobility plans.
The Turing Scheme is the UK government's scheme to fund international opportunities in education and training across the world. It provides the opportunity for UK schools, colleges and universities to offer their students, learners and pupils life-changing experiences to study and work abroad. It was launched this year, providing £110 million of funding for 40,000 placements starting in September 2021.
"The funding will help us forge new relations and deepen our existing relationships with our valued partners around the world."
At Glasgow, we will fund 800 students to travel to 40 countries. This will take us further in achieving our ambitious target of 50% of students undertaking an international experience as part of their degree by 2025.
"Opportunities to study and work abroad transform the lives of our students and are proven to improve career outcomes" explains Sarah Armour, Head of Global Opportunities at Glasgow. "Students have confidence in their ability to work outside their comfort zone and demonstrate autonomy, adaptability and inter-cultural understanding. We want our students to have access to these opportunities so they can unlock their potential to compete globally."
Importantly, 20% of this funding will be exclusively for those from disadvantaged backgrounds. We have one of the best records in the Russell Group of broadening access to higher education, with a culture of openness at Glasgow that stretches back over centuries. The Turing Scheme's aspirations complement our work to support students from underrepresented groups and to provide inclusive international experiences for all our students regardless of their background.
In addition to funding our traditional study exchange opportunities, students will have access to short-term experiences from four weeks, including research stays for PhD students with our partners, undergraduate fieldwork and work placements. We will also be investing in a new stream of summer volunteering opportunities which will provide unprecedented access to these experiences. By expanding the portfolio of different types of opportunities, we increase the reach to more students and help overcome barriers that some would face in spending more than a month away from caring and work responsibilities at home.
The funding will help us forge new relations and deepen our existing relationships with our valued partners around the world.
"There has never been a more important time than now for our students to broaden their skills, make global connections and experience other cultures." says Rachel Sandison, Vice-Principal External Relations. "As the world recovers from COVID-19 and the UK establishes our relationship with Europe outside of the EU, we remain committed to working with our partners around the world in the exchange of our students, ideas and knowledge. We are grateful for Turing Scheme funding in helping to drive forward these objectives."
For more information please contact mobility@glasgow.ac.uk.