Find out more: Sustainable Development Goals
Glasgow Smiles Better - improving oral health in Glasgow
The Glasgow Oral Health Improvement Student Society (GOHISS), a group of University of Glasgow dental students, are committed to educating the people of Glasgow on the importance of oral health and promoting the dental profession as approachable and friendly.
The team are keen to provide support to those in lower income households and supply much needed dental advice, toothbrushes and toothpaste to families. For those in need of treatment but unable to afford it, the society also promotes free dental treatment offered at the Dental School in the city centre.
Support to the community 
GOHISS was founded in 2013 by UofG World Changer and Herald Higher Education Award winner, Claudia Wasige. Claudia was volunteering at a local foodbank when she realised that people could benefit from dental support as an additional service when they came to pick up food. From here, the society has developed to form partnerships with Glasgow City Mission, Everlasting Foodbank, and most recently, Social Bite Café, a social enterprise café in the city centre.  
 Over the past seven years, GOHISS has maintained its focus on helping poorer communities in Glasgow. Natasha Khan, President of the society, explains that, "there is a strong link between poverty and poor dental health". To help tackle this problem, the society have regular monthly stalls at foodbanks in Glasgow, where they provide free dental advice and supplies, and help people to find and register with their local dentist. This is an important hurdle which some would not undertake without support, so for the team, hearing that someone has visited the dentist they registered with at the stall makes the work feel truly meaningful. 


Find out more: Sustainable Development Goals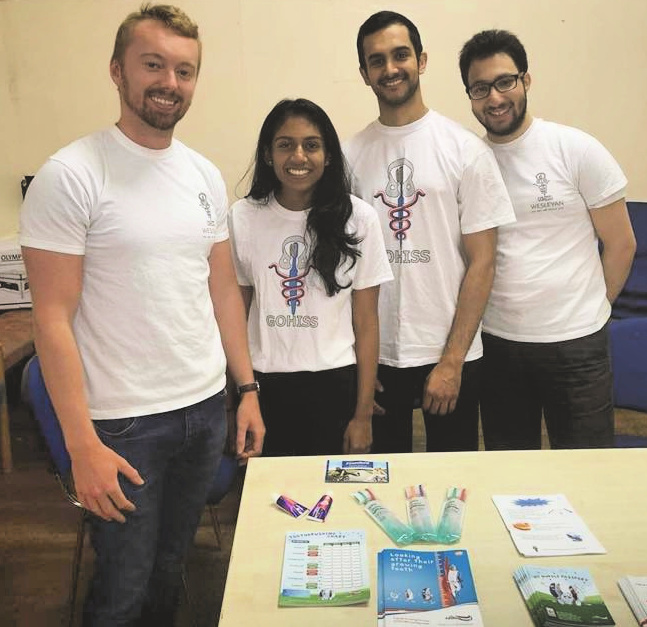 The GOHISS Team at a Glasgow Foodbank
Working in partnership with Social Bite
GOHISS recently developed a partnership with Social Bite Café, allowing them to attend informal events and gatherings which provide support to the homeless community in Scotland. Laura Stewart from Social Bite believes that this casual form of engagement with vulnerable groups is important: "Having a cup of tea in a café while someone provides a bit of information, or even just some general chat is much less clinical, and I think it can be vital for some people".
Supporting the work of Social Bite and offering free dental products and treatment to those who need it most, aligns with the work of both organisations. Laura explains, "We're delighted to be working with GOHISS to provide free dental equipment at our Social Suppers. The feedback from our attendees has been very positive – it's a relaxed way to provide people with products and information which could be vital for their health."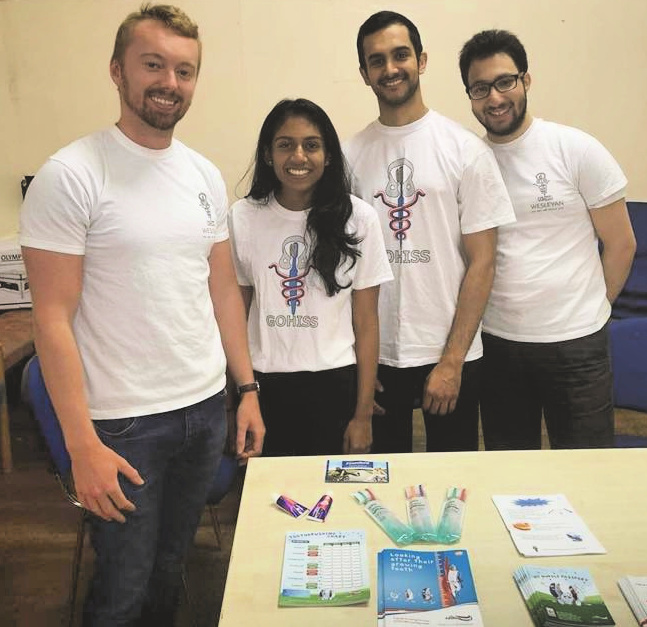 The GOHISS Team at a Glasgow Foodbank
About GOHISS
The Glasgow Oral Health Improvement Student Society (GOHISS) is committed to helping people improve their oral health. The society have established five oral health clinics in foodbanks throughout Glasgow. As well as providing those in lower income households with free dental supplies and advice, the society also encourages people to register with a dentist. 
Dental anxiety is a huge factor that causes avoidance of the dentist and the team help to educate on the benefits of good oral health and break the stigma that visiting the dentist is something to be feared. 
GOHISS  communicates the positive effect that taking care of oral health can have on confidence, general health and wellbeing.