Panto Science: The Periodic Fable
Panto and Science? Oh yes it is...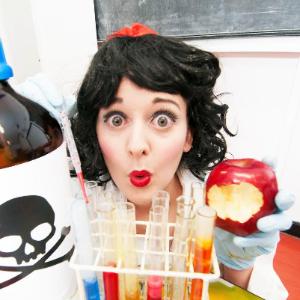 Panto Science: The Periodic Fable blends the traditional family-friendly pantomime with the world of science. As the story unfolds, audiences learn about science and research through live experiments and engaging demonstrations covering a range of subjects, from astronomy to zoology.
The show was conceived by Glasgow Science Festival's Public Engagement Co-ordinator Dr Zara Gladman, who worked with writer Bruce Morton and production company Fair Pley to run the show. A team of scientists from the University of Glasgow were also involved in shaping the panto story with their own experiences.
One of the aims of Panto Science is to promote the message of equality in science. Recent studies have shown that girls lack confidence in STEM subjects - Science, Technology, Engineering and Maths. We want to show that science is fun, interesting and for everyone.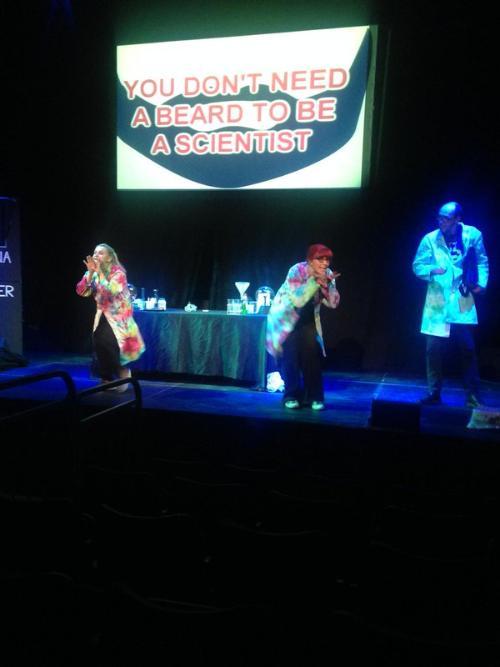 Glasgow shows December 2015
Panto Science: The Periodic Fable came to Glasgow for Christmas 2015, thanks to funding from the Awards for All Lottery Fund.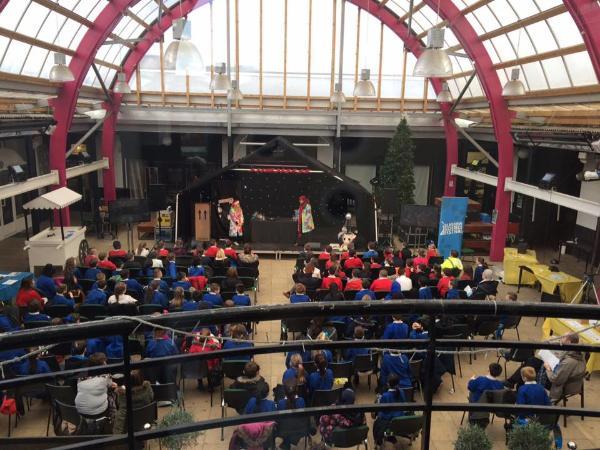 On 8-11 December, children from across the city were invited to enjoy the show at the Barras Art & Design Venue.
It was an excellent opportunity for children to meet real life scientists, and for scientists to engage the public with their research. Prior to each show, audiences were invited to try hands-on activities led by STEM Ambasadors.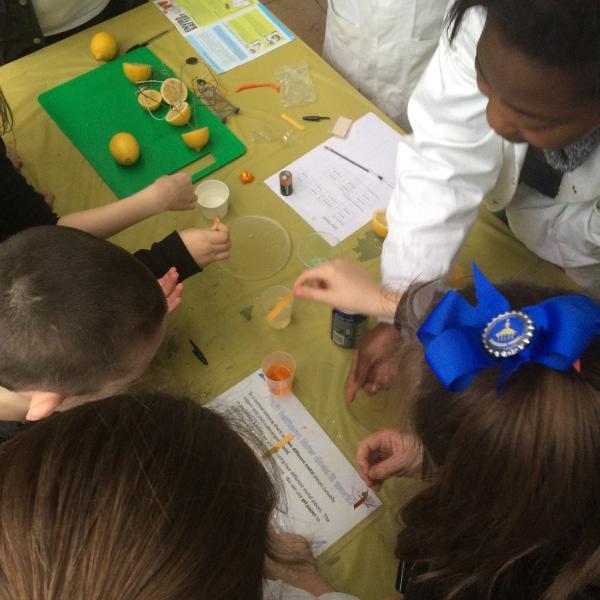 Feedback from the Audience
"Gives children opportunity for new and varied experiences, develops interest and encourages them to participate and to find out more"
"Breaks stereotypes, positive aspirations. Great show!"
"They make science accessible and appealing. Well done, the kids thoroughly enjoyed it."
"It gives the children role models in science and drama. An excellent play and activities."
"Fun and exciting way to interest children in science"
"Definitely beneficial to community - local schools can come together and enjoy the hands-on science activities."
"Encourages children to see science in an exciting interesting way - opens their thinking, helps them to see it as something they can do"
"It gives the children hands on experience and shows them that science is relevant to them. Thank you!"
The show was also a great opportunity for scientists to develop their skills in public engagement
"Enjoyable and positive experience all round. Fun to be part of as a helper, and to see the kids learning about/trying out experiments as well as enjoying the panto."
"Children loved it and really got involved with doing the activity themselves (balloons/surface tension) - I was mobbed with requests for balloons and sticks!"
"They [children] were extremely enthusiastic and were often amazed and clearly inspired. Children particularly enjoyed hands-on activities (picking things up etc.) and being involved in conversations - e.g. "guess what this is/how old it is?"
"I'm keen to promote girls into STEM, and this seemed an interesting and interactive way to teach kids about science."
We would like to sincerely thank our funders and partners for making these shows possible.
‌
‌‌‌