A Taste of Place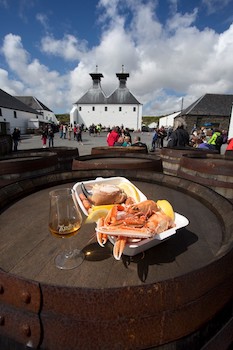 "When people come to Scotland, they want a taste of place", suggests Fiona Richmond, Head of Regional Food at Scotland Food & Drink. Furthermore, that taste is not just culinary but cultural. Coming from a background in sociology and social research, Fiona's "lightbulb moment" came when she attended an event with Slow Food Edinburgh. Seeing how food was made, sharing food and conversation with likeminded people, and learning the stories behind that food was a revelation. After volunteering and working with Slow Food, including a period at the international headquarters in Italy. she joined Scotland & Food and Drink with these values in mind.
Food, Tourism and Collaboration
Scotland Food & Drink was established due to government-level recognition that food was a key sector for growth, but it lacked specific support. Scotland Food & Drink acts as an umbrella organisation for the sector, which led to the establishment of the Scotland Food & Drink Partnership. This is a gathering place for the trade bodies involved in Scottish food and drink. Fiona describes organisations "sitting around the table together, so collaboration is fostered: everyone is working towards a shared goal and vision". For the industry, Fiona notes that partnership has been a "game-changer". These shared discussions are beneficial for leadership and strategy development, but they also help Scottish food and drink businesses to grow. This happens in several ways. Scotland Food & Drink bring businesses new opportunities with buyers across retail, food service and wholesale through programmes that run throughout the UK. Making sure Scottish food producers, big and small, can distribute their produce increases the presence and value of Scottish food at home and abroad.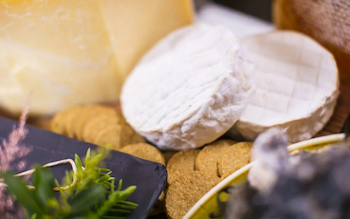 Recent Challenges
Scotland's food and drink sector was hit hard by Brexit, and then the COVID-19 pandemic. Now, Fiona notes that a key challenge is rising food costs. Scotland Food & Drink want to get more Scottish produce on plates, but this becomes harder in the cost-of-living crisis. Helping producers navigate this might be an opportunity, however. With the fragility of global supply chains, the environmental crisis and the need to become a Good Food Nation, Fiona is hopeful, as "difficult times can produce good outcomes". She notes that we must continue to support Scottish food businesses: "progress can't be lost".
Heritage and Research
Fiona thinks there is more room for collaboration with the academic sector when it comes to food. She notes that food and regional tourism development need academic rigour. If Scotland is trying to tell (and sell) the story behind it's produce, we need to get locals and visitors thinking differently about Scottish food when they get here and find the best ways to do that/ Fiona believes people want to understand the culture and identity of Scotland through food and drink, by trying and getting hands- on with local produce and meeting the people who make it. These experiences would be improved with a better understanding of the culture and heritage behind them. It is a rich heritage, but Fiona doesn't think we talk about it enough, and that is where research can help. Fiona notes that the Catalyst activity could directly feed into the strategies and plans developed on an industry level, by sourcing the relevant stories. She believes that Scotland needs to establish its own unique characteristics. As a country, it has the people, landscape, stories, and characters that make a culture. We need to join up these things and tell a more cohesive story about our own country, through food.
Do you work in the Scottish food industry or have interests in Scottish food history? If you are interested in any of the aspects of food discussed here and would like to be involved in this Catalyst, get in touch by emailing Fraser Rowan at fraser.rowan@glasgow.ac.uk 
---
First published: 28 June 2022