Bringing Food History onto Today's Plates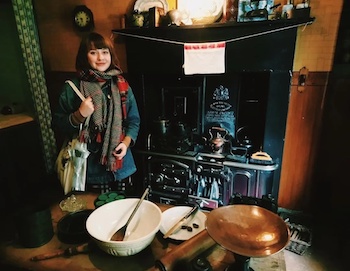 Food is something that everyone can connect with in some way, and Lindsay Middleton has found that ears and appetites perk up when she describes her research. Lindsay is a final year PhD researcher at the University of Glasgow and the University of Aberdeen, funded by the Scottish Graduate School for Arts and Humanities (SGSAH). Her thesis investigates culinary history in the nineteenth century. Blending methodologies from English Literature and History, Lindsay reads recipes as a literary genre and explores how recipe writers used implements like gridirons, tinned foods, and stoves to integrate themselves and their readers into history.
Food and Storytelling
Whether it's an allusion to Roman history in a nineteenth-century cookbook, the way recipes for tinned foods were integrated into discussions of global food exchange, or the way different narratives are woven around food to situate it in a political debate, the texts that address food often do far more than providing instructions for food preparation. Lindsay argues that historical cookbooks, recipes and documents can increase our insights into not just what was eaten in the past, but also into far larger debates surrounding class, globalisation, and national identity – to name a few.
Research and Heritage
This fascination with food history led Lindsay to undertake a SGSAH-funded internship with the National Trust for Scotland. Working with curators at Gladstone's Land in Edinburgh, Lindsay helped to reimagine the way food is displayed in the property and wrote a specialised interactive food tour for visitors. By reconfiguring archival and historical research in a way that appealed to the public, Lindsay brought her work into the public's eyes and stomachs. Using historical sources, Lindsay demonstrated how food was integral to commercial as well as personal lives of Gladstone's Land's inhabitants via a series of accurate food samples and descriptions. Food can be made into a tangible taste of the past, and this experience of transforming her academic research away from written material and into the real world to engage public audiences inspired Lindsay to imagine other areas where research into Scottish food would be beneficial outside of academia.
Going Forward in the Scottish Context
Lindsay's experience as a PhD researcher and her heritage work indicated to her what seemed like a gap between academic research into Scottish food history and authenticity in the public sphere. She has engaged in a series of conversations with academics and non-industry partners which led her to establish the Scottish Food and Drink Histories Arts Lab Theme and help conceptualise this Food: Sustainability, Health, Heritage and Tourism Catalyst. Lindsay notes that the interdisciplinary nature of food lends itself perfectly to surprising and productive research collaborations between academics and industry partners. Health, sustainability, tourism, heritage, and cultural identity are brought together by food, which in turn is something we engage with every day. What's more, Lindsay sees that because food is a tangible resource we can use our knowledge of the past to learn about and actively implement things that are useful in the present, whether that's using traditional recipes or methods of food production. Food connects everybody, and Lindsay believes that learning more about how we interact with food in both our day-to-day lives and in the past – and disseminating that knowledge in an impactful way – is vital to understanding how we go forward.
Do you work in the Scottish food industry or have interests in Scottish food history? If you are interested in any of the aspects of food discussed here and would like to be involved in this Catalyst, get in touch by emailing Fraser Rowan at Fraser.Rowan@glasgow.ac.uk
---
First published: 8 June 2022