Prehistoric Cochno Stone is inspiration for comic book workshop at Being Human Festival
Issued: Tue, 21 Nov 2017 09:19:00 GMT
‌A team of University of Glasgow archaeologists along with an UK artist worked with school children to create comic art based on a 5000 year old prehistoric rock-art site, the Cochno Stone.
Art work by the children and artist Hannah Sackett were displayed, accompanied by a public talk about the Cochno Stone, in Clydebank as part of the Being Human Festival 2017.
Dr Kenny Brophy, an archaeologist from the University of Glasgow who specialises in urban prehistory and led the team who uncovered the Cochno Stone last year, said: "This is a celebration of an amazing archaeological story in the urban fringe of Glasgow.
"Working with the children and artist Hannah Sackett is a wonderful and engaging way to pass on the story of the Cochno Stone and Ludovic Mann to a new audience."
‌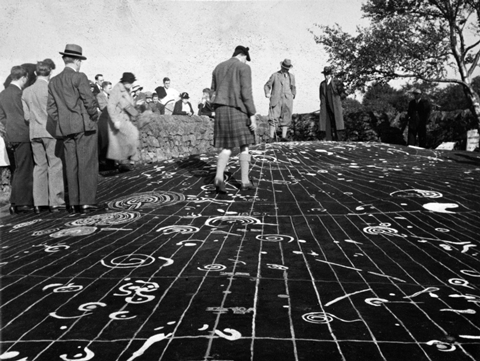 The Cochno Stone found in Faifley, West Dunbartonshire dates back to 3000BC and is considered to be one of the best examples of Neolithic cup-and-ring markings in Europe.
In 1937, archaeologist Ludovic Mann painted the rock-art panel in bright coloured oil-paints. He believed prehistoric people carved symbols on the rock to show how they predicted eclipses and so defeated the monster that ate the sun. Visitors flocked to the site and damaged the stone, so it was buried in 1965 to protect it.
In 2016, a team from the University of Glasgow led by Dr Brophy carried out an excavation to uncover the Cochno Stone for the first time in 51 years and found that much of Mann's paint survived.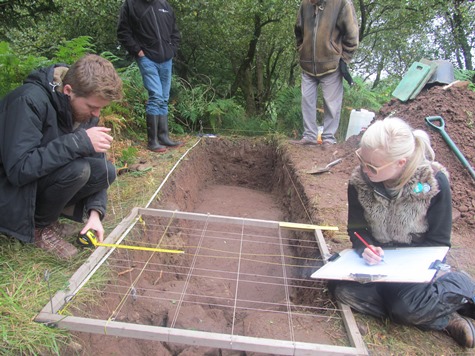 On November 23 to mark the 80th anniversary of Mann's decoration of the Cochno Stone various events took place in Faifley. Artist Hannah Sackett designed and wrote a comic book about the Cochno Stone.
This comic was the inspiration for children from local school Edinbarnet Primary in West Dunbartonshire to design their own Cochno Stone comics during workshops that will run during the day. The comics will tell the story of Mann and the eclipse eating monster.
All of the children's drawings, original artwork for Hannah Sackett's comic and other images related to Mann and the excavations were displayed at Skypoint in Faifley.
This event was part of a Being Human Festival series called "Finding Glasgow: Hidden secrets and lost meaning" being run through the University of Glasgow. Being Human is a festival of events across the UK celebrating arts and humanities research involving members of the public.
---