Economic issues of an independent Scotland discussed at the University
Issued: Thu, 21 Feb 2013 09:05:00 GMT
One of the UK's leading economists, Professor John Kay, will deliver a lecture entitled 'An independent Scotland: the economic issues' at the University of Glasgow on Thursday 21st February.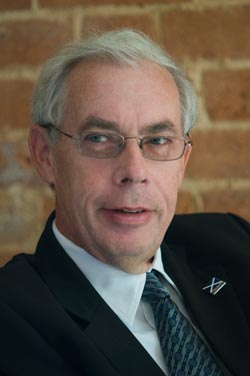 Professor Kay, who is a visiting Professor of Economics at the London School of Economics, and Fellow of St John's College, Oxford, will talk about the implications of independence on Scotland's social and economic institutions.
The lecture is part of the Glasgow Global Security Network on the theme of 'Security and an Independent Scotland', which has attracted world renowned speakers to explore various implication of Scottish independence.
Professor Philips O'Brien, Convener of the University of Glasgow Global Security Network, said: "Professor Kay is one of the UK's leading economists and this event promises to engage with a great many interesting points that I'm sure will help inform a greater understanding of the overall debate.
"The independence referendum will be almost certainly be decided on economic issues. The people of Scotland will have to decide whether staying in the Union or becoming a separate state will promise them a better economic future. We are pleased to welcome Professor Kay to the University and are looking forward to hearing his views on the economic issues facing an independent Scotland; he is certainly the ideal person to examine this question from a measured non-partisan viewpoint.
Professor Kay will say that: "The central economic issue on which economic arguments over independence should revolve is whether independence would give a boost to the self-confidence of Scottish business, or create a political climate favourable to enterprise and innovation."
He will also say: "The terms of accession to the EU are mostly predetermined and the limited negotiation would mainly concern the variety of opt outs enjoyed by the UK. The economic issues raised would principally be the budget rebate (Scotland would stand no chance of inheriting part of this), zero rating under VAT (a continuation could probably be negotiated), adoption of the euro (the EU would probably settle for some vague and indefinitely postponed aspiration that Scotland would participate) and the fiscal compact (clearly interrelated with the agreement negotiated with RUK).
"The currency issue is crucial; Scotland would be right to seek agreement on monetary union with the remaining United Kingdom, but it would be difficult to negotiate an agreement that would be consistent with the fiscal freedom sought through independence. Scotland should be ready to adopt an independent currency, Market expectations would begin to force events from the day a yes vote was obtained."
Professor Kay will say that: "Existing debt would be divided on a population or GDP share basis, and oil revenues split on a formula strongly favourable to Scotland. There is a broad balance between this gain from oil taxation and the higher level of per capita public expenditure in Scotland permitted by the existing block grant so that the overall fiscal position of an independent Scotland would, at least initially, be little different from the present.
"The higher level of per capita spending in Scotland is noted, mainly accounted for by higher staffing levels in health and education. There is little difference in educational attainment between Scotland and the UK as a whole but mortality/morbidity experience is markedly worse. The extraordinarily rapid growth in the block grant and public expenditure in Scotland over the period 2000-6 facilitated many small populist expenditure gestures – 'the culture of free', as some commentators have described it."
Read coverage of the event:
http://www.bbc.co.uk/news/uk-scotland-21527789
http://www.heraldscotland.com/politics/referendum-news/scotland-may-have-to-create-own-currency.20283478
---
Professor Kay will deliver his lecture on 'An independent Scotland: the economic issues' on Thursday 21 February, 16.45 – 18.45 in the Bute Hall, University of Glasgow.
For more information or to arrange interviews please contact the University of Glasgow Media Relations Office on nick.wade@glasgow.ac.uk / 01413307126.
Due to high demand, the amount of seating for this event has been increased. If you wish to attend, please register via Eventbrite: http://www.eventbrite.com/event/4295610286#