Filmmaker Mark Cousins appointed Honorary Professor
Issued: Tue, 12 Feb 2013 10:15:00 GMT
The documentary filmmaker and author Mark Cousins has accepted an Honorary Professorship at the University of Glasgow.
Cousins will take up a 5 years position where he will teach students on the Film and Television and Film Journalism Masters courses and oversee PhD research.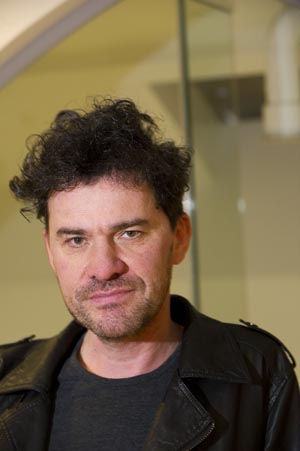 Cousins said: "I am very pleased to be appointed as Honorary Professor at the University of Glasgow and contribute to the creative and forward thinking team that already teaches here.
"It is my view that practice and theory should be as closely linked as possible and that good teachers get their students thinking about a subject in different ways. I don't plan to give straightforward lectures, but aim to introduce students to exciting cinema that they might not have seen before."
Karen Lury, Professor of Theatre, Film and Television Studies, said: "In Film and TV we are hugely excited about formalising our relationship with Mark: he is an outstanding journalist, film-maker and a passionate advocate for film – his work is characterised by an extensive knowledge of film and a key understanding that films and film education can make a real difference. We look forward to working with Mark and know that he will inspire staff and students alike."
As well as directing the Edinburgh International Film Festival for a period in the early 90s, Cousins has been guest curator for various film festivals around the world. In recent years Cousins has made a significant impact on global cinema with films including: 'Another Journey by Train', 'The First Movie', 'What is this Film Called Love?' (a collaboration with PJ Harvey), and the most recent 'Here be Dragons'.
Cousins's 2004 book 'The Story of Film', was turned into a fifteen hour documentary that was hailed by acclaimed documentary maker, Michael Moore, as "one of the best documentaries I have ever seen."
Together with Antonia Bird, Robert Carlyle and Irvine Welsh, Cousins is a director of the production company 4Way Pictures and founded the 8½ Foundation with Tilda Swinton, which aims to introduce world cinema to children.
Professor Murray Pittock, Vice-Principal and Head of the College of Arts at the University of Glasgow, said: "We are pleased to welcome Mark to the University, knowing that he brings with him a wealth of experience of the film industry. I am confident that he will prove to be a significant asset to Film and Television Studies and the wider School, and his presence and energy will greatly benefit our postgraduate students."
---
For more information or for images please contact the University of Glasgow Media Relations Office:
01413307126
07837097159