Environmental Science MSc
‌‌‌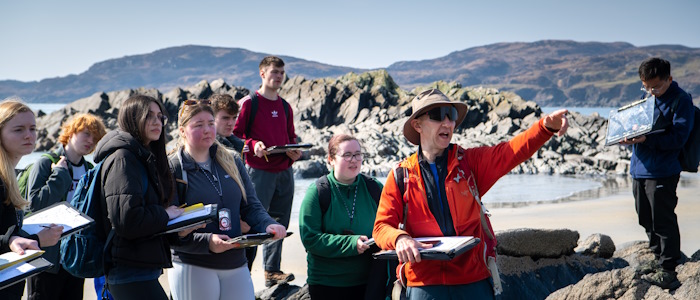 The MSc in Environmental Science draws on expertise in the School of Interdisciplinary Studies at the University of Glasgow. They represent a leading centre of expertise in environmental teaching and research. They work on issues dealing with the natural and urban environment including policies and practices for environmental management.
Programme structure
The MSc in Environmental Science aims to produce graduates who
have a strong understanding of the environment and how it changes
have an awareness of economic and policy issues affecting the environment
are able to apply practical and technical solutions to assist in the management of the environment, environmental risk and environmental change.
You will develop a firm understanding of the environment – and how human and physical processes affect it.
You will be introduced to policies and practices for environmental science, as they are applied in a range of environments and at different scales. You will develop skills in processing and presenting environmental information to inform and enhance environmental management.
You will gain an enhanced appreciation of the importance of research and reflection as a route to successful environmental management.
Graduate attributes
This degree programme equips you for a wide range of opportunities by providing the knowledge and understanding to:
Critically assess the influence of physical processes and the impact of human decision making on the environment
Evaluate theories of environmental management
Discuss theories of climate change, how this will affect different environments
Compare and contrast environmental management policies in different regions and at different scales
Develop strategies for behavioural change to improve management of the environment
Explain the need to develop policies to manage the environment at different scales
Create plans to react to and manage environmental change
Explain how GIS and Remote Sensing contribute to the management of environmental data and can contribute to environmental management.
Courses
The programme is taken over 2 years of full-time study and is divided into 4 main components:
Part 1: Compulsory courses taught by University of Glasgow (Total 80 credits)
Principles of Geographic Information Systems for Environmental Science (20 credits)
Environmental Remote Sensing (20 credits)
Understanding Changing Environments (20 credits)
Environmental Policy (20 credits)
Part 2: Compulsory courses taught by Nankai University (Total 50 credits)
Applied Mathematics (20 credits)
Environmental Economics (15 credits)
Environmental Management
Part 3: Optional courses taught by Nankai University (Total 30 credits)
At least 2 from:
Environmental Planning and Strategic Environmental Assessment (15 credits)
Cleaner Production (15 credits)
Municipal Ecology (15 credits)
Environmental Risk Assessment (15 credits)
Advancement in Environmental Impact Assessment Techniques (15 credits)
Part 4: Compulsory Research Experience and Skills
Social Science Research Methods (20 credits – taught by UofG)
Dissertation or Major Project on an approved topic in Environmental Science (60 credits – jointly supervised. 20 Glasgow / 40 Nankai)
Career prospects
Career opportunities include positions in international organisations, government ministries, academia and research institutions, non-governmental organisations; and further study at PhD level.
English language requirements
TESTS

SCORES

IELTS(Academic)

Overall score of 6.5, with no sub-test less than 6.0 in each band.

TOEFL iBT

Overall score of 90

Sub-tests no less than:

Reading 20

Listening 19

Speaking 19

Writing 23
How to apply
To apply as a student of Chinese Nationality:
Students register online for the China National Postgraduate Entrance Examination and select their desired JGS MSc programme.
Students sit the National Entrance Exam
Once the results are released, students are selected for joint interviews by Nankai University and the University of Glasgow. Students must fulfil the requirements for both universities.
To apply as a student of non Chinese Nationality:
Please apply through the International Office of Nankai University, which can be contacted at:
Tel: +86 22 2350 8825
Email: studyinnankai@nankai.edu.cn
Session dates
Autumn semester: 14/09/2020 - 24/01/2021
Winter break: 25/01/2021 - 21/02/2021
Spring semester:27/02/2021 - 04/07/2021
Summer break: 05/07/2021 - 29/08/2021
Dr Xiaogang Shi - UofG Programme Convenor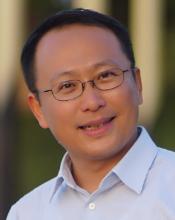 Xiaogang (John) Shi is a senior lecturer in hydrology at the University of Glasgow. He is an expert on water resources and climate research, with interests on modeling and predicting the role of water resources in the climate system and understanding the nature of hydrologic variability and change under changing climate at local, regional, continental, and global scales. His research has been focused on land surface hydrologic model development, the analysis and modeling of hydrometeorological hazards (e.g. floods and droughts), hydrological forecasting, groundwater and surface-water interactions, snow and permafrost hydrology, and coupled modeling of land-atmosphere interactions in the context of climate variability and change by using remote sensing data, reanalysis products and in situ observations, as well as model outputs.
He earned his PhD in hydrology from the University of Washington in 2013. Then, he was awarded the Natural Sciences and Engineering Research Council of Canada (NSERC) postdoctoral fellowship and worked at Environment Canada's National Hydrology Research Centre. Prior to joining the University of Glasgow in 2018, he has previously worked as a lecturer at Lancaster University and Xi'an Jiaotong-Liverpool University, and a research scientist in the Commonwealth Scientific and Industrial Research Organisation (CSIRO) in Australia. In 2015, he received the Research Innovation Award of Australian Water Association.
Key publications:
Li, Z., Z. Hao, X. Shi, S. J. Déry, J. Li, S. Chen, and K. Li, 2016: An agricultural drought index to incorporate the irrigation process and reservoir operations: A case study in the Tarim River Basin, Global and Planetary Change, 143, 10-20.
Shi, X., S. J. Déry, P. Y. Groisman, and D. P. Lettenmaier, 2013: Relationships between recent pan-Arctic snow cover and hydroclimate trends, Journal of Climate, 26, 2048-2064.
Shi, X., A. W. Wood, and D. P. Lettenmaier, 2008: How essential is hydrologic model calibration to seasonal streamflow forecasting?, Journal of Hydrometeorology, 9(6), 1350-1363.
Dr Jing Wu – NKU Programme Convenor
Jing Wu is currently an Associate Professor in the College of Environmental Science and Engineering and is Assistant Director of the Research Centre for Strategic Environmental Assessment at Nankai University. She is also Secretary of the UNISPAR (University-Industry Science Partnership Programme)/UNESCO Chair holder in Environmental Management at Nankai University. She received her PhD from Nankai University in 2005 and was a Postdoctoral Fellow in the Chinese University of Hong Kong 2008-09. She is a Registered Impact Assessment Engineer and holds the Law Occupation Qualification Certificate.
Dr Wu has 15 years of practical, research and teaching experience in environmental management, environmental assessment and planning. Since 2000, she has contributed to various consulting projects supported by CIDA (Canadian International Development Agency), SIDA (Swedish International Development Cooperation Agency) and the World Bank, among others.
For the last eight years, Dr Wu has been managing and contributing to a number of local and state-level research projects on clean technologies, emissions and climate change policy, the development of eco-cities and low-carbon cities, eco-industry part and environmental issues in urban planning.
Key publications
I-Shin Chang, Jing Wu*, Changbo Zhou, Mingmin Shi, Yanxia Yang. (2014). A time-geographical approach to biogas potential analysis of China. Renewable and Sustainable Energy Reviews. Vol. 37.318–333 (SCI IF= 6.018).
Jing WU, I-Shin CHANG*, Kin-Che LAM, Mingmin SHI. (2014). Integration of environmental impact assessment with the decision-making process: Practice of urban and rural planning in China. Journal of Cleaner Production. Vol. 69.100-108. (SCI IF= 3.398)
I-Shin CHANG, Jing WU*, (2013). Integration of Climate Change Considerations into Environmental Impact Assessment - Implementation, Problems and Recommendations for China. Frontiers of Environmental Science & Engineering. Vol. 7(4):598-607 (SCI IF=0.754).
Professor Fabrice Renaud – Understanding Changing Environment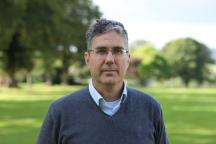 Fabrice Renaud is Professor of Environmental Risk and Community Resilience at the University of Glasgow's School of Interdisciplinary Studies in Dumfries, which he joined in February 2018. His main area of research is on the role ecosystems play in disaster risk reduction and climate change adaptation. He is the University of Glasgow convener of the MSc in Environmental Science.
Before joining the University of Glasgow, Fabrice worked for 13 years at the United Nations University Institute for Environment and Human Security (UNU-EHS) in Bonn, Germany (11 years) and Jakarta, Indonesia (2 years). For over a decade, he was head of the Environmental Vulnerability and Ecosystem Services section of UNU-EHS implementing research focussing on two major themes: the environmental dimension of vulnerability and risk, particularly in coastal and deltaic environments, and the links between human activities, water pollution, and the risks these pose to ecosystems and human health. His research projects were principally in Europe, Central, South and Southeast Asia, and in Western Africa. For a period of two years (2009-2011) he was Director ad interim of the UNU-EHS.
After completing his PhD and before joining the UN system he was a Research Officer at Cranfield University's Centre for EcoChemistry in the UK where his research centred on the development, coding and parameterisation of various pesticide fate models, as well as carrying out laboratory and lysimeter experiments to study the interaction between pesticides and soils.
Fabrice holds a PhD degree (2000) in Crop, Soil, and Environmental Sciences from the University of Arkansas (Fayetteville, USA) where he specialised in soil physics. Between his MSc and PhD degrees, Fabrice worked in Namibia on a rural development project and at the International Board for Soil Research and Management in Thailand on soil erosion problems in the north of the country.
Key publications:
Hagenlocher M., Renaud F.G., Haas S., Sebesvari Z. (2018): Vulnerability and risk of deltaic social-ecological systems exposed to multiple hazards. Science of the Total Environment 631-632:71-80.
Renaud F.G., Sudmeier-Rieux K., Estrella M. and Nehren U., Editors (2016): Ecosystem-Based Disaster Risk Reduction and Adaptation in Practice. Springer Advances in Natural and Technological Hazards Research, Dordrecht, 598p.
Renaud F.G., Syvitski J.P.M., Sebesvari Z., Werners S.E., Kremer H., Kuenzer C., Ramesh R., Jeuken A., Friedrich J. (2013): Tipping from the Holocene to the Anthropocene: how threatened are major world deltas? Current Opinion in Environmental Sustainability 5:644-654.
Dr Brian Barrett - Environmental Remote Sensing

Brian Barrett is a lecturer at the School of Geographical and Earth Sciences. His main research interests are in the use of microwave remote sensing for applications in the terrestrial environment. From a wider perspective, the use of remote sensing to study the interaction and further understanding of Earth system processes, in the context of environmental change, greatly interests him. A lot of his research has focused on modelling and characterising the spatio-temporal behaviour of surface soil moisture using synthetic aperture radar (SAR). Assessing the influence of soil moisture on Differential SAR interferometry is an area of particular interest. More recently, he has been exploring the use of different machine learning algorithms to identify patterns in time-series of multispectral and radar datasets with the goal of improving land use inventories. He is currently working on the assessment of grassland biomass and management (cutting, grazing) activities across different locations (Ireland, Colombia, and New Zealand) using a dense time series of extra-high-resolution spaceborne radar data.
He has a BSc (Honours) in Geomatics, MSc in GIS and Remote Sensing in Environmental Resource Management, and a PhD in remote sensing (Synthetic Aperture Radar (SAR) intensity and interferometric approaches to near-surface soil moisture characterisation). He has previously worked at the University of Edinburgh and University College Cork before joining the University of Glasgow in 2015.
Key publications
Barrett, B. , Raab, C., Cawkwell, F. and Green, S. (2016) Upland vegetation mapping using Random Forests with optical and radar satellite data. Remote Sensing in Ecology and Conservation, 2(4), pp. 212-231. (doi:10.1002/rse2.32)
Barrett, B. , Nitze, I., Green, S. and Cawkwell, F. (2014) Assessment of multi-temporal, multi-sensor radar and ancillary spatial data for grasslands monitoring in Ireland using machine learning approaches. Remote Sensing of Environment, 152, pp. 109-124. (doi:10.1016/j.rse.2014.05.018)
Barrett, B., Whelan, P. and Dwyer, E. (2013) Detecting changes in surface soil moisture content using differential SAR interferometry. International Journal of Remote Sensing, 34(20), pp. 7091-7112. (doi:10.1080/01431161.2013.813654)
Dr Natalie Welden - Environmental Policy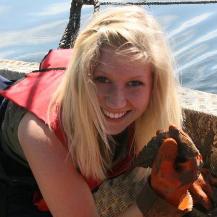 My research interests are primarily on human influences on aquatic habitats and organisms, particularly the sources, distribution and impacts of microplastic pollution. My approach to this topic is holistic, studying the degradation of macroplastic debris in marine habitats and the distribution of microplastic formed, as well as observing microplastic uptake and its impact in the commercially important langoustine population.
I have also worked on the degradation and impacts of "degradable" and "compostable" plastics in terrestrial environments (establishing the effectiveness and impacts of the novel polymers), have been involved in a number of citizen science projects examining a suit of environmental issues, and on engineering solutions to the problem of microplastic capture.
Recent Publications:
Welden, N. A., Abylkhani, B., and Howarth, L.M (2018). The effects of trophic transfer and environmental factors on microplastic uptake by plaice, Pleuronectes plastessa, and spider crab, Maja squinado. Environmental Pollution, 239, 351-358
Welden, N.A., Ashmore, M. and Wolseley, P.A. (2018) Citizen science identifies the effects of nitrogen deposition, climate and tree species on epiphytic lichens across the UK. Environmental Pollution, 232, 80-89
Welden, N.A. and Cowie, P.R., (2017). Degradation of common polymer ropes in a sublittoral marine environment. Marine Pollution Bulletin, 118, 248-253
Welden, N.A. and Lusher, A.L., (2017). Impacts of changing ocean circulation on the distribution of marine microplastic litter. Integrated Environmental Assessment and Management, 13, .483-487
Lusher, A., Welden, N.A., Sobral, P., and Cole, M. (2017). Sampling, isolating and identifying microplastics ingested by fish and invertebrates. Analytical Methods. 9, 1346-1360
Dr. Stuart Hanscomb – Dissertation Supervisor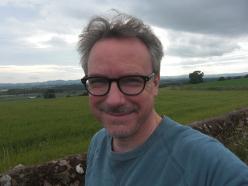 Stuart took his degree in philosophy and psychology at Hull University, and wrote his Ph.D. on Existentialism at Durham University. He has lectured in the Philosophy Department at Durham, and taught both philosophy and psychology at a number of other institutions, including City University (London), The City Lit. (London), Birkbeck College (London), Stirling University, and Edinburgh University.
He has been a lecturer at Glasgow University's School of Interdisciplinary Studies since 2003, teaching philosophy and communication, and has published articles and books on, among other things, environmental ethics and behavioural change, and critical thinking.
Between 2002 and 2006 he worked as a consultant for the marketing company Mountainview (London), writing and delivering material on the self, emotion and the psychology of persuasion.
Dr. Benjamin Franks – Dissertation Supervisor
Benjamin received his PhD from the Post-graduate School of Critical Theory, University of Nottingham having gained an M.Phil and BA in Philosophy from the University of Manchester. He has been a lecturer at Glasgow University's School of Interdisciplinary Studies since 2001, teaching social philosophy, ethics and political theory, and has published articles and books on, among other things, environmental ethics and behavioural change, applied ethics especially in relation to political action and political ideologies.
Dr. Steven Gillespie – Dissertation Supervisor
Dr. Bethan Wood – Dissertation Supervisor
Professor He Xu – Environmental Management

He Xu's research focus is on strategic environmental assessment, environmental planning, the circular economy and global climate change. Since 1997 he has contributed to various research projects, including research supported by CIDA (the Canadian International Development Agency), IGES (the Institute for Global Environmental Strategies), the World Bank, and the Asian Development Bank, among others.
He has been a Visiting Scholar to the School of Management at the Royal Holloway, University of London, to the Department of Civil Design at the University of Liverpool, and to the Institute of Environmental Studies' Graduate School of Frontier Sciences at the University of Tokyo. He was a postdoctoral Fellow at the United Nations University – Institute of Advanced Studies. He gained his BSc, his MSc and his PhD from the College of Environmental Science and Engineering at Nankai University.
He has been on the staff of Nankai University since 2001 and holds the position of Professor of the College of Environmental Science and Engineering at the University. He is also Vice-Director of the Research Centre for Strategic Environmental Assessment, the Nankai National Centre for Innovation Research on Circular Economy, and the TEDA Circular Economy Promotion Centre.
Key publications
Bai Hongtao*, Zhang Yingxuan, Wang Huizhi, Xu He*. (2014). A hybrid method for provincial scale energy-related carbon emission allocation in China, Environmental Science & Technology. Vol. 48, 2541-2550. (IF=5.257)
Huizhi Wang, HongtaoBai*, Jia Liu, He Xu*. (2012). Measurement indicators and an evaluation approach for assessing Strategic Environmental Assessment effectiveness. Ecological indicators. Vol. 23: 413-420. (IF=2.967)
HongtaoBai, Huizhi Wang, He Xu*. (2010). Quantitative evaluation of air pollution in transport strategic environmental assessment: a case study based on uncertainty analysis and GIS technology. Journal of Zhejiang University Science A. Vol. 11(5). 370-381. (IF=0.527)
Professor Lin Zhu – Ecotoxicology and Environmental Risk

Lin Zhu is Professor of the College of Environmental Science and engineering at Nankai University. He did his undergraduate degree in Marine Biology at the Shandong Oceanography College and received both his MSc degree in Marine Ecology and his PhD in Ecotoxicology from the Free University of Brussels (Vrije Universiteit Brussel) (VUB), in Belgium.
His research interests focus on ecotoxicology, marine ecology and ecological assessment. He was the secretary-general of the Tianjin Society of Ecology from 1996-2001 and a member of the European Society for Comparative Physiology and Biochemistry from 1990-96. He was an assistant engineer in the Institute of Marine Environmental Protection in Dalian, China, before joining the staff of Nankai University.
His research has ranged from studying the effects of crude oil and dispersant on marine phytoplankton to the feeding behaviour of Copepods (small seawater crustaceans) in West European estuaries, and researching the security of drinking water in northern China and using PCR (polymerase chain reaction) technolocy to detect pathogenic microbes in seawater.
Recent publications
Xiaoshan Zhu, Lin Zhu. Comparative toxicity of several metal oxide nanoparticle aqueous suspensions to Zebrafish (Danio rerio) early developmental stage. Journal of Environmental Science and Health Part A - Toxic/Hazardous Substances & Environmental Engineering, 43 (3): 278-284 Jan 2008.
Duan Zhenghua, Zhu Lin, Yao Kun, et al. Single and joint toxic effects of pentachlorophenol and bisphenol A on the development of zebrafish (Brachydanio rerio) embryo. Ecotoxicology and Environmental Safety,71, 774-780, Mar 2008
Zhongzhi Chen, Lin Zhu, Kevin J. Wilkinson. Validation of the Biotic Ligand Model in Metal Mixtures: Bioaccumulation of Lead and Copper. Environ. Sci. Technol. 2010, 44, 3580–3586
Dr JunFeng Wang – Environmental Economics

JunFeng Wang received his PhD in Environmental Science from Nankai University in 2006. His major research interests are: Caluation of natural resources; sustainable development; renewable resource management and conservation; methods of implementing efficient environmental policies; case studies of economic-ecologic conflict or harmony; and material flow analysis (MFA).
Key publications
Junfeng Wang, Jingwen-zhang, Xinliu. (2013). The study of allowance prices association mechanism on carbon emissions trading market-based on econometric model association analysis, China population, resources and environment, vol.23(12).
Junfeng Wang, Caobo Hou, (2013). Study on Implementation Framework and Compensation Pattern of Basin Ecological Compensation Mechanism in China: From the Perspective of Compensation Funds Source,China population, resources and environment, vol.23(2).
Junfeng Wang, Yong Yan. (2012). Research on Regional Difference's Impact on Pollution Charge and Tax in China, China population, resources and environment, vol.22(3).
Dr Chunli Chu – Theories and Principles of Sustainability

Awarded his PhD in 2011 from Nankai, Chunli Chu is a Unversity Lecturer in the College of Environmental Science and Engineering.
His research is focused on industrial ecology, environmental planning and management, and the reuse of resources.
He currently teaches three courses at undergraduate level: Basement of Environmental Science; Industrial Ecology; and Pollution events.
Key publications
Chu Chunli,Ju Meiting,Yu Jinglei Yu,et al..(2010). Analysis of resource productivity in Binhai New Area of Tianjin city.MASS 2010:2010 International Conference on management and service science.24-26.
Chunli Chu, Meiting Ju and Wei Liu. (2010). Analysis of sustainability and advice on Eco-city of Binhai New Area of Tianjin city. ICECS 2010: 2010 3rd international conference on environmental and computer science. Vol.176.17-19
Ju, Mei-ting; Chu Chunli; et al, (2010). Industrial ecology and innovation space , Chemical Engineering Press.
Dr Chunyan Shan – Theories and Principles of Sustainability
Chunyan Shan is an Associate Professor in the Department of Environmental Science in Nankai University;s College of Environmental Science. Her particular research interests are atmospheric particulates pollution control, transportation planning, regional environment planning, and environmental management.
She did both her BSc in Environmental Science and her MSc in Environmental Planning at Northeast Normal University in Changchun in China; she was awarded her D.Eng in Transportation Planning from the Tokyo Institute of Technology in 2008. In 2012 she was a visiting researcher at the Tokyo Institute of Technology and in 2002 she was a visiting researcher at McGill University in Montreal, Quebec.
In 2001 she was named an "Excellent Teacher of Nankai University".
Key publications
Yanwen Qiang & Chunyan Shan. (2013). Vehicular Emission Models of Particulate Matter and Their Application in China, Journal of Nankai University (Natural Science), Vol. 46(6):41-47.
Chunyan Shan and Tetsuo Yai. (2011), Public Involvement Requirements for Infrastructure Planning in China, Habitat International Vol. 35(1): 158-166
Sophie Stewart - Programme Administrator