What our postgraduate research students say
Thinking of carrying out your research at our School? Have a read at what some of our PGR students have to say about their experiences here.
David Jofre
David Jofré is in his writing-up year of a PhD in Politics. He has a Conicyt scholarship from the Chilean government.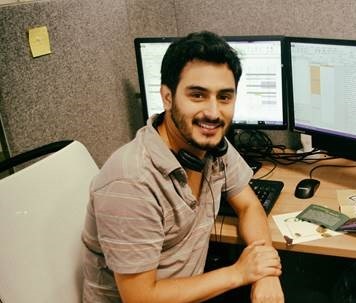 "Glasgow is a vibrant place… [so] getting bored or politically detached is simply impossible"
"It's thanks to the full-time Conicyt scholarship that I was able to come to the University of Glasgow to study a PhD in Politics. I was already convinced that it would be a great experience.
I studied an MSc in Political Communication at the university the previous year and could see a bit of the city's dynamic environment. Glasgow is a vibrantly multicultural place, where getting bored or politically detached is simply impossible.
Fieldwork has been the best part of the PhD. Researching my PhD on social movements and activist communications has involved travelling around Chile twice. I've interviewed relevant spokespersons of environmental and LGBTI+ communities, gathered pamphlets, zines and other media, and witnessed historic mobilisations. Collecting data in the field has without doubt been the most gratifying aspect of my PhD.
I have received both the professional and pastoral support of my School since the beginning. My supervisors have been thorough and committed to the highest standards, which I am sure is going to be important when I am applying for academic posts. I have benefitted from staff members' constant care of their PGR community, including being invited to participate in seminars and be involved in interdisciplinary research clusters.
At the University of Glasgow, those passionate about qualitative research and motivated to learn on the field will find a good opportunity to work freely and be fully supported. I recommend this PhD and the city to all students – it leads to exciting experiences!"
Evelyn Uribe Navarrete
Evelyn Uribe Navarrete is in her final year of a PhD in Politics, researching Corporate Social Responsibility and Human Rights
"Discussing current issues with human rights defenders and policy-makers has been both fascinating and inspiring"
"I decided to study at the University of Glasgow because of its international prestige and distinguished staff. From the outset, I was interested in working with my supervisors due to their extensive experience in topics related with my research.
What I like the most about the programme is the diversity of backgrounds, research and approaches in the politics department. Sharing research with staff and other PGRs is encouraged, and professors and lecturers are always open to providing advice and support. This has been crucial to my progress.
My research topic is Corporate Social Responsibility and Human Rights, and more specifically the international framework from the United Nations that promotes the pillars of Protect, Respect and Remedy for victims of human rights abuses. I'm doing a qualitative-comparative study on the processes and National Actions Plans of Mexico and Chile.
I spent the last six months on field work, conducting interviews, attending meetings, workshops, and local seminars that will provide context to my research. Discussing current issues with human rights defenders, policy makers, academics, leaders from international organisations and non-governmental organisations has been both fascinating and inspiring.
I was able to attend the Society for Latin American Studies conference in 2017, where I met lecturers and PGRs from other universities and so expanded my professional network in the UK. I've also had the opportunity to work as a graduate teaching assistant in Politics for first year undergraduates; it was a great experience to share knowledge, be creative and learn from younger students."