SCCR Postgraduate Network Meeting 2pm, 1 November
Scottish Centre for China Research Postgraduate Network meeting at 2pm on 1st November 2017

Location: Room 139, 29 Bute Gardens (Urban Studies Boardroom), University of Glasgow

Agenda

Hua Wang will talk about her experience of working on, and completing, a PhD. Hua finished her thesis earlier this year on 'Origin and network: examining the influence of non-local chambers of commerce in the Chinese local policy process',

We will then discuss future Postgraduate Network (PGN) activity, including meetings, the PGN blog and social media. We are also looking for people to get involved in a committee to help plan and organise future meetings and other activity.

If you are unable to attend this meeting but you have any ideas for future PGN activity and/or you would like to take part in the Scottish Centre for China Research PGN committee, do email sccr-pgn@googlegroups.com to let me know.



Chinese media masterclass with Professor Daniela Stockmann
University of Glasgow, room tbc
7 September 2017, 10.00-12.00
In this masterclass, Professor Stockmann will provide advice on conducting research on the Chinese media, including research design, data, methods and relevant software. The masterclass is aimed at PhD students who are doing research on the Chinese media. There will be an opportunity for participants to ask questions, including discussing issues related to their own research. There will a maximum of 10 participants.
Daniela Stockmann is Professor of Digital Politics and Media at the Hertie School. Her current research focuses on trends towards digitalisation of societies across the globe and their challenges for policymakers and citizens. Her most recent research project, funded by a Starting Grant of the European Research Council, explores the impact of social media on citizen participation.
Her book, Media Commercialization and Authoritarian Rule in China (Cambridge University Press, 2013), received the 2015 Goldsmith Book Prize awarded by the Harvard Kennedy School Shorenstein Center on Media, Politics, and Public Policy. The book explores the effects of media marketisation on the production of news and media credibility among audiences. To study the consequences of media marketisation in China, she used diverse research methods to capture the degree of media marketisation, the production of news, and media credibility. These included a focused study of newspapers in Beijing and Chongqing based on open-ended interviews with media practitioners and content analysis, which uncovered patterns of political control over newspaper content.
If you are interested in taking part in the masterclass, please contact Paul Gardner at Glasgow University, with details about your PhD research. sccr.pgn@gmail.com
Panel on 'China's traditional and social media: Changing Media, Changing China?'
Room 355, Main Building, University of Glasgow,
7 September 2017, 13.30-15.00
Professor Daniela Stockmann will chair a panel discussion on developments in traditional Chinese media and social media. The panel has been organised by the Scottish Centre for China Research Postgraduate Network, as part of the British Association for Chinese Studies conference. The speakers will be:
Vincent Weifeng Ni who is a journalist at the BBC and previously a foreign correspondent for Caixin, where he spearheaded the publication's coverage of the Arab Spring
Xin Xin who is Reader in International Media at the University of Westminster. She is the author of How the Market is Changing China's News: The Case Xinhua News Agency and she worked at Xinhua earlier in her career
Dr Jonathan Sullivan, the Director of the China Policy Institute at Nottingham University and his expertise includes the Chinese Internet and media
All welcome.
Scottish Centre for China Research Postgraduate Network Meeting
Time: 2pm on Friday 17th March, 2017
Location: Room 208B in the Adam Smith Building, University of Glasgow
(Building D8 on the campus map:
http://www.gla.ac.uk/media/media_335384_en.pdf
)
Agenda
1 Preparing abstracts and presentations for academic conferences
Professor Jane Duckett, the Director of the SCCR, will talk about how to prepare abstracts and presentations for academic conferences. This will be particularly useful for PhD students interested in presenting at the British Association for Chinese Studies Conference in Glasgow on 7-9 September. The deadline for submission of abstracts is 18 April.
2 Presentation by Zhu Jingyan on fieldwork in China
Jingyan is a PhD student at Edinburgh. She has recently returned from doing fieldwork in China. She will talk about 'Fieldwork in Chinese Local Hospitals: Patient Involvement in Health Services'. The talk concerns themes including access, preparation before the fieldwork, interviewing tips, and ethics.
We look forward to seeing you at the meeting.
Informal talk: social science academic job application and interview techniques
Informal talk: social science academic job application and interview techniques
by Aofei Lv

6 May, 2015 afternoon
Social change of Contemporary Chinese: e.g Vegetarian and Backpacking (14.11.26)
Co-Chairs: Jia Xie (j.xie.1@research.gla.ac.uk ) and Yahong Wang(y.wang.7@research.gla.ac.uk)
Wednesday 26 November, 2014 in 904 Adam Smith Building, from 4:30pm to 6:30pm.
Dear SCCR fellow researchers,
We are glad to welcome you to TODAY's PGN meeting - Innovative lifestyles of Contemporary Chinese Young Adults: Case studies on backpacker and vegetarian.
The seminar will be held in 904 Adam Smith Building, starting from 4:30pm.
Jia Xie will look back the history of mass tourism in modern China, answering questions such as how tourism changed from political activity to leisure industry. Furthermore, she will explore whether Chinese backpackers benefit from such dramatic social change or actually is the 'victims' of it.
Yahong's presentation will firstly give a preliminary review of the vegetarian tradition in China, especially in Beijing, then followed by a brief description of vegetarianism in contemporary Beijing. She proposes that the prosperity of vegetarianism in Beijing is essentially a metropolitan phenomenon, which has a deep link with the social change in China in recent decades.
We are looking forward to seeing you!
Best wishes,
Jia Xie and Yahong Wang
Feedbacks
I quite enjoyed the presentations and the free discussion yesterday. I think one significant point of the PGN monthly meeting is that everyone will join the discussion and express their idea. From that point of view, we did it very well.
One thing that Jia said really impressed me. She found that it seemed there are more Chinese female backpackers today, who are independent and well educated. It may be because of one child policy in China.
When China was a traditional agricultural society, male was seen as the main power of the family, because physical work of the agriculture was usually up to them. As a result, when a family had a few children but could only afford one for education, the boy was usually the priority as 'the hope of the family' (光耀门楣). This situation last thousands of years in China. However, one child policy in 1980s' does not give a family the choice to choose which children for education. Because no matter girls or boys, there should be only one child in each family (in theory). Therefore, the family has to send the only child to go to school (without any other choice), even if she is a girl. It means female has more opportunities to have education under one child policy than before when the opportunities were mainly given to male. This point does not deny the fact that under one child policy there are lots of baby girls being aborted because of the feus identification OR girls being abandoned. But the abortion and abandone are also due to the thousand year sexism. Under this context, the point only compares female education after they were born without abandone in China.
I think it might be quite interesting to do a statistic analysis and see female education before and after one child policy.
--Aofei Lv
The SCCR PGN meeting of November talked about two very interesting topics. Both of them are trying to explore the lifestyle changing of youngsters in transforming society within the contemporary China context. Yahong focused on vegetarianism in the capital city of China-Beijing, combined with her own living and study experience in the city. This presentation gave us a broader picture of the development and current situation of vegetarians, as well as the literature of vegetarianism within the field. In the second part, Jia Xie presented her research and findings which concentrated on young people who choose to be backpacker as their lifestyles. The field work of her research revealed some interesting phenomenon such as more female than male are backpacking in China.
Needless to say, many young Chinese citizens are seeking their identities in a fast changing society. Some of them are lucky enough to find where they belong, however, some are still confusing and wondering. Both of these researches tend to uncover the contemporary China from a niche and specific angle which is very meaningful and insightful.
--Kaidong Yu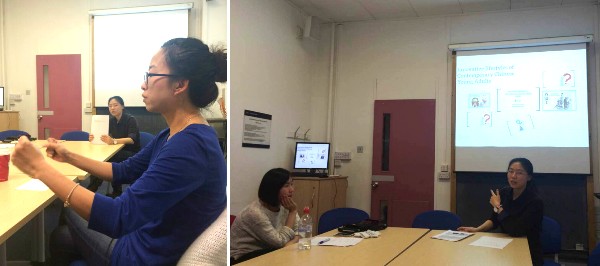 (taken by Xiaonan Yang)
Weibo (14.10.29)
Rotating Chair: Xiaonan Yang x.yang.1@research.gla.ac.uk
Room 904 ASB, 29th October, between 4.30 - 6.30 pm
Dear SCCR fellow researchers,
Welcome come back to the new semester 2014/15. I am pleasant to introduce the theme of SCCR PGN meeting in October – Sina Weibo.
In China, the enthusiasm of netizens is not curbed regarding social media even with the government's control and censorship. The banning of mainstream Western social media, including Facebook, Twitter, and YouTube in Mainland China has provided a great opportunity to domestic players from the beginning. Renren (originally called Xiaonei) and Kaixin have acted the role of pioneers in this industry. Following the dramatic development of information technology, various social media emerged during the past decade with Chinese exclusive versions: Twitter – Weibo, Whatsapp – Wechat, Quora – Zhihu, YouTube – Youku+Tudou, LinkedIn – Lashou, Tumblr – Diandian. The argument has been made that social media have integrated into Chinese users' life, especially for the 80's and following generations.
Sina Weibo, a Twitter-alike site, has attracted numbers of interests from both practitioners and scholars. As reported, it is now one of the largest user-generated-content platforms. It re-shaped the frameworks of conducting business, making regulations or policies, and even doing researches for academics. It is the platform in which provides numerous chances for cross-disciplines studies.
Two doctoral researchers, Aofei Lv (Politics study) and Xiaonan Yang (Management study) is about to provide their own insights from normal Weibo users' perspectives of using Weibo as relaxation and research tool; simultaneously, offering a zest regarding Weibo research from their own projects. Leading presentations will be delivered with round table discussion involving.
Furthermore, if you would like to share your own Weibo-relevant experiences or project, please inbox me before 24th October. We would like to learn from you! No matter it is a brief case of your own positive/negative incident while using Weibo, or a short presentation integrating Weibo to art, education, or other subjects based on your expertise. They are all precious to us.
The detailed outline for the meeting will be sent out in the following days.
We are looking forward to seeing you in the October SCCR meeting; meanwhile, it would be great to hear and exchange the experiences of yours in applying the platform in various purposes.
Best wishes,
Xiaonan Yang
Photos from this meeting: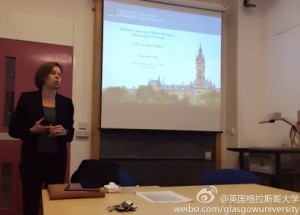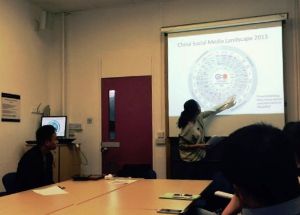 (1st picture is taken by Sophia Yu) Director of the SCCR, Professor Jane Duckett gave a open talk to the seminar and encouraged PGN members to open their mind beyond the research.
(2nd picture is taken by Yuwei Xu) PGN members concentrated on the meeting.
Feedback by Mengxi Pang:
The PGN meeting in October was focused on Weibo, a social media site that enjoys immense popularity in China. During the meeting two presentations were delivered which took on different approaches to explore the topic and its relations to wider society. One presentation was focused on the marketing function of Weibo, whereas the other examined the role of this social media in promoting the democracy process from a political perspective. Both presentations pointed out the profound role of Weibo in shaping Chinese society.
While this was my first time attending such meeting, I could clearly feel the enthusiasm shared by members. I believe this is a unique and enlightening forum that brings together a group of like-minded researchers who work on China-related topics. It presents insightful debates as well as stimulating ideas. I fully recommend this network to people who are doing research on China, and to those who are simply interested in knowing more about what research is being conducted at the moment.
Wednesday 24th September, PGN meeting
Room 904 ASB 4.30 - 6.30 pm
Achievements summary of last year and the plan making for the new year.
How does life happen around your PhD? (14.07.30)
4.30-6.30pm, Boyd Orr Building room 711
How does life happen around your PhD? by Dr. Nai Rui Chng
Dr Nai Rui Chng is an Affiliate Research Fellow in Human Rights in the School of Social and Political Sciences, and is a member of the Boyd Orr Centre for Population and Ecosystem Health at the University of Glasgow. He was also a Max Weber Postdoctoral Fellow at the European University Institute. He has a PhD in Political Science from the London School of Economics.
Dr Chng's research is on the regulatory and contentious politics of public goods. He is interested in how people with power, and those without, make, preserve, and change the rules of how public goods are distributed. He has worked on the governance of water supply, environmental resources, and public health in high, middle, and low-income settings. These include the UK, Singapore, China, Philippines and Indonesia.
For his Phd, he developed the concept of 'regulatory mobilization' to describe collective action by a group of actors to influence or obtain control over rules, modes of state intervention, and mechanisms of social control in the post-privatization context of urban water supply in Metro Manila in the Philippines. Currently, he is working on public participation in Chinese environmental governance. Together with Dr Neil Munro, they are developing a set of policy recommendations for the Chinese state and local provincial governments (Zhejiang) to establish a monitoring and evaluation system to collect data, and to assess the effectiveness of participation. Dr Chng is also working on the politics of public health. Here, he is working with Ecologists at the Boyd Orr Centre to develop a political theory of change for disease intervention in the context of rabies control in Southeast Asia.
Feeback by Hua Wang:
I attended the SCCN PGR seminar on 30th July, when Dr Chng shared his PhD research and other research projects he has been working on. Dr Chng has been involved in many inter-disciplinary researches with different approaches. From ethnography to politics, from public participation in environmental governance to disease intervention, he has successfully extended his research sphere with great potentials.
What I found useful for me is his experience in project management and time management, by which Dr Chng introduced his own experience and tips like planning ahead, and considering other related factors, especially from family aspect.
Regarding job hunting, he also introduced practical and essential skills needed based on his own story. Before looking for a job, we should make a decision whether working location or job itself goes first, which would lead to different strategies in job hunting. Nevertheless, keeping a unique application and a good network would of great benefit to applicants, no matter which priority we took. During the Q & A session, more issues like glass ceiling for female researchers, research methods and job vacancies in UK has been discussed by Dr Chng and other PhD participants.
All these introduction and discussion are of great use for me, as I am going to face all the challenges in the coming year. Doing research is not just a job, but a systematic life lessons need to be well looked after, with accidental factors intervening. It would be good to know what we really want before embarking the academic career. I think Dr Chng's presentation has provoked thoughts for future designing and advanced planning within the audiences.
Wednesday 25th June 2014, PGN seminar
4.30-6.30pm, Boyd Orr Building room 711
Rotating chair: Miao Huang
PhD presentations:
The US in the eyes of China: A popular geopolitical study on Sino-US relations
Ning An, PhD student in School of Geographical and Earth Sciences, University of Glasgow
Subject: Geography (accurately geopolitics, that is between geography and political science)


Noise in Guangzhou: the cultural politics of underground popular music in contemporary Guangzhou
Chen Liu, PhD student in Royal Holloway, University of London
Subject: (Social and Cultural) Geography
Business Model Innovation and Firm Performance: Chinese Online Group Buying Firms
Yang Zhao, 3rd Year PhD Student, Adam Smith Business School, University of Glasgow
Feedback by Miao Huang
The SCCR-PGN meeting in June was held on June 25th. Three speakers presented their research topics respectively on cultural geography, geopolitics and business model innovation. Except for some discussions about the basis of research, the presenters and audiences shared opinions on several interesting questions that were not limited to the presentations themselves, such as discourse backgrounds, investigation approaches and societal effects. After all, this was an informative meeting that expanded our horizons. We are expecting more interesting meetings in the future.
Wednesday 28th May 2014, PGN seminar
4.30-6.30pm, Boyd Orr Building room 711
PhD presentations:
Yuwei Xu:

A Cross-cultural Analysis of Gender and Teaching in Early Childhood Settings: Scotland, Hong Kong and Mainland China

Hua Wang: Origin VS. Network: Non-local Chamber of Commerce's Influence in Chinese Local Policy making
Discussions of 'doing fieldwork in China as a non-Chinese' and cross disciplinary methodology led by Dr. David Tobin
Feedback by Yang Zhao
It is an honor to participate in today's
PGN meeting. I am always interested in studies related to China, particularly research from different disciplines. PGN meetings offer great opportunities to get to know others' works. It was amazing to know that so many people are interested in China. Although today's presentations were not close to my subject, it was still useful to see how the researchers organise their studies. I hope they get useful and interesting feedbacks. Furthermore, I enjoyed the discussions of doing fieldwork in China led by Dr. David Tobin, because it was quite close to everyone's research experience.
One thing I was thinking about is that how we could make people from different disciplines to understand our research. Because the aim of PGN meeting should be encourage researchers to share the topics rather than talking about deep knowledge in a specific subject. So, maybe we could encourage presenters to shorten literature and to expand the field research part. But this is not necessary, because everyone should feel free to give presentations in their own ways.
Hope this feedback is not too detailed.
Many thanks for offering this opportunity.
PGN Guest Sminar, Friday 16 May, 3.30-5.00 pm, room 706, ASB
Guest speaker: Ms Ting Luo, LSE
Ting is a final year PhD candidate from London School of Economics and Political Science. She is going to present her recent award-winning paper by the Association for Asian Studies:
'Economic Autonomy and Incumbency Dominance in Elections in Rural China'
Under the supervision of Professor Simon Hix and Dr Valentino Larcinese, her PhD looks closely into how control of economic resources affects the control of local government over village elections in rural China, drawn up her one and a half year's fieldwork experience in a rural county of Guangdong Province. The contribution of her PhD study lies in the recognition that elections may not necessarily create momentum for democratization in authoritarian states unless citizens have economic autonomy to exercise their democratic rights.
She holds an MSc in public policy and administration from LSE and a BA in political science from Nankai University in Tianjin, China. She will start working as a Post-Doctoral Fellow in the ERC funded research programme "Authoritarianism2.0: The Internet, Political Discussion, and Authoritarian Rule in China" for the principal investigator Dr Daniela Stockmann at the department of Political Science of Leiden University in September 2014.
Abstract
This study investigates the effect of economic autonomy on the authoritarian control of local government over village committee elections in rural China, using a mix-methods approach. Based on case study of 26 villages in a county of Guangdong Province, this study demonstrates that with the support of local government, incumbents enjoy considerable advantage in China's village elections. Since the elections operate in an authoritarian context, in most cases incumbency advantage turns into incumbency dominance. Village economic autonomy is found to be the key in explaining varying degrees of incumbency dominance. More specifically, collective village wealth triggers fierce electoral competition, as collective village wealth represents the lucrative benefits candidates can obtain from holding the office. However, the success of authoritarian control hinges on village economic autonomy - the opportunities for economic development beyond the control of local government. Authoritarian manipulation at the polls is more likely to succeed in villages where opportunities for economic development are controlled by local government. Statistical analysis of the electoral results of 237 villages in 2011 in the same county consolidates such a finding. One theoretical implication is that elections may stabilize authoritarian governance if resources are monopolized by authoritarian rulers.
AAS award citation:
"Ting Luo's paper is critically important to answering a question that is driving a great deal of research on contemporary China's politics and the country's progress (or lack thereof) to what Westerners recognize as 'democracy', namely, what is the relationship between local wealth and genuinely competitive village elections? Her research, combining much grass-roots fieldwork with statistical calculation, is able to demonstrate compellingly that the prosperity of a village needs to be autonomously achieved before it can influence the independence of electoral competition in it and nullify upper-level manipulation at the polls".
Small group meeting with Professor Marc Blecher
'State of the field' and 'Doing research in China'
Tuesday, 13th May, 3.30-4.30 pm, room 702, ASB
As a follow-up meeting of his lecture on Monday, Professor Blecher would like to meet postgraduate research students to talk about is decades experience in social science research of China.
As the seats are limited, please email sccr_pgn@yahoo.com if you would like to attend.
Monday 31st March 2014, PGN seminar
Emiline C.H. Smith: CULTURAL PROPERTY IN TRANSIT: Trafficking Cultural Objects in Hong Kong.
Miao Huang: The framework of my research: the online retailing practice of Chinese regional press groups
Rotating Chair: Jing Han
Feedback
"The SCCR-PGN March Meeting themed Business, Media and Policy was held successfully on 31 March. Two speakers, both 1st year PhD students, presented their research respectively on trafficking cultural objects in Hong Kong and online retailing of Chinese regional press groups within the general theme, providing intriguing insights into the operation of various parties in business and their interactions.

Today, with the boom of the international market of cultural objects, the issue of trafficking cultural objects has been attracting increasingly attention. Hong Kong, currently as one of the most popular free ports, is a very valuable case to breakthrough. Emiline Smith's talk began with current situation of trafficking cultural objects in Hong Kong and moved on to how she will carry out her research on this subject from a socio-legal, criminological perspective. As a cultural heritage law specialist, Emiline's comprehensive study on this case shows great potential for improving relevant legislation for preventing trafficking cultural objects, which is of importance to the preservation and sustainable development of cultural heritage.

Contrary to the glamorous cultural property, the subject of online retailing of Miao Huang's talk is closely linked with our daily life. In the transformation of some Chinese regional press groups, online retailing, an unconventional diversified operation grows. This is a piece of virgin land full of both opportunities and challenges waiting for exploration. Miao presented her freshly drawn framework based on the interactive functions of press groups. Then she illustrated the defects of current online retailing by Chinese regional press groups and discussed potentials for improvement and implications for public policy, which will hopefully make contribution to the creation of better environment for online retailing of regional press groups.

Since there are quite a lot that overlap in terms of subject, methodology, etc, ideas were shared to a large extent and heated round table discussion was carried out. Both presenters received useful feedbacks. It was recognised by all that the monthly meeting is a precious chance to present research to peers of slightly different disciplines and is truly reciprocal in inspiring new thoughts.

Altogether, this was a small but informative meeting. We are all looking forward to more exciting meetings in the following months!"

Jing Han
Wednesday 26th February 2014, PGN seminar
Theme of presentations: What does a social science PhD do in each year? Chaired by Xiaonan Yang
Caterina Bellinetti: Chinese war photography (1st year)
Jing Han: Chinese dyeing technique (2nd year)
Aofei Lv: Chinese health policy and policy entrepreneurship (4th year)
Discussion of conference skills led by Professor Jane Duckett
Feedback
"As a first year PhD, I enjoyed yesterday's meeting very much. Research from different areas really widen my view. For example, I've never thought that the research on dyeing would be so fascinating and requires knowledge from different aspects. As a sociological student, the answer of 'why red represents high status in China' would always be the symbolic meaning of the color and social structure. While chemist told me because it takes more time, money and energy to dye cloth red. Moreover, Aofei's presentation really comforted me as a first year PhD since her experience told me that it takes time to make things clear. As long as you keep going and work hard, you will get reward. Prof. Duckett's guidelines for conference participation are valuable. She pointed out that one should be proactive and well-prepared. Also, please consider about what audience want when prepare your presentation. The suggestion of bring name card is so sweet.
Thanks so much for this short but productive meeting. Hope to see everyone soon!"
Jia Xie
1st year PhD in sociology
Wednesday 22nd January 2014, PGN meeting
To kick off a prosperous and promising new year, the SCCR-PGN had our first meeting on January 22nd.
At the meeting, the members introduced themselves so that people got to know each other. Besides we talked about the PGN¡¯s plan and events of the year.
Here are the main points of the meeting:
We all agree to strength the network via more interactions between the members within the network

;

There will be more routine events in the near future;
The SCCR and Confucius Institute (CS) are keen to support the PGN to organize our own events.