Facilities & resources
Facilities & resources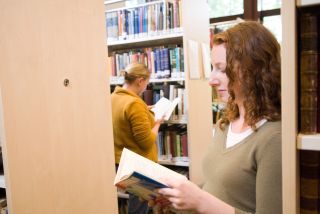 We have excellent research facilities for visitors, postgraduates and academic staff.
Postgraduate research students are provided with office accommodation in Lilybank House, including an individual networked PC, a range of software, access to photocopying and IT support.
Libraries and Archives
The University of Glasgow Library, one of the best in the UK, is a European Documentation Centre and a depository for Council of Europe publications, and has collections of British Cabinet Papers, Foreign Office documents and many other primary research resources.
Two of our related Centres (History of Medicine and Business History in Scotland) house specialist research libraries and host regular seminars and workshops with speakers from around the world.
There is also a wealth of archive resources in Glasgow, including the Scottish Business Archive at the University of Glasgow, with the most comprehensive collection on regional industry in the world, the nearby Mitchell Library archive collections, and a range of medical archives based in Scotland.
Scottish local and national public record offices and libraries are excellent and easily accessible, and students needing to consult archives outside Scotland will be assisted to obtain necessary travel funds.
Societies and Organisations
Economic and Social History Society of Scotland