Professor Anna Amtmann
Professor for Molecular Plant Physiology

(Molecular Biosciences)
telephone: 01413305393
email: Anna.Amtmann@glasgow.ac.uk

R229 Level 2, Institute of MC&SB, Bower Building, Glasgow G12 8QQ
https://orcid.org/0000-0001-8533-121X
Biography
Anna studied mathematics, biology and linguistics at the Universities if Paris, Heidelberg, and Barcelona, and obtained an MSc in Biology and a PhD in Natural Sciences from the University of Göttingen, Germany. In her PhD project in the group of Dietrich Gradmann she investigated how unicellular marine algae maintain cellular homeostasis for calcium and sodium ions. Anna subsequently worked as a post-doc in the laboratory of Dale Sanders at the University of York, UK, where she studied ion transport proteins in barley and arabidopsis using a combination of electrophysiology and molecular biology. During the last two years at York she pioneered the use of microarrays to monitor transcriptional responses of ion transporters to nutrient deficiency and salinity. In 2001, Anna took up a Lecturer position at the University of Glasgow, Scotland, followed by promotion to Senior Lecturer in 2004 and to Professor in 2014.
Research in her group has continued to unravel the molecular mechanisms that enable plants to adapt to mineral nutrient deficiency, salinity and drought [1]. Current projects investigate the genetic and epigenetic determinants of plant stress tolerance and of root architectural changes under mineral nutrient deficiency. Collaboration with bio-informaticians, computer scientists and software developers has resulted in popular analysis pipelines for large 'omics' dataset as well as biometric software for large-scale phenotyping [2]. In collaboration with engineers, the group applies microfluidics technology in synthetic biology and marine bioprospecting projects. Anna has established a substantial portfolio of collaborative work with industrial partners based on the use of cyanobacteria as a chassis for the production of polymers, pigments and photo-switches. She is a member of the Scottish Industrial Biotechnology Development Group (SIBDG) and the Synthetic Biology Steering Group, which support the Scottish government in realising strategic plans for the bio-industries. Starting in 2018, Anna has taken on the role of Editor-in-Chief for Plant, Cell & Environment [4], one of the leading international plant science journals. Anna's career path features on the 'Parent-Carer-Scientist' webpage of the Royal Society.

Weblinks:
[1] www.gla.ac.uk/researchinstitutes/biology/staff/annaamtmann/
[2] www.psrg.org.uk/
[3] http://onlinelibrary.wiley.com/journal/10.1111/(ISSN)1365-3040
[4] https://royalsociety.org/topics-policy/diversity-in-science/parent-carer-scientist/all-stories/
Research interests
Molecular mechanisms for mineral nutrition and salt/drought tolerance of plants

Why study mineral nutrition and salt/drought tolerance?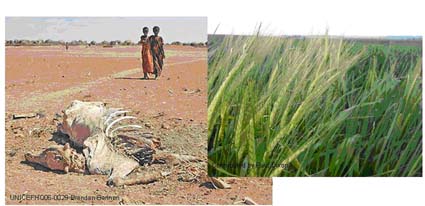 One of the major challenges for mankind in this century is to provide enough food for a rapidly expanding world population while preserving ecological and energy resources of our planet. According to the United Nations (2006) the world population will likely grow by 2.5 billion over the next 43 years, passing from the current 6.7 billion to 9.2 billion in 2050. A massive increase in crop production is required to meet the food demands of future generations; in 2020 the world agriculture will have to produce about 3.4 billion tons of cereals per year to meet the global demands. This increase in crop production has to come from:
Yield increase on existing arable land, which is limited by the (financial and ecological) costs of irrigation, fertilization and pest/disease control
Expansion of arable land, which is limited by global soil degradation in the form of erosion, nutrient depletion, water scarcity and salinity
To ensure rapid progress in both directions plant scientists have to work closely together with breeders and ecologists.

The contribution of our laboratory to global food security is to provide an understanding of the molecular mechanisms determining:
Nutrient usage efficiency
Salt and drought tolerance
Interaction between abiotic and biotic stress

Experimental research in the laboratory addresses specific questions in the following areas:
Ion & water homeostasis
Systems biology and metabolism
Nutrient sensing and root architecture
Transcriptional regulation and epigenetics
Cross-talk of abiotic and biotic stress responses

We apply a wide range of techniques and methodologies:
Molecular biology and genetics
High-throughput screening and phenomics
Microarrays and Illumina sequencing
ChIP and MeDIP
Microelectrodes and patch (voltage) clamp
Biochemistry and proteomics
Fluorescence imaging and laser microscopy
Experimental systems used in our research include:
Model species (Arabidopsis thaliana)
Extremophiles (Thellungiella halophila)
Crops (barley, Brassica sp)
Heterologous expression systems (Xenopus oocytes, yeast, insect and mammalian cell line)

For more information on research projects and people please visit the laboratory webpage at http://www.psrg.org.uk/
Research groups
Grants
Grants and Awards listed are those received whilst working with the University of Glasgow.
Hormone transport at the nexus of nutrient deficiency and drought stress in plants
Biotechnology and Biological Sciences Research Council
2023 - 2026

Algae BIV
Biotechnology and Biological Sciences Research Council
2022 - 2023

Maximising the benefit of collaborative work with India to improve stress resilience of soybean
Engineering and Physical Sciences Research Council
2022 - 2023

IRGA-Live Clamp: An integrated infrared gas-analysis platform to investigate systemic signalling within the plant canopy
Biotechnology and Biological Sciences Research Council
2022 - 2023

Sustainable plastic from cyanobacterial exopolysaccharides
Biotechnology and Biological Sciences Research Council
2021 - 2022

Algae-UK: exploiting the algal treasure trove
Biotechnology and Biological Sciences Research Council
2019 - 2024

Combining chemical priming and quantitative genetics to increase salt tolerance of soybean
Biotechnology and Biological Sciences Research Council
2018 - 2021

CyanoNet2018
Biotechnology and Biological Sciences Research Council
2018 - 2018

IBioIC Synthetic Biology Accelerator 2016-2
Scottish Funding Council
2017 - 2018

Perception and integration of nutritional signals in plant root systems: Solving the mystery of K-Fe-P interactions.
Biotechnology and Biological Sciences Research Council
2016 - 2019

Exopolysaccharide production in cyanobacteria
Biotechnology and Biological Sciences Research Council
2016 - 2017

Identification of stage-specific promoter elements in photosynthetic bacteria (ISSF Catalyst)
Wellcome Trust
2014 - 2015

EPIPRIMING: Keeping ready for battle: understanding fundamental mechanisms of establishment and maintenance of epigenetic marks underlying abiotic stress memory in plants.
European Commission
2014 - 2016

Molecular function and crop improvement potential of Histone Deacteylation Complex 1
Biotechnology and Biological Sciences Research Council
2013 - 2016

ISG-EPSRC: Patent application in the area of water security
Engineering and Physical Sciences Research Council
2012 - 2013

Biodesalination: from cell to tap.
Engineering and Physical Sciences Research Council
2011 - 2014

Increased pest resistance in oilseed rape mediated by an enhanced UV-B response
Biotechnology and Biological Sciences Research Council
2011 - 2015

Stress memory and its relation to stress tolerance in plants
Leverhulme Trust
2009 - 2012

Inorganic ions and plant metabolism - target, signals and responses
Biotechnology and Biological Sciences Research Council
2006 - 2008

Understanding the molecular basis of K-N interactions during plant nutritional stress
Biotechnology and Biological Sciences Research Council
2005 - 2005

Studies on an arabidopsis Myb transcription factor that controls salinity tolerance
Biotechnology and Biological Sciences Research Council
2005 - 2008

Potassium – the osmotic force driving plant growth
Leverhulme Trust
2004 - 2006

Functional genomics of nutrient transport in arabidopsis: a bioinformatics approach
Biotechnology and Biological Sciences Research Council
2003 - 2005

Elucidating signalling pathways in plant K homeostasis on the basis ofgene expression patterns
Biotechnology and Biological Sciences Research Council
2002 - 2006

Additional information
Editorial Board
2012 - present: Plant, Cell & Environment
2012 - present: Plant Physiology
2009 - 2012: Plant Biology
2005 - present: BMC Plant Methods
Grant Advisory Board
2013 - 2014: DBT/Crop Genomics and Technologies Initiative (CGAT) - Assessment Panel
2013 - present: BBSRC Crop Improvement Research Club (CIRC) - Member of Steering Group
2010 - present: International Network in Plant Abiotic Stress - (EU COST action FA0605) - Member of Management Committee
2009 - 2011: EU COST Action FA0605 - Management Committee
2008 - 2010: Genomic Arabidopsis Resource Network(GARNet) - Member of Advisory Committee
Invited International Presentations
2013: Perth, Australia - Annual Meeting of the Australian Science Societies 'ComBio 2013'
2013: Puerto Varas, Chile - 2nd International Symposium on the Nitrogen Nutrition of Plants 'Nitrogen 2013'
2012: Hong Kong, China - Gordon Research Conference, 'Salt and Water Stress in Plants'
2012: Vienna, Austria - International Conference, 'Plant Growth, Nutrition and Environment Interactions'
2011: Conegliano, Italy - BIONUT 'State of the art in plant nutrition research'
2010: Valencia, Spain - INPAS Meeting: Plant Abiotic Stress; From Signaling to Crop Improvement
2010: Les Diablerets, Switzerland - Chair Gordon Research Conference 'Salt and Water Stress in Plants'
2009: Vienna, Austria - International Conference on Plant Abiotic Stress Tolerance
2009: Lausanne, Switzerland - Invited Talk - Regulatory Oxylipins Conference
2009: Adelaide, Australia - ACPFG Symposium 'Genomics of Salinity'
2008: Big Sky, Montana, USA - Vice-Chair Gordon Research Conference 'Salt and Water Stress in Plants'
2008: Cordoba, Argentina - Annual Meeting of SAIB
2008: Cold Spring Harbour, Huntington, New York, USA - Nutrient Sensing in Plants
2007: Cambridge, England, UK - International Fertiliser Society: Potassium and Magnesium
2007: Valencia, Spain - International Workshop on Plant Membrane Biology
2006: Potsdam, Germany - Max-Planck Institute Seminar
2005: Barcelona, Spain - Annual meeting of the Society of Experimental Biology
2004: Cracow, Poland - 14th Congress of the Federation of European Societies of Plant Biology
2004: Montpellier, France - International Workshop on Plant Membrane Biology
2004: Paris, France - Integrating international research on plant abiotic stress tolerance using Arabidopsis related model species: Thellungiella halophila (BBSRC International workshop)
2004: Hong Kong, China - Gordon Conference on Plant Salt and Water Stress
2003: Barcelona, Spain - International Congress of Plant Molecular Biology
Professional Learned Society
2004 - present: Biochemical Society - Member
2002 - present: American Society of Plant Biologists - Member
1994 - present: Society for Experimental Biology - Life Member