Professor Emilie Combet Aspray
Professor of Human Nutrition

(Medicine)
telephone: 01412018527
email: Emilie.CombetAspray@glasgow.ac.uk

School of Medicine, Dentistry & Nursing, Human Nutrition, New Lister Building, Glasgow Royal Infirmary, Glasgow, G31 2ER
https://orcid.org/0000-0002-9302-8971
Research interests
Visit my Google Scholar page

My research is multi-disciplinary and focuses on how food (including whole foods, specific nutrients, and the way we eat) impacts on health throughout life, from the time peri-conception to old age. I have a particular interest on the "farm to fork to society" nexus, and its implications for all stakeholders, from a community, industry and clinical settings. It is a fascinating topic, since its implications are at the heart of the challenges faced by today's modern society: ageing and chronic diseases.

Human nutrition is a body of integrated science, underpinning much of biomedical and health research, with broad implications for public health and related policies and commercial activities. Our research in Human Nutrition at Glasgow always aims to inform, and change, practice and policy. Impactful research is at the core of our activity.
Some projects are industry-led, others funded by charities and governmental bodies. Most are applied, with wide public health implications.
Current activities / research themes
Iodine and thyroid health – Iodine is key for infant brain development during pregnancy and the neonatal period. In the UK, there is no prophylaxis at the moment. Our projects investigate levels of iodine intake in the female population, in babies, to understand barriers, long-term implication of exposure to insufficient iodine, as well as possible solutions to this public health issue. We have developed and validated a short food frequency questionnaire for iodine. It is available here and validated there .
Polyphenol intake and metabolism (inflammation, ageing, immune senescence) – Polyphenols are bioactive present in all plant foods. While their bioavailability is low, there is increasing evidence that their metabolism in the colon is implicated in their bioactivity. Polyphenol metabolites are likely to impact on the gut microbiota, and to impact the antigenic load of an individual. We study polyphenol metabolism, and its impact on lifelong health via the measurement of key biomarkers (including phenolic acids) in plasma and urine. Studies involve healthy volunteers, frail / healthy older adults, individuals at risk of colorectal cancer and colorectal cancer patients.
Oxidative/nitrosative stress, nutrition, glycation and ageing – Dietary compounds with antioxidant activity have been studied in the context of the free radical theory of ageing. Dietary bioactives, including polyphenol and their metabolites impact on oxidative/nitrosative stress as well as glycation. However, their mode of action is complex and involves more than free radical scavenging. We are using physiologically –relevant benchtop models to model these reactions. Focussing on dietary assessment and measurement of biomarkers in cohort studies, we study the contribution of glycated molecules, ROS/RNS to inflammation, pathogenesis in the context of obesity and the ageing process.
Food nutritional quality, reformulation – Several projects focus on food quality, from specific nutrients, bioactives (using our analytical platform) to food reformulation (and its potential / implications), improving the nutritional balance of food products. Previous and current projects have focused on coffee, seaweed, honey bee products, olive oil, fruit juices, and the nutritionally balanced pizza.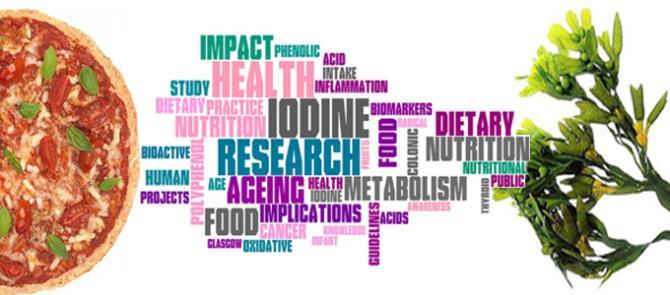 Research methods
Analytical biochemistry (state-of-the-art liquid / gas chromotography and mass spectrometry) with emphasis on bioactive profiling in foods (polyphenolics), biomarkers of colonic metabolism (phenolic acids) and oxidation/glycation/inflammation (Advanced Glycation End-products)
Intervention studies, including short-term acute feeding studies to study bioavailability and medium term feeding studies
Cross-sectional surveys in the clinic and community, focussing on exposure to key dietary compounds (polyphenolics, iodine) in relation to metabolic health or awareness, knowledge and practice related to nutrition.
We focus on collaborative research, as a way to deliver projects with a wide range of implications and stakeholders. Current PhD candidates and research assistants come from a diverse academic and clinical background, and from several countries, adding the multidisciplinarity of the lab. Prospective students are invited to get in touch by email first.
Collaboration & Networks
I am a co-chair for the RSE Young Academy of Scotland, and a member of the Glasgow Ageing Research Network (GARNeR), and the UK Iodine Group.
I am a Scottish Crucible alumnus (2011) and have active collaborations with colleagues in Europe and beyond, on the following key themes "Healthy Mothers Matters –nutrition, maternal & infant health" and "Nutrition, inflammation and ageing".
Grants
Grants and Awards listed are those received whilst working with the University of Glasgow.
Scottish Alliance for Food: health, equity and sustainability (SCAF)
Scottish Funding Council
2023 - 2027

Systematic review: vegan diets and cardiometabolic outcomes
Alpro Foundation
2022 - 2023

REDIRECT: REmote Diet Intervention to REduce long Covid symptoms Trial
National Institute for Health Research
2021 - 2023

Modulating gut biofilms for enhanced iodine release from foods
National Biofilms Innovation Centre
2021 - 2021

Eliminating bottle necks in demand-led whole algal partitioning for nutritional and biofuel end use
Engineering and Physical Sciences Research Council
2021 - 2022

Food vector for iodine-rich seaweed - Thyroid Health
Innovate UK
2017 - 2018

Physiological impact of nutraceutical drink on liver health
Scottish Funding Council
2017 - 2017

Manipulating the activity of the gut microbiota with fermentable carbohydrates to maximise the bioavailability of bioactive phenolic acids for health
Biotechnology and Biological Sciences Research Council
2015 - 2018

Support for MABY Study
NHS Greater Glasgow and Clyde Endowment Funds
2015 - 2016

Iodine status and thyroid function in Scottish neonates; relationship with maternal iodine intake.
Glasgow Children`s Hospital Charity
2014 - 2016

Iodine fortification of Potatoes using seaweed feasibility and impact on human health (SFC15)
Scottish Funding Council
2014 - 2014

Unravelling the impact of dietary iodine exposure on brain structures and cognition in the elderly: a study on a large Scottish cohort
Heriot Watt University
2013 - 2013

Seaweed as a dietary supplement to address iodine deficiency in UK females: a feasibility study
Innovate UK
2012 - 2012

'Nutritional Care of People Affected by Cancer' Education Programme Evaluation
Macmillan Cancer Support
2010 - 2011

A novel benchtop model to simultaneously study the impact of dietary polyphenols on colonic microbiota and enterocytes
The Royal Society
2010 - 2013

Inter-individual variations in the colonic metabolism of flavonols
Tenovus Scotland
2010 - 2012

Prevalence of low and marginal iodine status in women of child-bearing age and influence of goitrogen-rich food intake
Glasgow Children`s Hospital Charity
2010 - 2011

Teaching
Teaching
I teach on the MSc in Human Nutrition, on the "Food and Nutrition through the lifecycle" and "Dietary and Nutritional Assessment" and "Research Proposal" courses.
Professional activities & recognition
Prizes, awards & distinctions
2018: Media Fellowship (British Science Association)
Grant committees & research advisory boards
2015 - 2020: British Council Newton Fund, Environment, Agriculture and Food Sciences Review Panel
2017 - 2020: National Cancer Institute INCa, France, Sciences Humaines et Sociales, Epidémiologie et Santé Publique
2019 - 2019: Joint Programming Initiative - A Healthy Diet for a Healthy Life -, METADIS "Impact of Diet, Food Components and Food Processing on Body Weight Regulation and Overweight Related Metabolic Diseases"
Editorial boards
2016 - 2019: British Journal of Nutrition
Professional & learned societies
2019 - 2021: Co-chair, RSE Young Academy of Scotland
2016 - 2021: Member, RSE Young Academy of Scotland
2021 - ongoing: Trustee, Association for the Study of Obesity
2021 - ongoing: Director, ENLP Advanced programme