Students Train Public on World Restart A Heart Day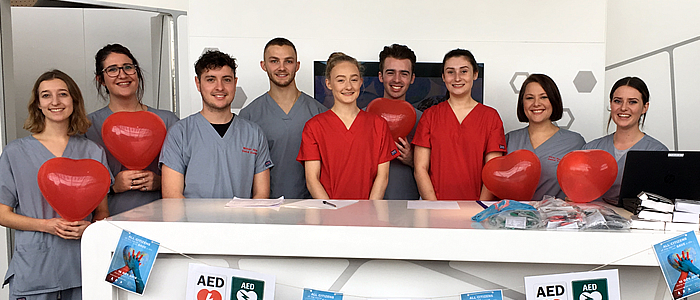 Students from Glasgow Dental School, Dundee Dental School and Edinburgh Dental Institute took part in World Restart A Heart Day on October 16th this year. The European Resuscitation Council initiative was unveiled in 2013 with the aim of raising awareness on of out of hospital cardiac arrest (OHCA) The undergraduate dental students provide opportunistic training to the visitors in a bid to build confidence and deliver a skill that will increase the likelihood of bystander CPR and ultimately increase the survival rates from OHCA. All ages are trained, from children through to adults, and everyone receives a certificate, with additional activities included to keep the children amused.
The initiative fits well into the Scottish Government Out of Hospital Cardiac Arrest strategy from 2014 which aims to train 500,00 individuals by 2020, thus creating a nation of life savers which in turn hopes to save an additional 1,000 lives. Part of this initiative includes funding to provide every local dentist with a defibrillator for use in the dental surgery and to be utilised by the general public in the event of an OHCA.
In past years the students from Glasgow have trained hundreds of members of the public:
2014 – 120
2015 – 176
2016 - 128
2017 - 185
This year, by joining forces with our colleagues in Dundee and Edinburgh we trained 368 visitors which is a huge achievement. This year STV came along to the Science Centre to televise the event and help raise awareness.
---
First published: 30 October 2018