UofG to help set up Malawi's first Dental School
Published: 15 August 2018
The University of Glasgow's Dental School has been awarded £1.3m from the Scottish Government to help establish Malawi's first Dental School
The University of Glasgow's Dental School has been awarded £1.3m from the Scottish Government to help establish Malawi's first Dental School.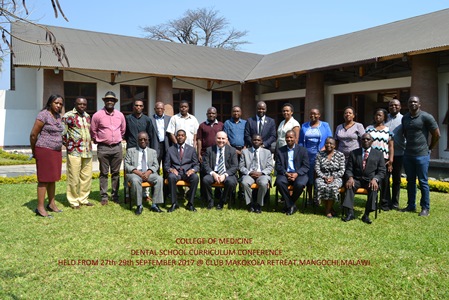 The award, which will help to establish a dental school at the University of Malawi's College of Medicine, was part of more than £11m funding announced by the Scottish Government's Malawi Development Programme.
The £1.3m will help to establish an undergraduate dental degree (BDS) programme within the Faculty of Medicine, College of Medicine, University of Malawi, over the next four and a half years. The MalDent Project will train Malawian dentists to be 'globally competent and locally relevant' and will be able to provide support for the delivery of a national oral health programme.
Professor Jeremy Bagg, Head of the University of Glasgow's Dental School, said: "I am delighted that the Scottish Government is supporting our bid to establish Malawi's first dental school. The Dental School alongside our partners at the University of Malawi's College of Medicine are excited to progress the MalDent project over the next 4.5 years."
Scottish Government funding is being provided to support 11 local projects in Malawi over the next four and a half years, focused on health, education, economic development and renewable energy. The projects will all be delivered in partnership with Scottish-based organisations and their Malawian partners.
Since 2005, hundreds of projects have been supported in Malawi contributing to the Millennium Development Goals and their successor, the United Nations Global Goals.
International Development Minister Ben Macpherson said: "Scotland and Malawi have a significant shared history, stretching back more than 150 years to the travels of Dr David Livingstone. The Scottish Government aims to harness these links to bring about positive change.
"Working in collaboration with the people of Malawi, our focus is to assist the most vulnerable communities in improving their health and education systems, as well as achieving long-term sustainable economic development.
"This funding will allow partner agencies to deliver tangible benefits to the people of Malawi, and reflects the enduring special relationship between our two nations."
Kenneth R. Ross OBE, Chair of the Scotland Malawi Partnership, said: "Scottish organisations working with Malawian counterparts are making a distinctive contribution to countering poverty and meeting the challenge of the UN Sustainable Development Goals.
"The Scottish Government grants announced today will significantly strengthen this effort and are much to be welcomed."
---
Enquiries: ali.howard@glasgow.ac.uk or elizabeth.mcmeekin@glasgow.ac.uk / 0141 330 6557 or 0141 330 4831
First published: 15 August 2018