The Adult Outreach Programme Celebrates its Tenth Birthday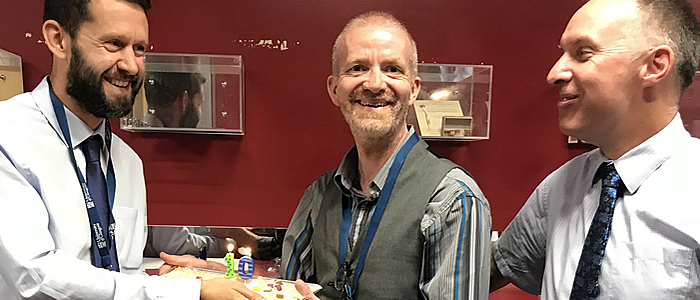 James Donn (Outreach Lead), Alun Scott (BDS 5 Course Coordinator) and Mike Dickson (Outreach Teacher) with the tenth anniversary birthday cake
The highly acclaimed adult outreach programme, in which BDS 5 students spend half of their final year undergoing clinical training in primary care facilities, commenced in 2008. At the Outreach Training Day on the 9th August, attended by the dentists and dental nurses who deliver the training, a celebratory 10th birthday cake was cut during the tea break in the afternoon. Dental School staff took the opportunity to reiterate their thanks to all the outreach teams who provide this 'jewel in the crown' of the Glasgow BDS curriculum. The success is summed up in a Glasgow student quote from the 2018 National Student Survey:
"Outreach has definitely been the highlight of my 5 years in dental school — if feasible, I would've liked to spend more time in outreach, perhaps starting even earlier and I believe I share the same perspective as many of my dental colleagues."
Thanks to Frank Bonner, Ashley McMillan and James Donn for expert organization of the event.
---
First published: 13 August 2018