Glasgow Dental Hospital donates dental chairs to Malawi Dental School project.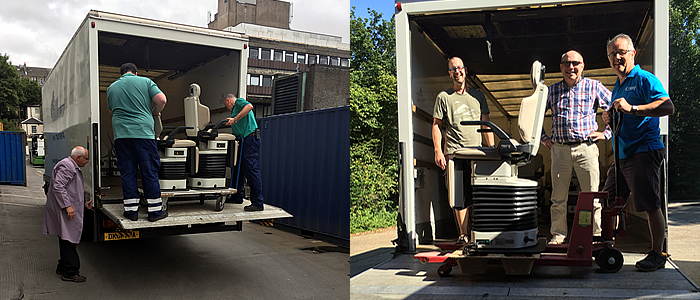 The University of Glasgow Dental School and the Royal College of Physicians & Surgeons of Glasgow are working with the University of Malawi College of Medicine to establish the first dental school in Malawi. The Oral Health Directorate of NHS Greater Glasgow & Clyde became aware of the project and has generously donated 12 dental chairs that were removed some years ago from a clinic during a refurbishment programme. These chairs are destined for the Dental Clinic at Kamuzu Central Hospital in Lilongwe, which is currently used for the training of dental therapists and will subsequently also be one of the clinical facilities used by dental students when the BDS course commences in 2019.
Another partner in the project is the charity Dentaid (www.dentaid.org) based in Salisbury. One of the services provided by Dentaid is the servicing and repair of donated dental equipment before it is shipped to projects in Overseas Development Agency recipient countries. Three members of Glasgow Dental School staff, Will MCLean, Mike Broad and Jeremy Bagg, recently hired a truck and have delivered the chairs to the Dentaid headquarters. Grateful thanks are due to Glasgow Dental Hospital porters Paul and Robert who worked very hard with the loading of the truck and to Stuart Bassham and John Elkins of Dentaid who worked equally hard with the unloading.
The Dental School would like to acknowledge the generous help and support of NHS GG&C and, in particular, to Frances McLinden, General Manager of the Oral Health Directorate and Jackie Wilson, Clinical Service Manager of Glasgow Dental Hospital.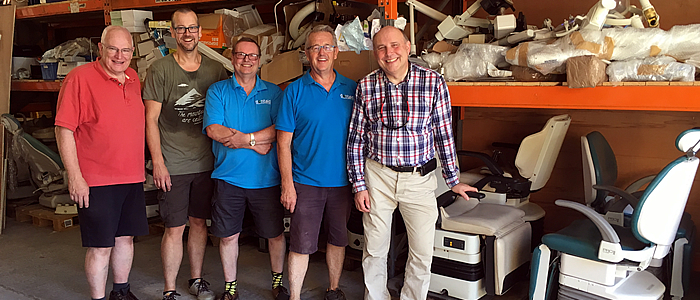 ---
First published: 13 August 2018