Success for Dr Ziad Al-Ani at the 2018 Glasgow University SRC Student Teaching Awards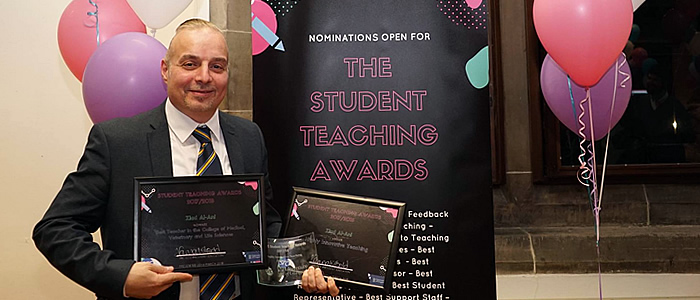 Every year the Student's Representative Council hosts the Student Teaching Awards. All students across the University were invited, last November, to nominate staff in a variety of categories. The awards provide an opportunity for students to recognise the outstanding work of those members of staff who have gone above and beyond to enhance the student experience. In the words of the SRC, staff who "...make our time here at Glasgow the best it can possibly be!"
This year, our Dental School colleague Dr Ziad Al-Ani was nominated for two awards - 'Best Teacher in the College of Medical, Veterinary & Life Sciences' and also for 'Highly Innovative Teaching'. Ziad won the award for highly innovative teaching, particularly in relation to the wide variety of both traditional and digital teaching methods he employs in the subject area of tooth morphology. He was presented with the award at a ceremony in the Kelvin Gallery on 22 March, watched by one of his daughters who is a medical student here at Glasgow!
A list of all the winners for the 2018 Student Teaching Awards can be viewed here: https://www.glasgowstudent.net/events/stas/
---
First published: 3 April 2018