University Teacher wins Early Career Educator Award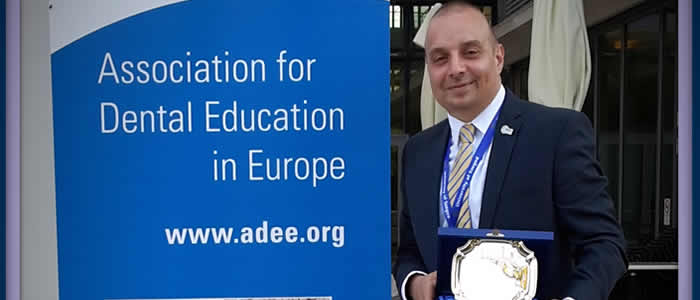 Dr Ziad Al-Ani, a University Teacher in Biodental Sciences at Glasgow Dental School, has recently won a prestigious Early Career Educator Award as part of the Excellence in Dental Education Awards Programme administered by the Association for Dental Education in Europe (ADEE).
The programme exists to promote and reward the highest standards of learning and teaching in dentistry. Applicants submit a portfolio that contains a curriculum vitae and a reflective commentary. The award was made by Professor Damien Walmsley, President of ADEE, during the General Assembly of ADEE at the conclusion of its 2015 Conference in Szeged, Hungary on 28 August. Ziad, who teaches Oral Biology and is also the lead academic for the Scottish Dental Education Online (SDEO) programme activities in Glasgow, celebrated his success by joining other conference delegates for a traditional Hungarian evening of music and cuisine at the famous Fehertoi Fish Soup Restaurant.
---
First published: 22 September 2015