The Pedalling Profs complete 'Blinking Eye to Squinty Bridge' cycle ride.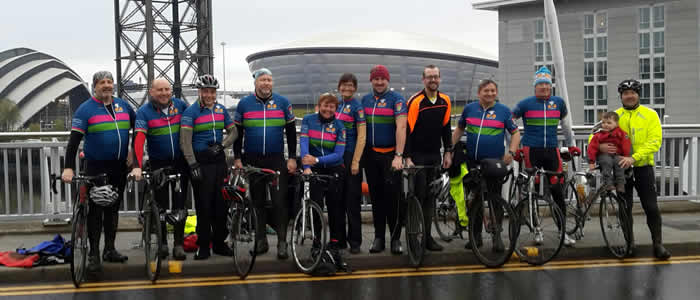 Glasgow Dental School's cycle team, The Pedalling Profs, completed its fourth venture, the 'Blinking Eye to Squinty Bridge Ride' from Newcastle to Glasgow, over the Bank Holiday weekend of 1-3 May 2015.
Despite a head-wind, the weather was dry and bright for the first two days and we saw some glorious scenery - Northumbria and the Borders at their best. The final leg, however, from Musselburgh to Glasgow along the Union and Forth Clyde Canal paths was extremely wet and both bikes and riders were mud-encrusted by the time we reached the Squinty Bridge on Sunday evening.
Despite a number of challenges along the way, managed ably by our fantastic support crew, it was a great team event and we're all looking forward to next year's outing.
You can find out more about the Pedalling Profs and our ongoing Dental Appeal at: http://www.gla.ac.uk/dentalappeal

If you'd like to support the Dental Appeal by sponsoring The Pedalling Profs following their successful 2015 ride from Newcastle to Glasgow you can visit their donation page at: https://www.justgiving.com/pedallingprofs2015
---
First published: 7 May 2015