BD3, Colin Glackin, takes victory in the Table Tennis Final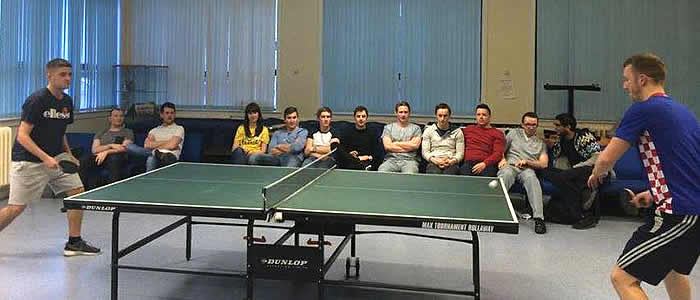 Tuesday the 31st of March 2015 saw the highly anticipated inaugural table tennis tournament come to an exciting and dramatic conclusion.
Forty-nine self-confessed table tennis enthusiasts, staff and students alike, entered the tournament with high hopes of lifting the coveted first place trophy. Some dreams were made and many tears were shed as the first, second and third round matches were contested in the level 5 common room. Of course, these matches provided excellent lunchtime entertainment for the dental students at Glasgow who stood by to cheer on their friends. Such an epic tournament would not be complete without some harmless sparring between the competitors, with Mr Nairn claiming to have already had his name inscribed on the trophy.
After a grueling and emotional journey, the semi finalists - Fraser Baird (BDS4), Colin Glackin (BDS3), Mr Neil Nairn and Dr Kurt Naudi – met on a blustery March afternoon to do battle for the coveted title. The student common room was transformed into an arena that some say was second only to Wimbledon, and a crowd of students, staff and family gathered to support the players. The results of the semi finals saw Fraser Baird and Colin Glackin heading to the final. Mr Nairn and Dr Naudi dueled for third and fourth place, with the Oral Surgeon triumphing over Mr Nairn's backhand smashes with his superior spin.
Fraser and Colin were well matched and the final contest came down to the last game, with both contestants having won three games each. The tournament was won as Colin Glackin edged ahead and seized his victory.
The inaugural tournament was a huge success and enjoyed by all who took part and spectated throughout the semester. Congratulations to Colin and to all who took part.
A special thank you to Mr Nairn for organising the tournament and to everyone who helped in it's running, making it such a resounding success. It is certain that the table tennis tournament will become a hotly anticipated fixture in the Dental School calendar for years to come.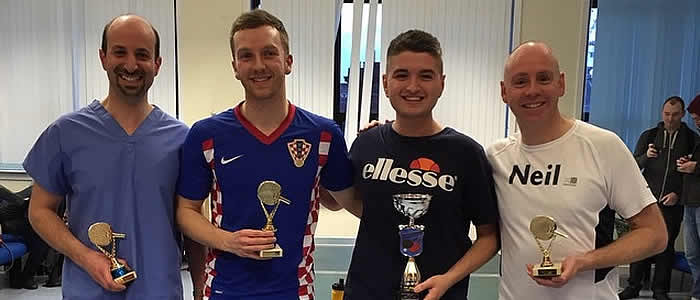 ---
First published: 7 April 2015