Victory for GDSS Rugby Squad
Published: 30 March 2015
GDSS Rugby Squad concede 0 points on their way to winning the Glasgow Caledonian University Rugby 10s tournament.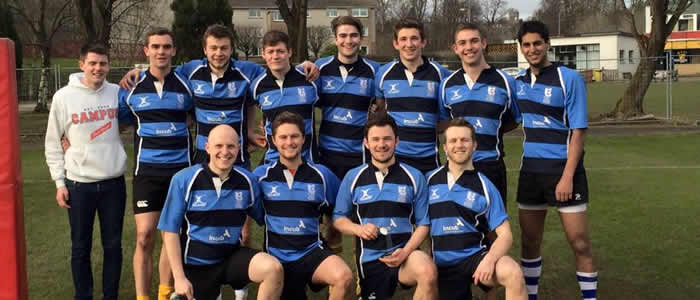 The beginning of this academic year saw the formation of the Glasgow University Dental School Rugby Football Club, as part of a bigger sports set up by the GDSS. As word spread and players came forward they developed a squad of over 30 players, many of whom have illustrious careers representing school, club, university and national age group rugby. While their training sessions consist of the odd game of touch rugby in the park, their prowess on the rugby park has turned a few heads at the university. In their first ever game together they played the intramural league winners, the Medical School, with a convincing 27-11 win.
Since then they have seen growing success, with their most recent victory at the Glasgow Caledonian University 10s tournament where they came first after beating GCU, City of Glasgow College and their Garnethill rivals the Glasgow School of Art, conceding zero points in the series. With summer approaching and many 7s tournaments with it, there is plenty more rugby to be played before the next academic year where, with their SRU registration complete, they can enter the intramural league and compete against the well-established teams of the other faculties at Glasgow University.
---
First published: 30 March 2015