The Adam Smith Lecture in Jurisprudence
The Adam Smith Lecture in Jurisprudence seeks to make productive in a contemporary context the distinctive approach of the Scottish Enlightenment to legal philosophy. The Lecture invites some of the world's most distinguished legal and political philosophers whose ideas have reached out beyond narrow disciplinary boundaries, to shape innovative thinking on key philosophical, political and social aspects of law and government. It is envisaged that these lectures will form landmark moments in our understanding of contemporary debates on law and its place in an interconnected world.
The 2019 Adam Smith Lecture was delivered by Professor Christine Desan (Harvard University) on the topic of "The Monetary Structure of Economic Activity."
*********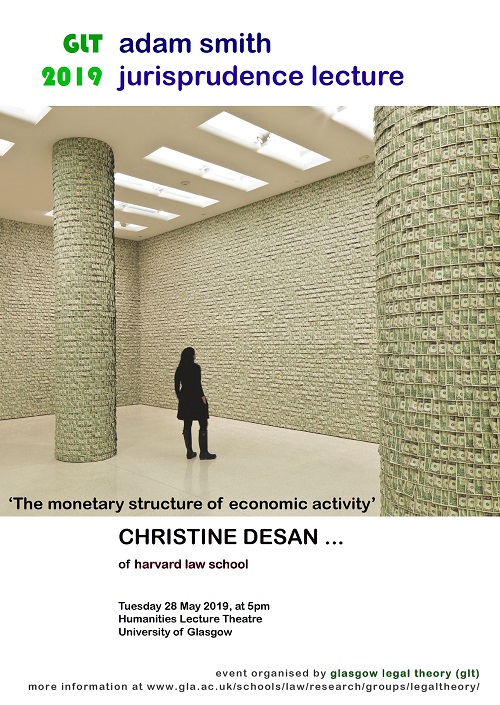 2018
2018's Adam Smith Lecture was given on Wednesday 30 May by Wolfgang Streeck.
Professor Streeck is one of the leading sociologists in Europe, emeritus director of the Max Planck Institute for the Study of Societies in Cologne, and a prominent public intellectual.
He presented at the University of Glasgow on the highly topical question of 'The Size of Nations and the Politics of Political Scale'.
2017
T‌he 2017 Adam Smith Lecture in Jurisprudence took place on 26 May. A J Julius (UCLA) presented on 'Free production through and against property'.
Abstract
This lecture arranges for Locke, Rousseau, Smith, Kant, and Fichte to agree about property by arranging for them to agree with Karl Marx. The project of using what's mine to make what's mine is an attempt at producing freely. It fails: the general interdependence of individual production activity as it's organized by private property is a mutual subjection. The attempt will succeed only when propertyless workers free themselves to work together on purpose.
2016
The inaugural Adam Smith Lecture in Jurisprudence took place on 5 May 2016.
Professor Scott Veitch, Paul K C Chung Professor of Jurisprudence from the University of Hong Kong was the guest speaker, who delivered a lecture on the topic of "The Sense of Obligation".
An Obligations Workshop, exploring related issues to Professor Veitch's lecture, was held on the same day.