Obligations workshop
In May 2016, GLT hosted, in association with Hong Kong University, a workshop on the topic of Law, Obligation, and Community. The workshop was host to a global community of scholars working in this area and to sixteen new papers.
There is an important starting premise to the project: that the expansion of rights discourse has obscured the work of obligation. Obligation has a primacy ahead of rights not least because rights attach to practices and modes of being that are already saturated with obligations. Obligation thus lies at the core not just of law, but also of communities themselves.
The aim of the workshop was to learn more about the distinctive work and situations of obligation, many of which remain under-theorised in legal scholarship. Looking beyond standard modes of analysis, workshop participants were invited to join in with a re-assessment, and potentially a re-conceptualization, of the nature of obligations and their contemporary roles, and to attend to the specificity of their binding force and their position in the formation and maintenance of communities.
Papers presented at the workshop included a wide variety of topics and perspectives.
We learned about obligation as the core of reciprocity, solidarity, and community, obligation as a mode of governance (particularly through debt), the ecology of obligation and the materiality of law, places of obligation and hidden normativities in the architecture of law, as well as the role of obligation in criminal law, finance and equity, memory and memorialization. Workshop organisers are now exploring options for a publication.
A list of workshop participants is included below:
Scott Veitch;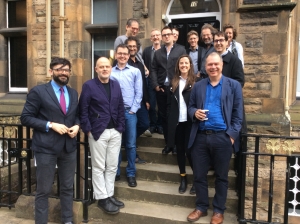 Emilios Christodoulidis; Dan Matthews; Ruth Dukes; George Pavlakos; Lindsay Farmer; Lilian Moncrieff; Carroll Clarkson; Marcelo Thompson; Stacy Douglas; Oren Ben-Dor; Kyle McGee; Sean McVeigh; Victor Tadros; Diamond Ashiagabor; Kenneth Veitch; Nick Piska; Johan Van Der Walt
Contacts: Scott Veitch (veitch@hku.hk ), Professor Emilios Christodoulidis (Emilios.christodoulidis@glasgow.ac.uk), or Dan Matthews (danmat@hku.hk) for more details.