Catherine Gallanagh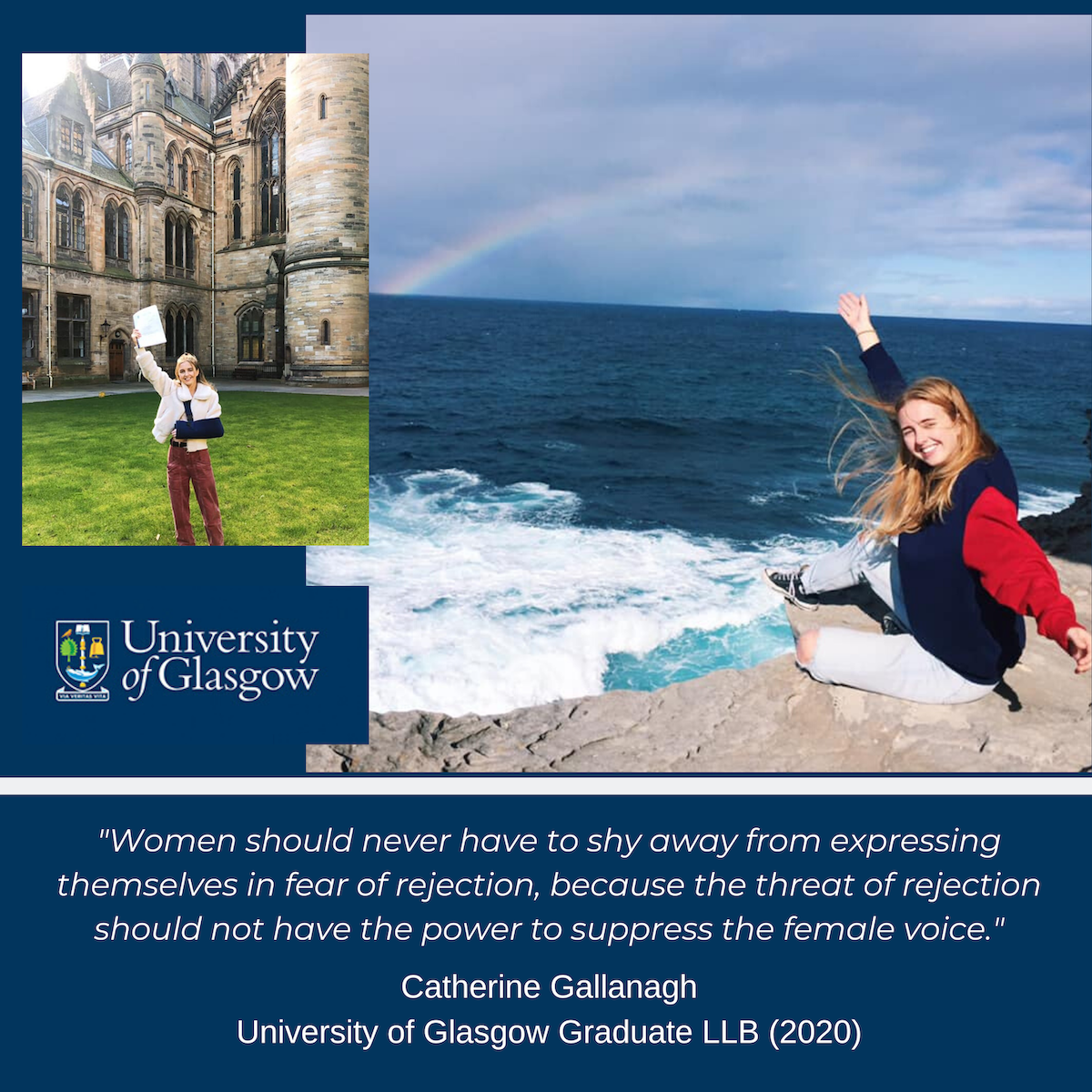 Pursuing a new career can be difficult to navigate for anyone but a legal career provides women with a unique set of challenges. Over the past 100 years, women have disrupted a sector typically dominated by men. Women entering the legal field can still expect to encounter multiple barriers in pursuit of a successful career. However, I believe the challenges I was presented with as a student have helped me build a strong and fearless character, which I hope will help me in overcoming the barriers that may arise in my journey to becoming a successful female solicitor.
Year Abroad
In my third year of legal studies I embraced an exciting change, by deciding to participate in the GoAbroad programme to study in Brisbane, Australia. Being thrust into this new situation empowered me to adapt to a new curriculum and new challenges, both social and academic. It was frightening, but I demonstrated determination in maintaining good grades whilst taking on new leadership roles such as Secretary of the Surf Club and Events Co-Ordinator for the Tennis Club. Now, by no means do I have any surfing or tennis abilities. However, I saw this as a great opportunity to embrace my new surroundings and to meet new people. Settling into Brisbane and finding my feet was difficult, but it taught me that sometimes you have to go outside of your comfort-zone to become comfortable in yourself. In times of great change an individual must seize the moment as an opportunity to both grow and challenge the barriers in front of them.
Finding Your Voice
One of the biggest challenges I faced at University was being able to express my own voice. It wasn't that I didn't have an opinion to share, it was that I didn't know how to share it. The most terrifying follow-up question a first year can be asked in a seminar is "and what do you make of the judges' comments?". The reason the question is so daunting is because we've always been taught from an early age not to question our superiors. We are conditioned into thinking that those more senior to us know more than us. But it is important to remember that we live in a world where it is often men in these senior roles. We therefore need to speak up to make sure female voices are heard.
I can distinctly remember the shock I felt when my dissertation advisor told me that my plan lacked room for my own opinion. I found it truly absurd that she suggested I use the words "I suggest" or "I propose". After all, why would anyone want to hear what I have to say on the matter, I'm only an undergraduate student? Dr Giedre Jokubauskaite encouraged me to find the power in my own voice, and to see the value in expressing my own opinion. I was encouraged not to settle for what's been said before, but to challenge and question other people's opinions, to value my own voice, and to have the courage to share it.
I was shocked and flattered when Dr Jokubauskaite suggested that she thought I'd be capable of applying for a PhD. A PhD was something that I always regarded as a pipe dream, but never fully believed I was capable of. While I am at this point pursuing a traineeship, to receive such positive feedback meant Dr Jokubauskaite didn't just hear my voice, she respected it. My advisor's words of support and encouragement will have a significant influence on me as I go forward in my legal career.
Learning to express your own views is an essential attribute for entering the legal workforce. Yes, there have been significant changes in terms of the proportion of women successfully pursuing a legal career. It is often reported that we now have more female solicitors than male. However, progress for gender equality in the legal industry is far from complete. Therefore, it is so important that woman entering the workforce appreciate the value of their voice, and are comfortable using it – even to question those above us. For progress to continue, it is important to have your voice heard, and to make others listen.
Rejection
Another crucial lesson I have learned as an Undergraduate is how to deal with rejection. After multiple traineeship applications being rejected, I was discouraged. Naturally, you begin to doubt yourself. Maybe my answers didn't fit the mould of the traditional candidate? Maybe I shared my own opinion too loudly? Maybe I didn't present myself in the way expected of women in the profession? It naturally becomes so disheartening to constantly question yourself and believe that you are not valued. But rejection shouldn't be so intimidating. We should learn to embrace the challenge that rejection presents, and reclaim control of our own destiny. As my dad always told me "What is for you, will not pass you". And he was right.
I secured my traineeship with Addleshaw Goddard - a firm that takes pride in pushing for gender equality and strives to increase the proportion of woman at more senior levels. The partners interviewing me said my application stood out to them because it was an interesting take on the question that they hadn't read before. I was told in my interview feedback that I performed highly because I was passionate and bold. AG saw that I was assertive and confident, and for them, that's what made me desirable. So, while some firms rejected me, ultimately those opportunities weren't for me. This helped me learn to take rejection in my stride. I learned that I can achieve whatever I set my mind to. Women should never have to shy away from expressing themselves for fear of rejection, because the threat of rejection should not have the power to suppress the female voice.
Ultimately my experiences at Glasgow have taught me to be fearless. I hope that the challenges presented by University have helped me to have the necessary strength and confidence to tackle the barriers facing me as a woman in law. I look forward to starting my next chapter.