Professor Carl Goodyear
Professor of Translational Immunology

,

Director of Innovation, Engagement and Enterprise

(Immunology & Infection)

Assistant Vice-Principal (Strategy & Resources)

(Office of the Vice Principals)
telephone: 01413303865
email: Carl.Goodyear@glasgow.ac.uk

RB421 Level B4, Iii - Gbrc, University Place, Glasgow G12 8TA
https://orcid.org/0000-0001-5926-5941
Personal assistant: Mrs Joanne Shearer
telephone: 01413308496
email: Joanne.Shearer@glasgow.ac.uk
Research interests
Dr Goodyear's research group is focused on understanding immunopathogenesis of disease (i.e., Rheumatoid Arthritis, Osteoarthritis, Multiple Myeloma & Guillian-Barre Syndrome) and translating this knowledge into viable therapeutic agents for patients. In parallel, Dr. Goodyear also leads a Translational Immunology programme, which provides the critical interface between clinical and basic science.
Dr Goodyear and his laboratory are funded by Arthritis Research UK, Association for International Cancer Research, Medical Research Scotland, European Commission, Chief Scientist Office, Medical Research Council, Nuffield Foundation, Glasgow Orthopaedic Research Charitable Trust, Pfizer, and MedImmune.
Local collaborators include: Professors Cavanagh, Barrett, Ferrell, Gadegaard, Lockhart, McInnes, Nibbs, Willison and Drs. Carmody, Crilly, Litherland, Milling, Porter, Siebert, Soutar. National & international collaborators include: Professors Isaacs (Newcastle, UK), Silverman (New York, USA), Van 'T Hof (Liverpool, UK) and Drs Chiaramonte (Milano, Italy), Hollan (Lillehammer, Norway), Pratt (Newcastle, UK).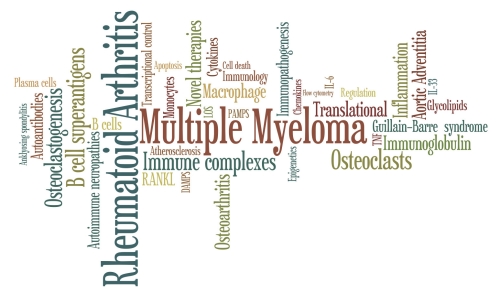 Grants
Grants and Awards listed are those received whilst working with the University of Glasgow.
OCTAVE DUO - Vaccine Task Force phase1
Medical Research Council
2021 - 2022

HIPPOCRATES
European Commission
2021 - 2025

A first-in-class peptide-based platform delivery technology to modulate mitochondria function in disease
Medical Research Council
2021 - 2022

A first-in-class peptie-based platform delivery technology to modulate mitochondria function in disease
Medical Research Council
2021 - 2022

A first-in-class peptide-based platform delivery technology to modulate mitochondria function in disease
Medical Research Council
2021 - 2022

OPTIMISE
National Institute for Health Research
2020 - 2024

COVID Vaccine response - OCTAVE
Medical Research Council
2020 - 2022

Dissecting innate immune determinants of severity and resolution in a longitudinal study of COVID-19
UK Research and Innovation
2020 - 2022

Host mitochrondria dysfunction by viral hijacking as a key pathogenicity mechanism in COVID-19
Wellcome Trust
2020 - 2021

Targeting osteoarthritic pain through Proteinase Activated Receptor 2 (PAR2)
Versus Arthritis
2020 - 2021

Delineating disease-relevant T cell subsets in rheumatoid arthritis: potential biomarkers of therapeutic response.
Chief Scientist Office
2020 - 2022

Rapid new methods for sepsis diagnosis in hospitals using microsystems
Chief Scientist Office
2020 - 2022

RACE Renewal
Versus Arthritis
2019 - 2024

ArthritisHeal
European Commission
2019 - 2023

Flexible Talent Mobility Accounts
Biotechnology and Biological Sciences Research Council
2017 - 2019

Rheuma Tolerance for Cure
European Commission
2017 - 2022

BIOlogical Factors that Limit sustAined Remission in rhEumatoid arthritis (BIO-FLARE study)
Medical Research Council
2017 - 2021

CiC Prognostic biomarkers in rheumatoid arthritis
Medical Research Council
2017 - 2017

CiC Translation of nanotechnology for improved bone regeneration
Medical Research Council
2016 - 2018

Are mesenchymal stem cells (MSCs) isolated from the olfactory mucosa a better source of cells for treatment of MS than bone marrow MSCs
National Multiple Sclerosis Society
2015 - 2017

Dissecting the function of Bcl-3 in NF-kappaB signaling in B cells
Biotechnology and Biological Sciences Research Council
2015 - 2018

Consortium of Neuroimmunology of Mood Disorders and Alzheimer's Disease
Wellcome Trust
2015 - 2018

Flow cytometric evaluation of immune signatures in severely malnourished children
Imperial College London
2014 - 2016

Developing USP7 as a therapeutic target in RA
Arthritis Research UK
2014 - 2015

The use of polyomic analyses to direct biologic therapy in biologic-naive people with Rheumatoid Arthritis
Chief Scientist Office
2013 - 2015

Comparing the immunophenotype of common inflammatory diseases to understand their pathogenesis.
Chief Scientist Office
2013 - 2016

Targeting bone disease in myeloma
Worldwide Cancer Research
2013 - 2015

Lessening the burden of osteoarthritis: elucidating the pathogenic role of the PAR-2 Pathway.
Arthritis Research UK
2013 - 2018

OSTEOIMMUNE: Unrevealing the Interactions between the Immune System and Bone
European Commission
2012 - 2016

An Immunological Toolkit for Clinical Application
Medical Research Council
2012 - 2017

The FLEXCELL FX-5000T Tension System; reintroducing cyclical mechanical strain to cell culture systems
Arthritis Research UK
2012 - 2013

Dendritic Cells in Ankylosing Spondylitis
Arthritis Research UK
2011 - 2013

The simultaneous targeting of inflammatory and osteoglastogenic mechanisms in rheumatoid arthritis
Arthritis Research UK
2011 - 2013

Inhibition of osteoclastogenesis by immunomodulatory complexes
Medical Research Scotland
2010 - 2013

Function of the chemokine receptor D6 on innate-like B cells
Biotechnology and Biological Sciences Research Council
2009 - 2012

The effect of B Cell depletion on atherosclerosis
Tenovus Scotland
2008 - 2009

RA-associated factors and their affect on B cell targeted cell death
Arthritis Research UK
2006 - 2011

Additional information
Invited International Presentations
2016: Hamburg, Germany - Plenary speaker and session chair at Immunobone international meeting
2016: UK - Arthritis UK fellows' meeting
2015: San Francisco, CA, USA - American College of Rheumatology conference
2015: Oxford, UK - Becton Dickenson Advanced flow cytometry meeting
2014: Southampton, England, UK - Wessex Immunology Group Annual meeting
2012: Scotland, UK - University of the West of Scotland IBEHR Research Seminar Series
2012: Ottawa, Ontario, Canada - Bill and Melinda Gates Grand Challenges Meeting
2012: Edinburgh, Scotland, UK - Edinburgh University MRC Centre for Inflammation Research Seminar Series
2012: Crete, Greece - 17th World Congress on Advances in Oncology and 15th International Symposium on Molecular Medicine
2011: London, England, UK - Imperial College Division of Immunology and Inflammation Seminar Series
2011: Glasgow, Scotland, UK - European School of Neuroimmunology
2011: Singapore - Anti-lipid antibody workshop, National University of Singapore
2011: UK - Nuffield Foundation Oliver Bird Rheumatology PhD Programme annual meeting
2011: Scotland, UK - West of Scotland Cancer Network, Haemato-oncology MCN Education Day
2010: Norway - Keynote at The Norwegian Cardiovascular and Rheumatology Conference
2009: Philadelphia, Pennsylvania, USA - American College of Rheumatology conference
2009: Glasgow, Scotland, UK - British Society for Rheumatology conference
2009: Edinburgh, Scotland, UK - Royal College of Physicians of Edinburgh Rheumatology Symposium
2009: Southampton, England, UK - University of Southampton School of Medicine Cancer sciences seminar series
2008: London, England, UK - Windeyer External Speaker Programme at the Division of Infection and Immunity at UCL
2006: Buzios, Rio de Janerio, Brazil - XXXI Congress of the Brazilian Society for Immunology - "Signaling in the Immune System"
2004: Cold Spring Harbor Laboratories, New York, USA - Course on Phage Display on Combinatorial Antibody Libraries - The Biology of B Cells
Prizes, Awards and Distinctions
2015: Royal Society of Biology - Fellow
2014: University of Newcastle - Visiting research fellow
2014: University of Birmingham - Visiting research fellow
2010: Medical Research Scotland - Inaugural Medical Research Scotland Vipiana Award
2010: University of West of Scotland - Visiting research fellow
2006: American Association of Immunologists - Junior Faculty Award
2005: Arthritis Foundation - Investigator Award
2005: National Blood Foundation - David B. Pall Prize for Innovative Research in Transfusion Medicine
2004: National Blood Foundation - Scholar
Professional Learned Society
2006 - present: British Society for Immunology - Member
2004 - present: American Association of Immunology - Member
2004 - 2006: NCI designated UCSD Cancer Center - Member
2004 - 2006: NIAMS designated UCSD Rheumatic Diseases Core Center - Member
Research Fellowship
2011 - 2013: Arthritis Research UK Progression Fellowship
2007 - 2012: Arthritis Research Campaign - Non-Clinical Career Development Fellow
2000 - 2003: Cancer Research Institute - Postdoctoral Fellow