Employability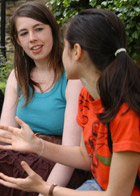 Employability is about your skills, aptitudes, abilities, confidence and self-awareness and how you develop and use these things. The University of Glasgow is committed to ensuring that all students are encouraged to develop such skills and provided with the opportunity to do so. The University has Employability resources, which include sections for both undergraduate and postgraduate students.
Philosophy graduates are eminently employable. A 2012 survey by the Telegraph found that philosophy was one of the top ten subjects for getting a job. Furthermore, Glasgow was fourth highest in the graduate employment league table.
The Higher Education Academy Subject Centre for Philosophical and Religious Studies has also developed a series of resources for those from a philosophical background including The Guide to Employability in Philosophy, Religious Studies and Theology and a series of Reflective Questions that can be used in conjunction with The Guide to Employability in order to help students think further about how to demonstrate the skills they have developed in the course of their studies. Their employability website has further information.
David Bain has some employability advice for Philosophy students on his homepage.