Dr Maud Bracke
Senior Lecturer (History)
Research interests
I am an historian of 20th-century European social and political history.
I started my career studying West European communism during the Cold War period, specifically the impact of the Czechoslovak crisis of 1968 on the Italian and French communist parties. This was published as a monograph, and I have authored articles in leading international journals on aspects of communist history, political and social mobilisation around '1968' in Western and Eastern Europe, and collective memory of World War Two. In recent years I have turned my attention to women's and gender history, and a monograph on the feminist movement in Italy (1960s-1980s) in an international perspective is to be published with Routledge in July 2014). Methodologically, I am interested in transnational and comparative approaches, oral history, and representation of history in film. My work has appeared in Czech, Dutch, Italian and Spanish
I am currently working on three new projects:
'Translating Feminism: Transfers, Transgression, Transformation (1945-1989)'. First workshop at University of Glasgow on 23 June 2014, with Prof. Susan Bassnett (Warwick), Prof. Kristin Schulz (Bern), Dr. Kathy Davis (VU Amsterdam), Prof. Alison Phipps (Glasgow), among others.
AHRC-funded Network on 'Women, Work and Value: Europe 1945-2015', for which I am co-investigator. Details and upcoming events
'After 1968. Social conflict and stabilisation in Europe's long 1970s - a comparative approach': Visiting researcher at Centre d'Histoire, Sciences Po (2014)
Workshop 'Society, Culture and Conflict in 20th-century Italy: Current research in Scotland and North England', University of Glasgow 30 May 2014. Held on occasion of a generous donation of Italian history material to GUL by Profs Judy and Steve Hellman.
New book: Women and the Reinvention of the Political - Feminism in Italy, 1968-1983 ‌
Grants
British Academy small research grant, 2007
British Academy small research grant, 2009
Royal Society of Edinburgh, European Visiting Research Fellowship, 2013
AHRC Network Grant, 'women, Work and Value, 1945-2015' (Co-I), 2014-5
Leverhulme International Network Grant on 'Translating Feminism: Transfer, Transgression, Transformation (ca 1960-1990)':

Principal Investigator: Dr Maud Anne Bracke (School of Humanities)
Co-investigator: Dr Penelope Morris (School of Modern Languages)
Start date: 4 January 2016
Length of award: 30 months
Amount awarded: £108,509
Supervision
Current PhD projects
Women and workplace activism in the UK, 1960s-80s (Jonathan Moss)
The Women's Liberation Movement in Britain and the question of class (Emily Flaherty)
Narratives of victims of terrorism in Italy (Emily Ryder)
Bolshevik women and the question of 'emancipation' in Central Asia (Anne McShane)
Visiting PhD student from University of Southern Denmark, Tobias Haimin Wung-Sung, Euorpean minority youth identities, 1950s-70s
I am interested in supervising in the following areas:
European social and political history 20th century
European communism, the European left
Feminism and gender history
Women and work
1968 and its aftermath
Transnational and comparative approaches
Oral history
I have supervised on:
The West German radical left following 1968 (Dr Matthias Dapprich)
Spanish trade unions in the 1920s-30s (Dr Thomas Corkett)
Teaching
Postgraduate:
Gender, Culture and Text (MSc Gender History)
Gender, Politics and Power (MSc gender History)
Social Theory and Social History
Revolution, War and the Left in European history, 1789-1989
Honours:
• Special Subject: 'Demanding the impossible? European Societies in the 1960s'
• European Communism in the 20th Century
• The Cultural and Social History of the Cold War
• The Left and the Nation in Europe, 19-20th Cent.
Pre-Honours:
• History 2B: 'People, Ideas and Things: The making of modern Societies 1500-2000'
Additional Information
PhD (2004) at the European University Institute, Florence; EUI Prize for best comparative historical PhD, 2005
Fellow of the Royal Historical Society and of the Higher Education Academy
Member of Peer Review College, AHRC; Peer-reviewer of senior research proposals for the Czech Science Foundation, FWO-Vlaanderen (Belgium), and Fondation Maison des Sciences de l'Homme (France)
External examiner for doctorates: Universitat autonoma de Barcelona; University of St Andrews; Queen Mary, University of London
External examiner for undergraduate programme SEESS-UCL (2009-2012)
Member of editorial board of the following journals: Gender & History (book reviews editor); Europe-Asia Studies
Visiting Researcher at European University Institute, Florence (2009) and at Centre d'Histoire, Sciences Po, Paris (2014)
Invited speaking engagements (selection): Paris VIII (Saint Denis), Humboldt-Universität zu Berlin, Potsdam University (Centre for Contemporary History), Universita' di Roma-I La Sapienza, Charles University Prague, University of Oxford; keynote at Association for the Study of Modern Italy, Postgraduate Summer School
Member of the board of directors of Glasgow Women's Library
Editor of the journal Gender & History
Member of the Centre for Gender History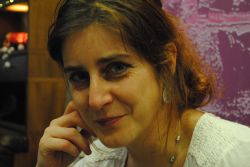 R304 Level 3, History, 1 University Gardens, Glasgow G12 8QH,