Scottish Toponymy in Transition: Progressing County Surveys of the Place-Names of Scotland
Project Team
Scottish Toponymy in Transition (STIT) is a major AHRC-funded project on Scottish place-names, which began in May 2011. It aims to build the future of survey, research and engagement with place-names in Scotland through:
researching and publishing three survey volumes, of the place-names of Kinross-shire, Clackmannanshire and Menteith (a region within the historical county of Perthshire)
beginning and progressing place-name survey of two further regions / counties: Cunninghame in Ayrshire, and Berwickshire in the Scottish Borders
exchanging knowledge with local communities through of talks, walks, exhibitions and other events.
The project is headed by Professor Thomas Clancy (Celtic and Gaelic) and Professor Carole Hough (English Language), and draws on the University of Glasgow's considerable and growing strengths in research within Name Studies and on Scotland's history and languages.
The chief researcher on the project is Dr Simon Taylor, one of Scotland's leading place-name specialists. Dr Taylor will oversee the production of two county surveys, Clackmannanshire and Kinross-shire (as they were before the 1975 local government reshaping), along with Dr Peter McNiven and Dr Eila Williamson. These surveys will build on Dr Taylor's work in the five-volume The Place-Names of Fife, which is the first full county survey to have been carried out in Scotland since 1947. These volumes, four of which have already appeared, authored with Gilbert Márkus, were the primary output of a previous AHRC-funded project (2006-10): Gaelic in Medieval Scotland: The Onomastic Evidence.
Beyond these full county surveys, three further counties will see major new place-name research: Dr McNiven will publish one volume of The Place-Names of Perthshire: Menteith, whilst building a framework for the full survey of the large county of Perthshire; Professor Clancy will initiate the survey of Ayrshire with research on Cunninghame; and Professor Hough, with a doctoral student, Leonie Dunlop, will begin the survey of Berwickshire and the eastern border counties.
Throughout the project, the team will be assisted by a Knowledge Exchange Liaison Group, working with county museums and local history societies to create an interactive exchange of local knowledge about place-names, through a series of exhibits and road-shows. Bringing together local knowledge and energy with academic expertise, the project hopes to find new routes of engagement between local landscapes and societies.
Academic Advisory Board:
Dauvit Broun (University of Glasgow); Peder Gammeltoft (University of Copenhagen); Kay Muhr (Belfast); Kevin Murray (University College, Cork); David Parsons (Centre for Advanced Welsh and Celtic Studies, Abersytywth)
Knowledge Exchange Liaison Group:
Dauvit Broun (University of Glasgow); Rob Close (Ayrshire Federation of Historical Societies); David Munro (Kinross Museum); David Strachan (Perth & Kinross Heritage Trust) Mark Hall (Perth Museums and Art Gallery), Janet Carolan (Dollar Museum), Susan Mills (Clackmannanshire Council, Museums and Heritage Service)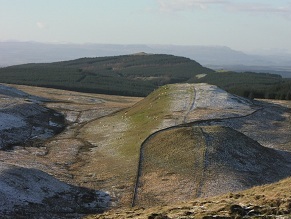 ‌Photo 1. A stretch of the medieval march between the lands of Outh (north of Dunfermline)
‌and the lands of Cleish as described in a 13th-century charter.
Later this became the boundary between Fife and Kinross-shire;
and is now the boundary between Fife and Perth & Kinross.
It is therefore also the boundary between the first and the second AHRC Project!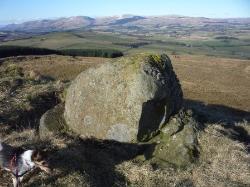 Photo 2: Boulder on Wether Hill, north of Dunfermline,
mentioned in a 13th-century charter describing the boundary
between the lands of Dunfermline and Culross Abbeys,
now on the border of Fife and Kinross, with the Ochils in the background.