Process Optimisation in the Mining Industry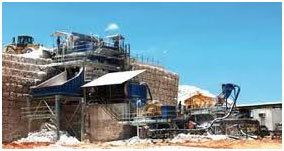 Tantalum – A Valuable Mineral Resource
The very valuable element tantalum is in high demand because of its widespread use as a critical component in manufacturing electrolytic capacitors for mobile phones, computers, medical implants, and automotive electronics. Its worldwide requirement currently outstrips supply.
Noventa, a Jersey based company, is a key supplier of tantalum from its Marropino mining concession in Mozambique.
Multi-Disciplinary Response to a Difficult Customer Challenge
Historically, Marropino's tantalum recovery was relatively poor. Typically less than 50% of tantalum contained in the mine's ores was recovered, with the remainder either left in waste dumps or lost during processing. As a result, Glasgow University was commissioned to undertake a project to assist Noventa to improve its tantalum recovery from the Marropino mine.
The project involved the Hunterian Museum along with the Schools of Geographical and Earth Sciences (GES), Chemistry, and Physics and Astronomy (P&A). Crucial metrology and analytical support was provided by the Geoanalytical Electron Microscopy and Spectrocopy centre (GEMS) in GES, Kelvin Nanocharacterisation Centre (KNC) in P&A, and X-ray diffraction facilities in Chemistry.
This multi-disciplinary collaboration allowed Glasgow University to offer a broad spectrum of 'in-house' specialist expertise and analysis to address synergistically Noventa's difficult challenge.
The University's remit was to examine distribution and textural relationships of tantalum-rich mineral grains in the ores and to suggest ways in which processing efficiency might be improved. The results could have significant impact on the future economic viability of Marropino.
Metrology Techniques Enable Broad Analysis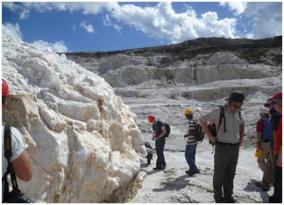 The University of Glasgow used a combination of techniques, including Chemistry's X-ray diffraction (XRD) to identify mineral phases, GEMS's scanning electron microscopy (SEM) and KNC's focused ion beam (FIB) milling and transmission electron microscopy (TEM) to characterise the textural and structural features of minerals that might impact their behaviour during processing, and a Frantz isodynamic separator for magnetic separation.These bundled, complementary techniques, backed by the University's analytical and interpretative expertise, enabled the project to be delivered successfully.
Expertise Supports Customer Process Improvements
After completing mineralogical, textural, and particle size analyses, Glasgow University was able to propose some simple and relatively inexpensive adjustments to existing processing technologies that could have a major impact in improving tantalum recovery.
Download the full Process Optimisation in the Miming Industry case study.