Dr Sean Mcginty
Reader

(Biomedical Engineering)

Elected Academic Staff Member on Court (Student Conduct)

(Academic Services)
telephone: 01413308588
email: Sean.Mcginty@glasgow.ac.uk

https://orcid.org/0000-0002-2428-2669
Research interests
MaCBE: Mathematical and Computational Biomedical Engineering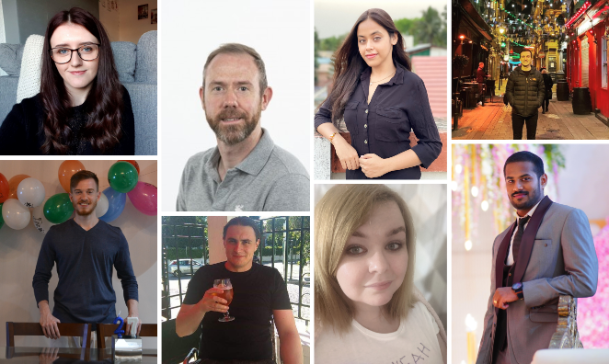 I lead a group focussed on developing mathematical and computational tools to help understand biological processes, disease and treatment, in collaboration with experimental groups. I have expertise in mathematical modelling of biological systems broadly within the application areas of drug discovery and drug delivery. My work is multi-disciplinary and involves collaborating with mathematicians, life scientists, engineers, clinicians and industry.
I am perhaps best known for my modelling of cardiovascular interventions, particularly drug eluting-stents and drug-coated balloons. Highlights include the first predictive model of in vivo drug-eluting stent performance, as well as the first continuum computational model of restenosis subject to drug delivery from stents. My group's models have culminated in the development of a novel drug-eluting stent in collaboration with industry and the NHS.
Some other interests include modelling sonoporation using liquid-crystalline shelled microbubbles and theoretical modelling of phase separation in amorphous solid dispersions, using principles from thermodynamics and multi-component diffusion. I have expertise in modelling flow and mass transport in a number of biological applications, including cardiovascular medical implant design and optimization, and in the areas of drug delivery and drug discovery, physiological flows and bioreactor cell culture systems.
As well as the development of appropriate numerical methods, an important feature of my work is the use of analytical techniques (e.g. non-dimensionalisation, asymptotics and sensitivity analysis) to provide added value and to simplify the models whilst still capturing the important features.
Recent Research Highlights
Professional activities
I am a former member of both the EPSRC Mathematical Sciences Strategic Advisory team (SAT) and the EPSRC Mathematical Sciences Early Career Forum, and a fellow of the Institute of Mathematics and its Applications (FIMA designation). I also hold the CMath designation and am a member of the European Society of Biomechanics.
Since 2016, I have been the Director of CMALS (Centre for Mathematics applied to the Life Sciences), a Scottish centre whose mission is to promote interdisciplinary research and scholarship in Mathematical Biology.
I am the director of the European Special Interest Group entitled "Implantable Devices and Drug Delivery Systems," which is supported by the European Consortium for Mathematics in Industry (ECMI). Additionally, I recently acted as Guest Editor on the Feb 2016 Annals of Biomedical Engineering Special Issue "Medical Stents: State of the Art and Future Directions".
I am on the Editorial Boards of the Journal of Pharmacy & Pharmacology, Mathematical Biosciences & Engineering and Frontiers in Medical Technology.
Research Impact, Knowledge Exchange and Public Engagement
I have a track record of collaborating with companies and clinicians to ensure that my work remains relevant and is driven by need. In addition, I engage with the general public to inspire the next generation of scientists and to showcase the value of my work.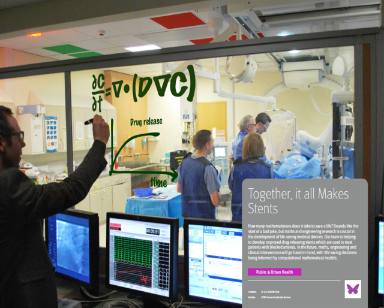 PhD Opportunities
I am very keen to hear from excellent students who wish to study for a PhD with me. Enquiries are warmly welcomed, although prospective students should investigate potential funding and/or scholarships (if required) before getting in touch.
Grants
• Biosensors International (2021-2023), In silico assessment of DCB technology (PI)
• EPSRC (2020-2024), The SofTMech Statistical Emulation and Translation Hub (SofTMechSET), EP/T017899/1 (CI)
• EPSRC (2019-2023), SofTMech with MIT and POLIMI (SofTMechMP), EP/S030875/1 (CI)
• Lord Kelvin Adam Smith Studentship (2018-2022) (PI)
• The Carnegie Trust (2018), Mathematical modelling of sonoporation for a liquid crystal shell microbubble, (PI)

• Royal Society Newton Mobility Grant (2018-2020), Towards Next Generation Stenting - The Evaluation and Study On The Mechanical Behaviour of Novel Shape Memory Polymer Stents, (CI)
• EPSRC GCF ISF (2016-2017), Improved modelling for the design of optimized next generation drug-eluting stents, (PI)

• The Dr Hadwen Trust (2016), In-silico characterisation of the Kirkstall QV900 in-vitro system for advanced cell culture, (PI)
• NHS Greater Glasgow & Clyde Research Endowment Fund (2016-2017), Investigating the potential of mathematical modelling for the analysis of congenital heart disease, (PI)
• EU COST Action TD1409 MI-NET (2015-2016), Mathematical modelling training week with industry, (PI)
• EPSRC IAA (2016), Understanding the potential benefits of using bispecific versus monospecific antibodies (with Glaxosmithkline), (PI)
• EPSRC IAA (2016), Modelling drug penetration in 3D hepatocyte spheroids (with AstraZeneca), (PI)
• EPSRC POEMS Network Funding (2015), Computational modelling in healthcare: Making confident predictions in a world of error and uncertainty, (PI)
• EPSRC IAA New Company Engagement (2014-2015), Simulating complex flow and absorption in quasi-vivo cell culture systems (with Kirkstall Ltd.), (PI)
• Royal Society (2014-2016), Modelling drug release from polymer-free drug-eluting stents, (PI)
Supervision
PhD Students (as primary supervisor)
Andre Fensterseifer Schmidt
Marcia McSwegan
Rafic Ramses
Silvia Renon
Sarah Eccles
PhD Students (as joint supervisor)
Parna Mandal (Jointly supervised with Prof Nigel Mottram)
Sathish Kumar (Jointly supervised with Prof Nick Hill)
Former students and PDRAs
Dr Hongrui Wang
Dr Danyang Wang
Dr Rachel Lucena
Bryan Scullion
Dr James Cowley
Dr David King
Dr Lauren Hyndman
Scott Black
Dr Alistair McQueen
Teaching
Current Courses
ENG1063: Engineering Mathematics 1
ENG4085: Integrated Systems Design Project 4 (ISDP4)
ENG2098: Engineering in Biology 2