Dr Lei Zhang
Lecturer in Glasgow College UESTC in Wireless Communication Systems (Systems Power and Energy)
Research interests
Biography

Dr. Lei Zhang received his B.Eng. degree in Communication Engineering and M.Sc. degree in Electromagnetic Fields and Microwave Technology, both from the Northwestern Polytechnic University (NWPU), Xi'an, China, and Ph.D. from the University of Sheffield, U.K. in 2011. He was with Huawei Communication Technology Laboratory (CT Lab) as a research engineer from Feb. 2012 to Nov. 2013. He was a research fellow from Dec. 2013 to Jul. 2017 in the 5G Innovation Centre (5GIC), Institute of Communications (ICS), University of Surrey, U.K. He joined the School of Engineering, University of Glasgow, as a Lecturer (Assistant Professor) in Jul. 2017. He also has work experience with Siemens China on RF coil design for Magnetic Resonance Imaging (MRI).
He has more than 10 years' research experience on 3G/4G/5G wireless communications. He had been broadly involved into EU FP7 IJOIN project, 5GIC project, EPSRC project, industry collaboration research project, China National Science and Technology Major Project and also contributed to 3GPP RAN1 standardizations. He held 16 international patents on wireless communication systems and applications. He has published 30 high quality journal papers and 3 book chapters. Dr Lei Zhang involves into the communication/signal processing society activates and took conference track chair / TPC or similar roles for more than 30 times, including of several IEEE flagship conferences (ICC, Globecom, VTC, PIMRC, WCNC, etc.). In addition, he led guest editors of two international journals. Dr Lei Zhang is an associate editor of IEEE ACCESS.
Research Interests
Dr Lei Zhang's research interests broadly lie in the communications and array signal processing. Recently, his research focuses on physical layer and MAC layer communication systems with potential applications to 5G scenarios: enhanced Mobile Broadband (eMBB), massive Machine Type Communications (mMTC) to Ultra-Reliable and Low Latency Communications (URLLC). Specifically, Radio access layer network slicing (RAN slicing), new air interface design (waveform, frame structure, etc.), Internet of Things (IoT), multi-antenna signal processing, cloud radio access networks, massive MIMO systems, Full-duplex, etc.
Funded PhD Opportunity (
Students Worldwide

)

Project: Radio Access Network Slicing (RAN Slicing) for 5G and Beyond Wireless Communications

The studentship is supported by the School, and it will cover home tuition fees, currently set at £4,195, and provide a stipend of £14,553 per annum for 3.5 years.

For more information and to APPLY: https://www.findaphd.com/search/ProjectDetails.aspx?PJID=88539&LID=2252
Grants
Grants
"SCMA and Grant-Free Multiple Access", Huawei-5GIC Collaborative Research Project, £223,000, CI, 2017-2019
Projects
"5GIC Integrated Solution", 5GIC Research Project, University of Surrey, 2015-2020, ~£2.3m, Research Fellow, Main researcher, 2014-2017
"iJOIN", EU FP7 Project, ~3.9m Euros, Research Fellow, 2013-2015
"Virtual Carrier based Low-Cost MTC UEs in 3GPP LTE", Sony Europe's collaborative Project, £250,000, Research Fellow, 2013-2015
"Hyper Transceiver (HT) for next generation (5G) wireless communications system", Huawei, China, Researcher, 2012 - 2013
"Measurement system of dielectric material complex-valued permittivity", NWPU, China, £150,000, Main researcher/Engineer, 2005 – 2008
UK-China Scholarship for excellence, £87,000, PhD full scholarship, 2008 - 2011
"Key technologies research for multi-layer and multi-cell LTE-Advanced system", China National Science and Technology Major Project,~£1.6m, Researcher, 2012—2013
Supervision
PhD students
Mr B. Yang (2018 - ), "Radio Access Network (RAN) Slicing", University of Glasgow
Mr R. Wang (2018 - ), "Machine Learning Assisting Communication Systems", University of Glasgow
Co-supervised/co-supervising PhD students
Dr. De Mi (2015 - 2017), " Massive MIMO performance analysis in the presence of transceiver impactions and reciprocity errors", 5GIC/ICS, University of Surrey
Dr. S. Taheri (2015 - 2018), "Efficient Implementation and Receiver Processing of Filter Bank Multicarrier Systems", 5GIC/ICS, University of Surrey
Dr. A. Zafar (2014-2018), "Widely Linear Processing Techniques for Filter Bank based Multicarrier Systems", 5GIC/ICS, University of Surrey
Mr. C. He (2014 - present), "Fast Orthogonal Frequency Division Multiplexing System", 5GIC/ICS, University of Surrey
Mr. J. Zhang (2016 - present), "Circular Convolution Filter Bank Multicarrier (FBMC) System with Index Modulation", Zhejiang University, China
Mr. J. Mao (2016 - present), "DHT-based MCM system", 5GIC/ICS, University of Surrey
Academic Visitors / Students
Dr X. Zhang (03/2017 - 09/2017), National University of Defense Technology, China
Mr. Y. Sun (11.2017 - 11/2018), University of Electronic Science and Technology of China, China
Mr. H. Xu (01/2018 - 01/2019), Beijing Institute of Radio Measurement, China
Funded PhD/Visiting Researcher opportunities
I am looking for high potential self-motivated PhD candidates and visiting researchers with background in electric and electronic engineering, signal processing, 5G and beyond systems, wireless communications, math, computer science, etc. Prospective Students who has industrial experience is particularly welcome. If you are interested, please send your CV to me via email. Students with chinese natationality are wlecome to apply CSC scholarships (CSC&Glasgow合作奖学金). For more information, please click here.
For the scholarship opportunity from the School of Engineering, please click here
More PhD/ Projects:
Project: Machine learning algorithms assisting millimetre wave communications for 5G and beyond
Project: Ultra-low latency and high reliable communications for wireless control
Postdoc Opportunities
Lord Kelvin Adam Smith Research Fellowships
http://www.gla.ac.uk/research/fellowships/
British Academy Postdoctoral Fellowships
http://www.britac.ac.uk/british-academy-postdoctoral-fellowships
Marie Skłodowska-Curie actions - Research Fellowship Programme
https://ec.europa.eu/research/mariecurieactions/
EPSRC Fellowships
https://www.epsrc.ac.uk/skills/fellows/
Newton International Fellowships
http://www.newtonfellowships.org/
The Leverhulme Trust Early Career Fellowships
https://www.leverhulme.ac.uk/funding/grant-schemes/early-career-fellowships
RAEng Research Fellowships
http://www.raeng.org.uk/grants-and-prizes/support-for-research/raeng-research-fellowship
Teaching
Introductory Programming – 2017 Fall
Additional information
Editorship
Associate Editor of IEEE ACCESS
Conference Chair
IEEE Sensor Array and Multichannel Signal Processing Workshop 2018 -- Publication and Registration Chair
Conference Track co-chair / TPC / Session Chair:
IEEE SAM 2018 TPC
World Forum 5G 2018 TPC
IEEE WCNC 2018 TPC
IEEE Globecom 2017 TPC
IEEE ICC 2017 TPC
IEEE WCNC 2017 TPC
IEEE VTC 2017 Fall TPC
IEEE CIT 2017 TPC
IEEE CSCN 2017 TPC
IEEE COMNETSAT 2017 TPC
IEEE IWCMC 2017 TPC
IEEE CCNET 2017 TPC
IEEE CPSCOM 2017 TPC
IEEE ICC 2016 TPC
IEEE VTC 2016 Fall TPC
IEEE VTC 2016 Spring TPC
IEEE Globecom WS 2016 TPC
IEEE WCNC 2016 TPC
IEEE PIMRC 2016 TPC
IEEE CIT 2016 TPC
IEEE COMNETSAT 2016 TPC
IEEE ICCVE 2016 TPC
IEEE ICNC 2016 TPC
EAI StemCOM 2015 Track Co-Chair
IEEE ISSPIT 2015 TPC
IEEE ICCVE 2015 TPC
IEEE CIT 2015 TPC
ICSPDM 2015 TPC
IEEE Chinacom 2012 Session Chair
Lead guest editor of special issue
Journal of Computer Networks and Communications: Special Issue on Enabling Wireless and Networking Communication Technologies for 5G (2016)
Chinese Journal of Engineering: Special Issue on New Air Interface for 5G Wireless Communications (2016)
Regular reviewer for the following journals
IEEE Transactions on Signal Processing, IEEE Transactions on Wireless Communications, IEEE Transactions on Communications, IEEE Transactions on Vehicular Technology, IEEE Transactions on Antenna and Propagations, IEEE Access, IEEE Signal Processing Letters, IEEE Communications Letters, IEEE Wireless Communications Letters, Signal Processing, IET Communications, etc.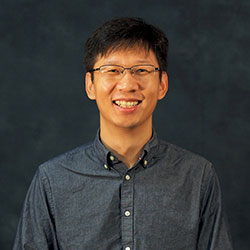 Room 420, James Watt Building (South), School of Engineering, University of Glasgow