Welcome from the Director for Postgraduate Research
For over 550 years staff and students at the University of Glasgow have carried out world-changing research. We have constantly worked to push the boundaries of what is possible. This means that if you have chosen to work or study here, you will be walking in the footsteps of some of the world's most renowned innovators, from scientist Lord Kelvin and economist Adam Smith, to the pioneer of television John Logie Baird.
We recognise that research students make a vital contribution to our institution's research output, culture and international reputation as a dynamic, competitive, research-led university. The School of Education has a history and tradition of working collaboratively across groupings to develop innovate cross-cutting research. A key feature of our research is our commitment to placing educational research as part of an interdisciplinary agenda to support the development of more equitable societies in the spirit of social justice.
To continue to be a world-class and progressive university, we are dedicated to bringing inspiring people together to change the world. As Director of Post-Graduate Research I look forward to working with you during your time here as we seek to achieve this vision. Welcome to the School of Education.
Dr Margaret Sutherland
Director of Postgraduate Research
Research and Teaching Groups
Staff within School of Education belong to one of four research groups.
These groups bring together staff with shared research expertise and capabilities to coordinate events, opportunities and activities. The School has a history and tradition of working collaboratively across groupings to develop innovative cross-cutting research involving a diverse range of perspectives. Your associated group/s will be that of your supervisors. Each group has a designated Postgraduate Research Convenor who is responsible for overseeing your supervision.
Pedagogy, Praxis and Faith
Dr Raymond Mccluskey
As PGR Convener in the Pedagogy, Practice & Faith RTG, I would wish to welcome you to the university. I hope that you will feel yourself part of a community of scholarship and be inspired and enthused by your interactions with fellow researchers. Towards the end of each academic year, I convene Annual Progress Reviews which are an opportunity for you to review the past year's work and to sketch out plans for the future in consultation with yourself and your supervisors. I must say that I always look forward to learning about the varied and fascinating research being pursued by our PGR students. I wish you well as you commence your programme of research.
Culture,Literacies, Inclusion and Pedagogy
Welcome to the Culture,Literacies, Inclusion and Pedagogy (CLIP)research and teaching group in the School of Education at the University of Glasgow. You can learn more about the research focus of our group here. In addition to being connected to our group through working closely with your supervisor, we host a series of CAP seminars during the year that you are cordially invited to in order to enrich your learning. We also encourage you to take advantage of the many opportunities to support your professional development through the College of Social Sciences and School of Education. Please pay attention to email notices about these opportunities that are sent throughout the year. Should you have any questions, you are welcome to contact the PGR Convener for your group, Dr. Hazel Crichton (hazel.crichton@glasgow.ac.uk). I am delighted that you chose to study in the School of Education at the University of Glasgow and hope that you have a productive year ahead.
Professional Learning and Leadership
Dr Robert Doherty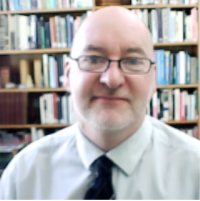 A very warm welcome to postgraduate study in the School of Education. I am Dr Robert Doherty and currently serve as post graduate convener for the Professional Learning and Leadership (PLL) research group. I have a role in the recruitment, review and support of all our research students.
As your principal supervisor is a member of the PLL research group within the school you are also affiliated to this group as one of our doctoral students. All of the academic staff in the PLL group are keen to learn about and support your work and academic development. Throughout the year we will invite you to take part in our seminars and workshops and give you opportunities to present your developing work to a friendly and responsive audience. Take a moment to look at our webpages and understand the areas of shared intellectual and professional activity that bring us together as a research cluster. We aim to create a welcoming, stimulating and productive academic environment and hope you will enjoy and contribute to this shared activity.
People,Place and Social Change
Dr Catherine Lido Dr Kate Reid
‌Welcome to the Social Justice, Place and Lifelong Education (SJPLE) Research and Teaching Group (RTG). Consisting of staff and students largely interested in researching topics of social inclusion and equity in education, the Group is your 'home' within the School of Education. We are an active Research Group and as your Postgraduate Research Convenor (that is, we are here to support PGR students in SJPLE), we encourage you to present and discuss your work at our PGR seminar sessions, where we have a friendly and lively exchange of research ideas, methods and theories. We also hold social events from time to time. We welcome student ideas and initiatives for future PRG events and discussion groups.
We look forward to seeing you soon,
Dr Kate Reid and Dr Catherine Lido
Postgraduate Research Administrator
Welcome to the School of Education. My name is Ms Arlene Burns and I am the Postgraduate Administrator and your first point of contact for the School. You will be invited to the School's Induction Day when you arrive, giving you a chance to meet other new postgraduate students and also members of staff. Providing insight to the school processes and where to find information. My office is Room 425b, level 4.
I will be allocating you a study space when you arrive for your 4 years of study in one of our following study rooms:
556 573 574 682 683
We have one student representative in each of the rooms above who are:
556 – Nor'ain Binti Sulaiman
573 – Anna Beck
574 – Peipei Liu
682 – Yuwei Xu
683 – Ting Zhao Zhang
My contact details are arlene.burns@glasgow.ac.uk or telephone 0141 330 3486.