The December 1910 Centenary Conference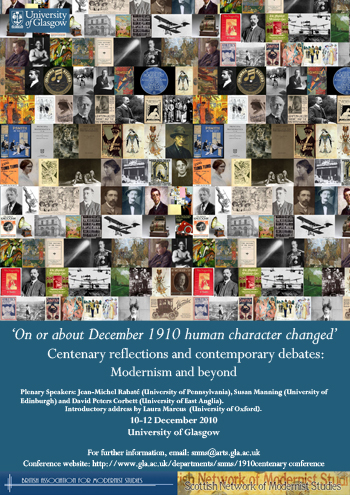 On 10-12 December 2010, two newly formed networks, the Scottish Network of Modernist Studies and the British Association of Modernist Studies, hosted their first major international conference at the University of Glasgow. This event was based around Virginia Woolf's famous and controversial statement that 'on or about December 1910 human character changed'. Papers at the conference approached different aspects of this remark from a broad range of perspectives and across the disciplines. Scholars travelled to Glasgow to present papers and participate in discussion from around the UK and across the World.
Plenary Speakers: Jean-Michel Rabaté (University of Pennsylvania)
Susan Manning (University of Edinburgh)
David Peters Corbett (University of East Anglia)
Introductory Speaker: Laura Marcus (University of Oxford)
The Symposium also included a highly successful one-day postgraduate-led event, Interceptions, organised by a team of graduate students from the Universities of Glasgow and Edinburgh.
The organisers would like to thank everyone involved for making this event such a success.