New Work in Modernist Studies - December 2018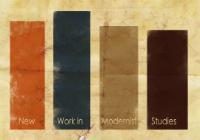 This one-day graduate conference is a joint event hosted by Scottish Network of Modernist Studies (SNoMS) in conjunction with Modernist Network Cymru (MONC), the London Modernism Seminar, Modernism Studies Ireland (MSI), the Northern Modernism Seminar, the Midlands Modernist Network and the British Association of Modernism (BAMS).
All those interested in modernist topics are welcome to attend.
The cost of the conference is £25 (or £15 for BAMS members) and includes lunch, tea, coffee and a Christmas drinks reception. If you are not already a member of BAMS you can join at https://bams.ac.uk/membership/
***REGISTRATION IS NOW OPEN ***
Please go to register. Payment will be taken on the day. Places are limited and we advise early registration to avoid disappointment.
The conference will take place in 5 University Gardens, Glasgow G12 8QQ
10-10:30 Coffee, registration, and welcome (Room: Foyer)
10:30-12:15 Parallel Sessions
SESSION ONE: Modernism, Gender and Sexuality
(Chair: Dr Bryony Randall, University of Glasgow) (Room: 5/101)
Rosie Reynolds (University of Westminster) '"Have you any aunts?" Virginia Woolf and the Usefulness of Aunts'
Josh Phillips (University of Glasgow) 'Thoughts on Peace in a Wine Cellar: Finding utopia in the drafts of The Years'
Jessica Widner (University of Edinburgh) 'Animal States: The Transformed Female Body in Djuna Barnes' Nightwood'
Jade French (Queen Mary, London) 'Embodied Lateness in Djuna Barnes' "Rite of Spring"'
Hailey Maxwell (University of Glasgow) 'Georges Bataille and the Sacred'
Polly Hember (Royal Holloway), 'Through the Yellow Glass: Modernism, Mass Culture and Gossip'
SESSION TWO: Modernist Identities
(Chair: Dr Maria-Daniella Dick, University of Glasgow) (Room: 5/205)
Adam James Cuthbert (University of Dundee) 'James Joyce: "Camera-Eye" and the Stream of Consciousness in A Portrait of the Artist as a Young Man.'
Wei Zhou (University of Leeds) 'Why False Teeth Matter: Deterritorialising Economy, Desire and the Return of the Soldier in The Waste Land'
Emon Keshvaraz (Durham University) 'Colonel Connie: how Domestic Heterosexuality Masks the Trauma of Homosocial Loss in Lady Chatterley's Lover'
Rebecca Savage (University of Birmingham) 'Great Western Railway Posters 1921-39: Art, Advertising and Conservative Modernism'
Helena Roots (Edinburgh Napier University) 'Spangin' and Stravaiging: Scottish Women Writers and the Nature of Rural Modernity'
Gaby Fletcher (NUI Galway) 'Margaret Sanger: Displaying the female body'
12.15-1.15: Lunch (Room: Foyer)
1.15-3.00: Parallel Sessions
SESSION THREE: Transatlantic Modernisms
(Chair: Dr Suzanne Hobson, Queen Mary, London) (Room: 5/101)
Jaime Ellen Church (University of Wolverhampton) 'Zelda Fitzgerald, the Belle, and the Performance of Ballet in Save Me the Waltz'
Nicola John (University of St Andrews) 'Art and Authorship: between Modern(ist) and National(ist) in Southeast Asian Art'
Aija Oksman (University of Edinburgh) 'Black Women Writers and Hooverite Counterliterary Activities'
Ahmed Honeini (Royal Holloway) 'Saying No to Death?: Mortality, Voice, and the Work of William Faulkner'
Laura Ryan (University of Manchester) '"You are white – yet a part of me" : D. H. Lawrence and the Harlem Renaissance'
SESSION FOUR: Modernism Across Media
(Chair: Dr Andrew Frayn, Napier University) (Room: 5/205)
William Carroll (University of Birmingham) 'Main Streets and Dark Rooms: The legacy of modernist American photography in the work of Walker Evans and David Plowden'
Tiana Fischer (NUI Galway) 'Media avant la théorie, mais après la lettre: "Waking" Modernist Literature's Media Theory'
Joseph Owen (University of Southampton) 'Degenerate Decisions: Art, Schmitt and Endless Chattering'
Sofie Behluli (Lincoln College, Oxford) 'The Figure of the Artist in Contemporary Anglo-American Fiction: Chevalier, Messud, Tartt'
Shalini Sengupta (University of Sussex) 'Objects and Difficulty in Twentieth-Century Poetry'
3.00- 3.30: Coffee (Room: Foyer)
3.30-4.30 Keynote Lecture: Dr Anouk Lang (University of Edinburgh), 'From Markov Chains to Vector Space: Digital Approaches to Modelling Modernism'
(Chair: Professor Faye Hammill, University of Glasgow) (5/205)
4.30-5.30 Christmas Drinks Reception (Foyer)
‌
‌
We are always willing and glad to receive proposals for papers on Modernism and topics relating to Modernism that may be incorporated into future events. If you would like to give a paper at a future event please, contact Matthew Creasy.