Quick Links
Travel and Directions

Postgraduate Bursary
Conference Events
Bespoke Tour of the Kelvingrove
Dinner at City Chambers

A Visit to Britannia Panopticon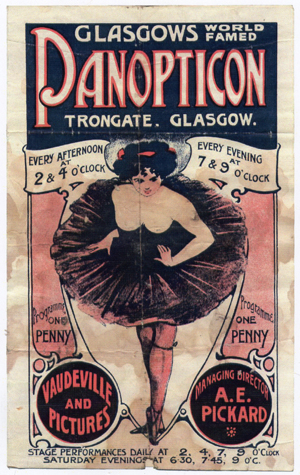 A hidden gem among Glasgow's many extraordinary buildings, the Britannia Panopticon is the UK's – possibly the world's – oldest surviving music hall. Founded in 1857, many music hall stars appeared on its stage, including Stan Laurel who made his debut there in 1906 aged 16. The Britannia was still going strong in 1910.

As part of the December 1910 Centenary Conference, we are offering delegates and their guests the opportunity to visit this remarkable building and experience some authentic music hall acts. The visit will include a short talk by Judith Bowers, secretary and on-site archaelologist for the Britannia Music Hall Trust, with the opportunity to ask questions. This will be followed by a piano recital and magic show dating from the turn of the century. The visit will last around an hour.
The event will begin at 3.30pm on Sunday 12th December, immediately after the conference closes. The Brtiannia Panopticon is in the city centre, a short journey from the University on the underground. Members of the conference team will be on hand to escort delegates to and from the building.

Please note that the Britannia Panopticon is still in the process of being renovated and at the present time there is no heating in the building. We are advised that guests should dress accordingly – in December, warm outdoor clothing will be essential! Finally, places on this visit are limited and will be assigned on a first-come, first-served basis. To secure your place on the tour, please sign up using the appropriate section of the registration form for this conference.
Further information about the Britannia Panopticon, including directions, can be found on its website here.
Quick Links
Travel and Directions

Postgraduate Bursary
Conference Events
Bespoke Tour of the Kelvingrove
Dinner at City Chambers