Criticism
It is fair to say that Ramsay falls short of his deserved place in the public imagination. With figures like Robert Burns and Walter Scott dominating Scottish literary history, it is little wonder that Ramsay is lesser known. His influence on Scottish literature, theatre, music, publishing, and culture more widely has been acknowledged more in recent years, and one of the main purposes of the new edition is to improve this further. But Ramsay has received great attention from literary critics from the early nineteenth century through to this day. Have a look at our (growing) secondary bibliography to see the extent of Ramsay's presence in literary criticism. You might be surprised!
Over the course of the project we will add to this with highlight features of the most important critical texts that helped shape Ramsay's legacy.
Turnbull (1794)
‌Gavin Turnbull, 'Prologue to The Gentle Shepherd,' Poems (Dumfries: Printed for the Author, 1794), pp. 10-12.
Since Burns's Poems, Chiefly in the Scottish Dialect (1786) scores of admirers and imitators in Scotland and abroad were producing new poetry in his wake. For the most part these works also acknowledged the influence of Ramsay, Robert Fergusson, and several English poets on Burns. Gavin Turnbull (1765-1816) is something of a unique case.
Born in Berwickshire, in the Scottish borders, Turnbull was friendly with some of Burns's circle of Ayrshire friends before emigrating to South Carolina in 1795. For more on Turnbull's intriguing life story, see Prof. Patrick Scott's biographical description. In his book of Poems in 1794 Turnbull published a 'Prologue to the Gentle Shepherd' (pictured), one of the most intriguing posthumous poems on Ramsay's fame.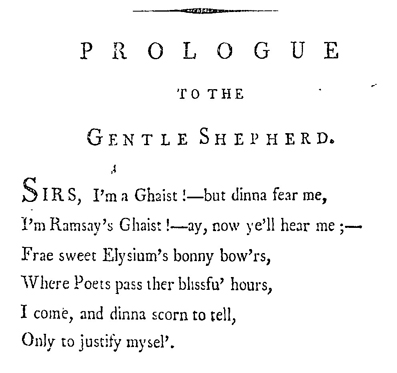 As is clear, Turnbull imagines the ghost (or 'ghaist') of Ramsay talking to us from the afterlife. Turnbull's classical setting – 'sweet Elysium's bonny bow'rs' – would surely have pleased Ramsay! Soon enough, Ramsay is welcomed by a glittering cast of poets, including John Dryden, Ben Johnson, Thomas Otway, and William Shakespeare, ie. 'a' that had a spunk of grace/ Gied me kind welcome to the place.' Freshly bestowed with his laurel wreath, Ramsay is then imagined making a plea to the audience (ie. those about to enjoy a performance of The Gentle Shepherd): 'be sparing for my sake,/ For if ye hiss, I lose my stake!'
In all, the 'Prologue' is a curious and valuable landmark in the formation of Ramsay's legacy. Turnbull places a strong emphasis on the influence of the English poets without discrediting Ramsay's patriotism for Scotland. He even captures Ramsay's shrewd business style, where the financial 'stake' of the play's proceeds might allude to Ramsay's spiritual stake in the afterlife, among the famous bards. At this point Burns was still in the land of the living…
In his 'Elegy on a Curious Original' (1788), Turnbull takes on the Standard Habbie style and, fittingly, finds Ramsay in the company of Robert Semphill and William Hamilton of Gilbertfield. Elsewhere in Poems (1794), Ramsay is further acknowledged during Turnbull's 'Pastoral Elegy, on the Death of Mr Robert Fergusson.'
In fact, Turnbull's work can be said to have led directly to the reception of Ramsay in America more generally. His Prologue to the Gentle Shepherd and his Pastoral Elegy on Fergusson were reprinted in 1796, in The Columbian Herald (Charleston, SC) on the 11th and 21st of March respectively, introducing Ramsay's perceived immortality to new readers. One month later, The Gentle Shepherd was performed in Charleston, with Turnbull and his wife taking on roles as actors! Read more on that performance.
With special thanks to Prof Patrick Scott, University of South Carolina, whose work on Turnbull led to an online edition of his Collected Poems.
Logie Robertson (1887)
Poems by Allan Ramsay. Selected and Arranged, with a Biographical Sketch of the Poet by J. Logie Robertson (London: Walter Scott, 1887), 266pp.
Almost a decade before the Famous Scots Series (see below) came to fruition, Ramsay's body of work was placed in the company of Chaucer, Blake, Shelley and others in The Canterbury Poets series. On the title-page carries three lines by Burns (in a curious reversal of roles for these Scottish poets) and is dedicated
TO THE PRESENT OCCUPANTS
OF
RAMSAY LODGE
on Castlehill. The advertisement gives us an insight into the status of Ramsay at the end of century:
'This book, which contains the great bulk of Ramsay's Poems, is believed to contain all of them that are worth preserving. No Liberties have been taken with the text which the most enthusiastic admirer of Ramsay can reasonably object to. A Glossary has been appended, chiefly for the assistance of the English reader.'
The last sentence is interesting given the curation of Ramsay's work among chiefly English poets. It should also be noted that Logie Robertson seeks to preserve the text, ie. a light editorial approach in the name of authenticity. This edition is also interesting for its devision of Ramsay's work into movements: Pastoral, Songs, Humorous Poems, Imaginative Poems, Imitations of Horace, English Poems, and Epistles.
But before one line of Ramsay's verse the reader encounters a 45-page Biographical Introduction, in which the editor sketches the life of Ramsay alongside some intriguing critical analyses. As was common in these times there is also some playful myth-dispelling, such as the interrogation of the 'common opinion [...] that Ramsay was a barber, ready to take any rascal by the nose for a penny, and indebted to the semi-public nature of his calling for the rapid growth of his popularity.' Logie Robertson goes on to say that Ramsay 'never lifted a razor upon any face but his own, for he was a wig-maker and not a barber, and at the beginning of the eighteenth century the craft of shaving was kept quite separate and distinct from the mystery of periwig-weaving.' The editor then goes on to correct the 'popular misconception of our author [...] that he was of obscure origin, and the son of nobody.' It is indeed curious to read the legacy building of Ramsay in the late nineteenth century vis-a-vis the discussion of misconception and myth. It shows us that Ramsay's legacy was perhaps as murky as it was widespread for around a century after his death.
As we go on with this Biography we can see the comparisons with others from the Series, particularly with lines like: 'His fortune, like that of Chaucer, or Shakespeare, or Pope, or Scott, was the creation of his own hands' (xli). Details of Ramsay's determined manouvers around Edinburgh are then charted, and his progress as a printer-poet is illustrated with fitting quotations. Logie Robertson then seems to distance himself from criticism as he leads the reader into the works of Ramsay proper, saying 'it has been thought preferable here rather to introduce the author, than to criticise his work, and to leave his poems, as here arranged and presented...' (li).
In the end the editor offers some criticism in the guise of a Biographical Sketch, which in fact reveals to us that Ramsay required a level of defensive handling the likes of which his fellow Canterbury Poets might not have. That later editions of Ramsay followed Logie Robertson's style of division (ie. Pastorals, Songs, etc...) also tells us that Ramsay's extensive body of work was easier to disseminate via themes as time went on.
Smeaton (1896)
Oliphant Smeaton, Allan Ramsay (Edinburgh: Oliphant Anderson & Ferrier, 1896), 160pp.
The Famous Scots Series were short biographical texts on 'famous Scots' produced between 1896 and 1905. Beginning with the first number on Thomas Carlyle and ending with James Watt at number 42, there were many literary Scots in the list including Burns, Boswell, Smollett, Scott, Fergusson, Stevenson, and Hogg. The main players of the Scottish Enlightenment (Hume, Smith, Reid) were included, as were national heroes William Wallace and Robert the Bruce. Interestingly, the text on Ramsay was produced second.
As follows the traditional pattern of these collectible books, the majority of the writing is biographical. Smeaton, who also produced the texts on Tobias Smollett, William Dunbar, and Thomas Guthrie, traces Ramsay's life from his days as an apprentice wigmaker in Edinburgh through his literary and business career. He pays close attention to the epistolary relationship Ramsay has with William Hamilton of Gilbertfield, as well, of course, to The Gentle Shepherd itself. But there is a keen awareness of how Ramsay's poetry seemed to develop from his first, ephemeral productions to his first folio edition of Poems in 1721. Smeaton also covers good contextual ground, such as the social setting of Edinburgh during the Union in 1707.
Interestingly, the author then provides three short critical chapters on Ramsay as 'a Pastoral Poet and Elegist', as 'a Satirist and Song-writer', and on his miscellaneous works. This is a fair example of the early classification of Ramsay's best abilities, which many other critics would go on to repeat. And it is difficult to disagree with Smeaton that Ramsay portrayed 'homely virtues' in a convincing and unpretentious way. He believes it was a serious fault 'among the writers of conventional pastoral to make their shepherds and shepherdesses talk like philosophers' (128). Otherwise, Smeaton's (often cumbersome) attempt to classify Ramsay's diverse body of work tells us about the extent and coverage of the poet's muse: ranging from his elegies on common Edinburgh folk to the more 'majestic and dignified' verse as we find in poems like 'The Vision' (156).
Certainly, Smeaton was working towards bolstering Ramsay's name by reminding us of his influence on Burns and the other great names of Scottish literature. We might even think of this text as part of an intriguing time for Ramsay's reception more generally. Four years after the publication of this book, a bust of Ramsay was placed in the Wallace Monument (Stirling) alongside the likes of Burns, Watt, and John Knox in the so-called Hall of Heroes. Smeaton's book and this new bust showed that Ramsay was being found in new company: a national collective of distinction which help enshrine his memory. Even the iconography of the Famous Scots Series reveals this sense of national pride: you can view the book for free online.
Secondary Bibliography
Secondary Bibliography in order of publication date (most recent first)
Scottish Literary Review 10:1 (Glasgow: ASLS, 2018) ed. Murray Pittock.

Brown, Rhona, 'The Afterlives of Allan Ramsay in the British Periodical Press, 1720–1870', pp. 95-115.

Gillespie, Stuart, "'Horace's Letter of Invitation": A Newly Discovered Horatian Imitation by Allan Ramsay', pp. 159-168.

Jung, Sandro, 'James Robertson's Poems of Allan Ramsay (1802) and the Adaptation of Other Scottish Booksellers' Book Illustrations of the Works of Ramsay', pp. 139-158.

Lamont, Craig, 'Allan Ramsay and Edinburgh: Commemoration in the City of Forgetting', pp. 117-137.

Mackay, Pauline, "'In Bawdy Policy Well-Gifted": Allan Ramsay, Bawdry and the Reformation of Manners', pp. 73-94.

McGuinness, David & McGregor, Aaron, 'Ramsay's Musical Sources: Reconstructing a Poet's Musical Memory', pp. 49-71.

Newman, Steve, '"Hodden-Gray": Pastoral, Enlightenment Re-Mediation, and The Proverbial Allan Ramsay', pp. 1-18.

Young, Ronnie, "'The Book of Maybees is very Braid": Ramsay's Collection of Scots Proverbs and Enlightenment Print Culture', pp. 19-48.

Andrew, Patricia R. "Four Statues and a Landslip: Allan Ramsay, John Wilson, Thomas Guthrie and Charity." Book of the Old Edinburgh Club New Series Vol. 12 (Edinburgh: 2016), 65-82.

Morris, R. J., 'Ramsay Garden: "Professor Geddes's New Buildings,"' Book of the Old Edinburgh Club New Series Vol. 10 (2014) pp. 107–126.
Campbell, Mungo et al, Allan Ramsay: portraits of the Enlightenment. Munich: Prestel, 2013.

Newman, Steve, "Second-Sighted Scot: Allan Ramsay and the South Sea Bubble," The Scottish Literary Review, Spring/Summer 2012 (4:1): 18-33.

Gelbart, Matthew. "Allan Ramsay, the Idea of 'Scottish Music' and the Beginnings of 'National Music' in Europe." Eighteenth-Century Music 9/1 (Cambridge: CUP, 2012), 81-108.
Brown, Rhona. "Allan Ramsay, Robert Fergusson and Robert Burns." In Burns and Other Poets. Edited by David Sergeant and Fiona Stafford, 23–38. Edinburgh: Edinburgh University Press, 2011.
Pittock, Murray. Scottish and Irish Romanticism. Oxford: Oxford University Press, 2008.
Newman, Steve. Ballad Collection, Lyric, and the Canon: The Call of the Popular from the Restoration to the New Criticism. Philadelphia: University of Pennsylvania Press, 2007.
Pittock, Murray. "Allan Ramsay and the Decolonisation of Genre." Review of English Studies 58:235 (2007): 316–337.
Gelbart, Matthew. The Invention of "Folk Music" and "Art Music"'. Cambridge: CUP, 2007. Discussion of Ramsay 31ff.
Andrews, Corey. Literary Nationalism in Eighteenth-Century Scottish Club Poetry. Lewiston, NY: Edwin Mellen, 2004.
MacLachlan, Christopher, ed. Before Burns: Eighteenth-Century Scottish Poetry. Edinburgh: Canongate, 2002.
Newman, Steve. "The Scots Songs of Allan Ramsay: 'Lyrick' Transformation, Popular Culture, and the Boundaries of the Scottish Enlightenment." Modern Language Quarterly 63.3 (2002): 277–314.
Frishcer, Bernard D. & Brown, Iain Gordon eds., Allan Ramsay and the search for Horace's Villa. Aldershot: Ashgate, 2001.
Murphy, Michael. "Allan Ramsay's Contribution to Theatre in Edinburgh, 1719–39." Scottish Studies Review 2.2 (2001): 9–28.
Carruthers, Gerard, and Sarah Dunnigan. "A Reconfused Chaos Now: Scottish Poetry and Nation from the Medieval Period to the Eighteenth Century." Edinburgh Review 100 (1999): 81–94.
Greaves, Roger. "'Thigging a Fable fra a Frenchman': Allan Ramsay's Imitations of La Fontaine and La Motte." Translation and Literature 8:2 (1999): 176–196.
Rieuwerts, Sigrid. "Allan Ramsay and the Scottish Ballads." Aberdeen University Review 58.201 (1999): 29–41.
Jack, R. D. S. "Which Vernacular Revival?" Studies in Scottish Literature 30 (1998): 9–17.
Murphy, Michael. "Allan Ramsay (1686–1758): Jacobite War or Hanoverian Peace?" In Guerres et paix: La Grande-Bretagne au XVIIIe siècle, I–II. Edited by Paul-Gabriel Boucé, 165–173. Paris: Université de la Sorbonne Nouvelle, 1998.
Simpson, Kenneth. "Poetic Genre and National Identity: Ramsay, Fergusson and Burns." Studies in Scottish Literature 30 (1997): 31–42.
MacLaine, Allan H., ed. The Christis Kirk Tradition: Scottish Poems of Folk Festivity. Glasgow: Association for Scottish Literary Studies, 1996.
Buffoni, Franco. "La pastorale scozzese di Allan Ramsay." Compar(a)ison: An International Journal of Comparative Literature 2 (1993): 261–277.
Buffoni, Franco. Ramsay e Ferguson precursori di Burns: Poesia pastorale e poesia vernacolare nel Settecento scozzese. Milan: Guerini, 1992.
Kinghorn, Alexander Manson. "Watson's Choice, Ramsay's Voice and a Flash of Fergusson." Scottish Literary Journal 19.2 (1992): 5–23.
Pittock, Murray. "Were the Easy Club Jacobites?" Scottish Literary Journal 17:1 (1990): 91–94.
Mackay, James A. "Two Hitherto Unrecorded Letters of Allan Ramsay." Studies in Scottish Literature 24 (1989): 1–6.
Law, Alexander. "Allan Ramsay and the Easy Club." Scottish Literary Journal 16.2 (1989): 18–40.
Freeman, F. W. "Pastoral and Politics at Mid-Century." In The History of Scottish Literature. Vol. 2. Edited by Andrew Hook, 141–156. Aberdeen, UK: Aberdeen University Press, 1987.
McClure, J. Derrick. "Language and Genre in Ramsay's 1721 Poems." In Aberdeen and the Enlightenment: Proceedings of a Conference Held at the University of Aberdeen. Edited by Jennifer J. Carter and Joan H. Pittock, 261–269. Aberdeen, UK: Aberdeen University Press, 1987.
Murphy, Michael. "Glossing Allan Ramsay." Bulletin de la Société d'Études anglo-américaines des XVIIe et XVIIIe siècles 43 (1986): 75–80.
Brown, Iain Gordon. "'Superfyn Poetry Nae Doubt?' Advice to Allan Ramsay, and a Criticism of The Gentle Shepherd." Bibliotheck 13.2 (1986): 33–41.
MacLaine, Allan H. Allan Ramsay. Boston: Twayne, 1985.
Law, Alexander. "Allan Ramsay: Edinburgh University's Recent Acquisitions." Studies in Scottish Literature 20 (1985): 48–56.
Crawford, Thomas. "The Medievalism of Allan Ramsay." Scottish Studies 4 (1984): 497–507.
Brown, Iain G. Poet and Painter: Allan Ramsay, Father and Son, 1684–1784. Edinburgh: National Library of Scotland, 1984.
McGuirk, Carol. "Augustan Influences on Allan Ramsay." Studies in Scottish Literature 16 (1981): 97–109.
Freeman, F. W. "The Intellectual Background of the Vernacular Revival before Burns." Studies in Scottish Literature 16 (1981): 168–187.
Freeman, F. W., and Alexander Law. "Allan Ramsay's First Published Poem: The Poem to the Memory of Dr. Archibald Pitcairne." Bibliotheck 9.5 (1979): 153–160.
Zenzinger, Peter. My Muse Is British: Allan Ramsay und die Neubelebung der schottischen Dichtkunst im 18. Jahrhundert. Grossen-Linden, West Germany: Hoffmann, 1977.
Kinghorn, Alexander Manson, and Alexander Law, eds. Poems by Allan Ramsay and Robert Fergusson. Edinburgh: Scottish Academic Press, 1974.
Allentuck, Marcia E. "David Hume and Allan Ramsay: A New Letter." Studies in Scottish Literature 9 (1972): 265–266.
Thomas G. Rosenmeyer, The Green Cabinet: Theocritus and the European Pastoral Lyric. Berkeley and LA: University of California Press, 1969 (p10).
McElroy, Davis D. Scotland's Age of Improvement: A Survey of Eighteenth-Century Literary Clubs and Societies. Pullman: Washington State University Press, 1969.
Pegg, M. A. "An Unrecorded Edition of Allan Ramsay." Studies in Scottish Literature 2 (1964): 61.
Helen Armet, 'Allan Ramsay of Kinkell's Property on the Castlehill', Book of the Old Edinburgh Club XXX (1959), 19-30
Montgomerie, William. "The Scottish Folk-Song Tradition in Ramsay, Fergusson and Burns." In Robert Fergusson, 1750–74: Essays by Various Hands to Commemorate the Bicentenary of His Birth. Edited by Sydney Goodsir Smith, 172–187. Edinburgh: Nelson, 1952.
Martin, Burns, Alexander Manson Kinghorn, and Alexander Law, eds. The Works of Allan Ramsay. 6 vols. Edinburgh: Blackwood, 1951–1974.
Bertrand Bronson, Joseph Ritson: Scholar-at-Arms. 2 vols. University of California Press: Berkeley, 1938. I:232 ff discussion of Ritson and Ramsay, including Ritson's projected edition of this 'untutored child of nature & of genius' (I:232)
Martin, Burns. Allan Ramsay: A Study of His Life and Works. Cambridge, MA: Harvard University Press, 1931.
Martin, Burns. Bibliography of Allan Ramsay. Glasgow: Jackson, Wylie, 1931.
Grattan Flood, W. H. "The First Ballad Opera: Allan Ramsay's 'The Gentle Shepherd.'" Musical Times 69.1026 (1928).
Chapman, R. W. "Allan Ramsay's Poems 1720." Review of English Studies 3.11 (1927): 343–346.
Gibson, Andrew. New Light on Allan Ramsay. Edinburgh: Brown, 1924.
These Fifty Years: The story of Carrubber's Close Mission, Edinburgh. Edinburgh: The Tract and Colportage Society, 1909, includes a photograph of the interior of Ramsay's converted theatre (p19)-case argued by Joe Rock.
Mackail, J. W. "Allan Ramsay and the Romantic Revival." Essays and Studies 10 (1908): 137–144.
Smeaton, Oliphant. Allan Ramsay [Famous Scots Series]. Edinburgh: Oliphant Anderson & Ferrier, 1896.
Irving, David. The Lives of the Scottish Poets. Glasgow: MacLehose, 1810.