Mrs Margaret Kinninmont
Published: 1 November 2022
I work condensed hours to help with my work/life balance allowing me more time to support my growing family.
Mrs Margaret Kinninmont - PA to Head of School
I started with the University of Glasgow in 2004 as PA to the Director of ICAMS now SCMH, my core hours initially were 9-5. In 2019, I applied for condensed working hours Tuesday - Friday, this was to support my daughter when she went back to work (part-time), with the Child care of my grandson then (1yr) and Granddaughter (9yr).
During this time, it was easier for my grandson to stay overnight with me on Sunday evenings which then allowed my daughter to drop her eldest off at a breakfast club on a Monday before heading to work.
During my time with my grandson, we would go out to Park/Play centers, meet with friends, etc. on a Monday, I would then pick my granddaughter up from school. This one-to-one time with my grandchildren also allowed me to build a beautiful bond with them both, and indeed by using free tickets from UoG Ferguson Bequest Fund incentive for Blair Drummond Safari Park, Edinburgh Zoo, and Deep Sea World to name a few. I have spent many happy Mondays with them both over the years.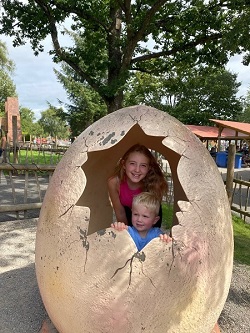 The changes to my working hours have had no detrimental impact on my work for the University of Glasgow, but instead have made a significant change to my life, with one day less in the office to enjoy some me time with my grandchildren, my life now has less stress, this has also made my time in work more enjoyable.
---
First published: 1 November 2022