Milestone as ground is cut at new Adam Smith Business School and PGT Hub site
Published: 8 June 2021
Construction is starting on the Adam Smith Business School and Postgraduate Taught Hub (ASBS/PGT Hub).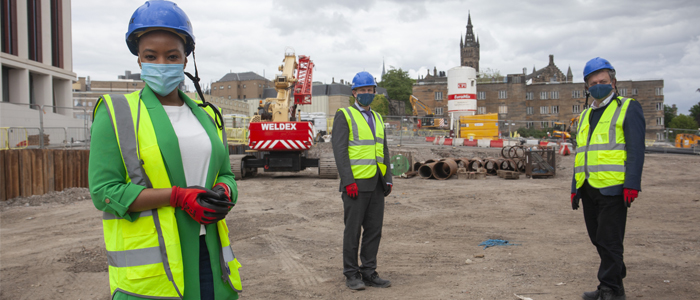 Construction is starting on the Adam Smith Business School and Postgraduate Taught Hub (ASBS/PGT Hub).
The 11,400sqm, £85 million building will be a new home for the Business School, providing world-class facilities for teaching, research and collaboration with stakeholders, and ensuring Glasgow can continue to attract the very best students and academics.
It will also be the first building in the University with facilities specifically designed for the UofG postgraduate taught community, including space for study, collaboration, networking across disciplines and enhancing connections between academia and business.
Prof Sir Anton Muscatelli, Principal and Vice Chancellor of the University of Glasgow said: "The fantastic new facility we are constructing as a base on campus for our taught postgraduate students and to house our Adam Smith Business School will enable us to continue to meet the changing needs and expectations of our postgraduate community, while supporting our ambition to become one of the world's leading business schools."
Professor John Finch, Head of Adam Smith Business School, said: "This unique building will accommodate PGT growth over the coming years and will mean we can place business skills at the very heart of our student experience, enhancing employability and adding value to a wide range of programmes across the University.
"It is also transformational for the Business School, building on Adam Smith's legacy in economics, organisations and governance, and creating spaces for learning, teaching and research. It will increase scope for cross-disciplinary collaboration, creating inspiring spaces which facilitate innovation and support students in their learning and teaching within and beyond their degree programmes."
The new building will be located on the site's southern boundary, on Dumbarton Road and adjacent to Kelvingrove Museum and Kelvin Hall. The surrounding area will be extensively landscaped to create a welcoming and accessible gateway onto the expanded campus.
---
Clairelouise.smith@glasgow.ac.uk
First published: 8 June 2021