Entrepreneurs graduate from new programme to help drive innovation in Scotland
Published: 7 July 2021
Entrepreneurs graduate from new programme to help drive innovation in Scotland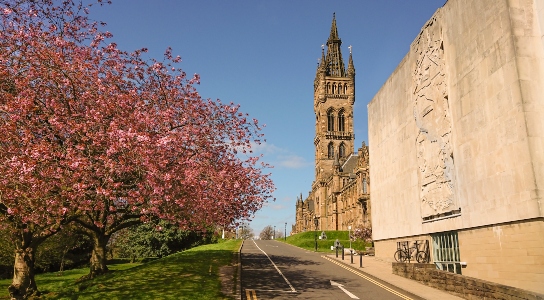 The first graduates of a ground-breaking new education programme for Scottish entrepreneurs were honoured recently.
The programme, Educating Entrepreneurs (E²), was designed and delivered by the Scottish University Scale-up Consortium (SUSC), a partnership of all 16 of Scotland's university business schools.
The Adam Smith Business School was centrally involved in the full lifecycle of the programme from conception to design to delivery. The project, hosted by the University of Dundee with support from the Hunter Foundation and funded by the Scottish Funding Council. E² was created to deliver high quality training to entrepreneurs to become effective educators of entrepreneurship and to support fast growing companies to scale into bigger businesses.
The funded online part-time programme has been running since May this year.
Those graduating are equipped with the skills to educate the current and future generation of entrepreneurs. This could lead to them taking up a wide range of exciting roles such as becoming Entrepreneurs in Residence and Professors of Practice.
Scotland's Minister for Business, Trade, Tourism and Enterprise, Ivan McKee, said: "Entrepreneurship and innovation are key to our economic renewal. The Scottish Government is focused on creating the best conditions for entrepreneurs to succeed and skills are right at the heart of that. This exciting new programme taps into the talent of our present-day entrepreneurs, equipping them to pass on their experience to the entrepreneurs of the future."
Entrepreneur and businessman, Sir Tom Hunter said: "When I first heard about this programme of E² I thought, I want to go on this programme because it's right up my street. First of all, all the universities in Scotland coming together to promote this is first class and in our opinion at the Hunter Foundation there's never been a more important time for this sort of course. There is no better way to learn than peer to peer experiences.
"Entrepreneurs have a great history of giving back to the community from which they have learned so much."
Dr Niall MacKenzie from the Adam Smith Business School said: "Adam Smith Business School is delighted to play a central role in the hugely successful Scottish Universities Scale Up Consortium. Working together with other universities and the Hunter Foundation to deliver world class scale up support to Scottish businesses was hugely rewarding. We created one of the largest scale up support programmes of its kind in Scotland and showed the value add of our research, teaching, and networks for Scottish businesses. We very much look forward to continuing this engagement."
The Director of SUSC, Professor Francis Greene, said: "Despite the difficulties the pandemic has presented, all of the Scottish university business schools have come together in a partnership to develop, build and deliver the E² programme. Through combining theory with real-world business case studies, the E² programme fills an important gap by giving programme participants the tools to support the next generation of Scottish businesses to scale."
Dr Stuart Fancey, Director of Research and Innovation at the Scottish Funding Council said: "I am delighted we can celebrate the achievements of those on the E² programme. As we come out of this global pandemic, our innovators and entrepreneurs, including those graduating, are vital to driving our green economic recovery and adapting to a constantly changing environment.
"I look forward to seeing how each of our first cohort will put their experience and newly acquired skills to use, educating and encouraging the entrepreneurs who will create high-quality jobs and support Scotland's long-term economic prosperity."
---
Enquiries: clairelouise.smith@glasgow.ac.uk
First published: 7 July 2021